An Historical Journey: 75 Years of Healing a Hurting World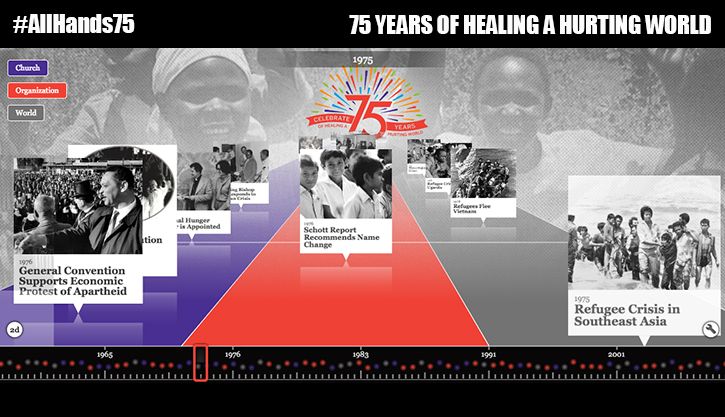 I'm excited to introduce Episcopal Relief & Development's virtual timeline, featuring key moments in our 75 Years of Healing a Hurting World.
Our team has been hard at work — scouring the archives, checking dates and discovering new details about our growth into a global relief and development agency, partnering with 3 million people in almost 40 countries every year.
As a history buff, I've thoroughly enjoyed this process — learning interesting facts about the evolution of this organization. For instance, you will experience the early days of the Presiding Bishop's Fund for World Relief, as a program of The Episcopal Church, providing assistance to refugees fleeing Europe during World War II. You can trace the organization's initial expansion towards sustainable development starting in the 1973 with the recommendations made in the Warnecke Report—eventually leading us to shift our focus and begin multi-year, integrated development programs in 2003.
Wherever the world was hurting, we were there through our Church and ecumenical partners. Because of the ongoing generosity of Episcopalians and other friends, we were able to provide faithful support, compassion and hope.
I encourage you to take the time to browse our virtual timeline. I look forward to hearing your memories about the past as well as your reflections on our future.
Enjoy this historical journey and let's celebrate our shared accomplishments as we focus on the next 75 years!
View Virtual Timeline in Full Screen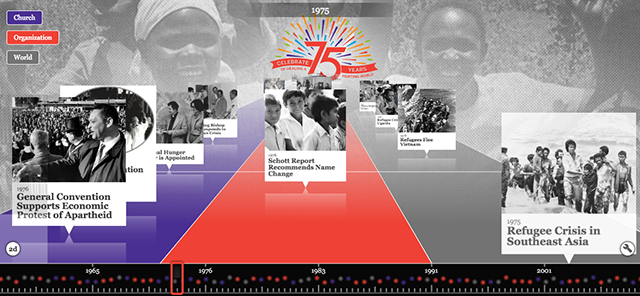 ————————

Rob Radtke is President of Episcopal Relief & Development.
---
Healing the world starts with your story!
During the 75th Anniversary Celebration, we are sharing 75 stories over 75 weeks – illustrating how lives are transformed through the shared abundance of our partners and friends like you! We invite you to join us in inspiring our vibrant community by sharing your own story!