Camacho Chicks for Chivos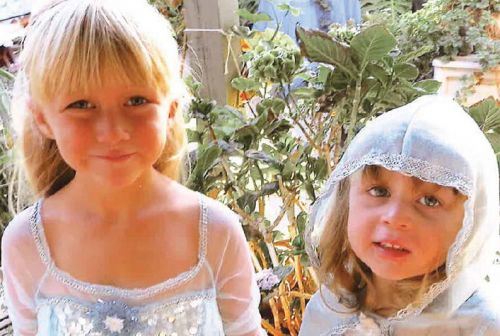 Dear Episcopal Relief & Development,
My Name is Blanca Camacho and I am 5 years old.  My sister's name is Annia and she is 3 years old.  We want to send 2 goats and a pig to poor little children in Africa.  To earn the money we did chores and asked our friends at All Saints' Church in Vista, CA to help us.  We hope you can send a mama and papa goat so they can have babies.  Thank you for helping us with our Christmas project.
Love,
Blanca & Annia
After seeing pictures of animals and children in the GiftsforLife catalogue, Blanca and Annia were moved to donate a goat to those in need. To accomplish this task, they created an ingenious plan to raise money and awareness during Advent.
With the help of their entire family, the girls appealed to the congregation of All Saint's Church in Vista, CA.  Blanca and Annia created a poster that was hung in the parish hall. The girls' mother helped them design t-shirts to wear during church, and their grandmother typed out the small handouts that Blanca and Annia passed out to the people of All Saints, asking them to help the girls achieve their goal "to send a goat to the little children in Africa."
Ms. Karen Evans, Blanca and Annia's Grandmother, said, "All Saints' has a very small congregation of very generous hearts, as they embrace this project wholeheartedly."
Those that donated to the girls' project received a hand written thank you note, complete with a list of local goats' milk cheeses.  Blanca and Annia's Aunt Kiki, a local cheese monger, helped them to compile the list.  The thank you note served not only as useful tool, but a unique idea to connect people personally to the benefits of having a goat.
"Our family is proud of what the girls accomplished and we are excited that they want to continue a tradition of a Christmas Project", said Ms. Evans.
With the help of the people at All Saints', Blanca and Annia raised $260.00, more than enough for their mama and papa goats, so they decided to send a pig as well.
Thank you to Blanca and Annia for inspiring others to help those in need.
---
The gateway for global citizenship starts with awareness and compassion. This fall your parish, school or group can use the Gifts For Life to start the journey by raising money for Episcopal Relief & Development.