A Bit of Christmas Joy After a Deadly Tornado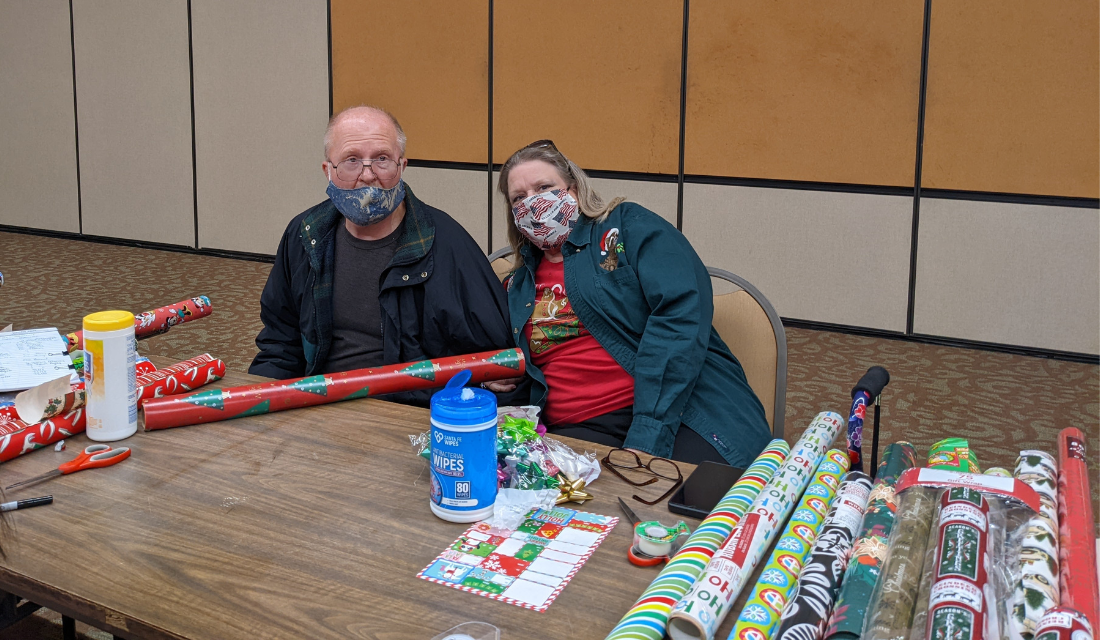 By Courtney Moore, Manager, Creative Content, Episcopal Church Programs
A little girl spotted a doll, grabbed it right away and held it tightly. She then walked it over to be gift-wrapped and carefully watched to make sure she didn't lose sight of it.
Just a few days earlier, a tornado wiped out everything.
Like many of the other kids and their families in western Kentucky, she was staying in a local resort turned into an emergency shelter. The government set up a distribution center at the resort for families to pick up needed items. As they browsed the items, parents were pleased to find toys for their kids to pick out since the tornado happened just two weeks before Christmas morning.
While the kids ran around and got a chance to take their minds off the circumstances, church volunteers at the distribution center listened to parents and other survivors.
One beam stood where there used to be a house, right next to another completely unscathed. 
A family had to be dug out because their walls collapsed atop them. 
A person and his dog sheltered in his bathroom and woke up in the front yard.
The lake in Marshall County was full of cars and other debris. 
There were boats busted to pieces. 
Several people were killed at a candle factory in Mayfield during the night shift.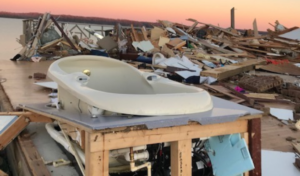 As they listened, they gave out gift cards, supplies, assistance and gift-wrapped toys. Meals were dropped off at the residences of survivors who were hospitalized. They purchased hotel rooms and even helped survivors pay their rent after the tornado destroyed their workplaces. 
A year into recovery, we remember this disaster and all the people lost and impacted by it. Episcopal churches in the affected areas were able to reach immigrants, people living in poverty and those with special needs in Bowling Green, Mayfield and other hardest-hit places during the relief phase, and now the recovery work continues. 
Some of our partners are working through challenges like assisting people who don't speak English as a first language so that they can better understand what services and benefits they qualify for. The community in Bowling Green welcomes refugees from Iraq, Afghanistan, Sudan, Bosnia and among others.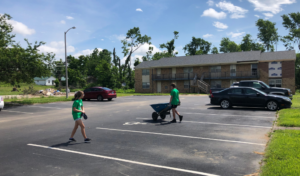 Other partners continue to serve on Long-term Recovery Groups in their communities, approving requests for furniture and appliances for newly restored homes for survivors. Those involved in rebuilding are facing the challenge of high lumber costs and gaining access to supplies in rural areas.

However, the Church remains present, walking people through each step. Together, with many churches, agencies and community-based groups, we are helping survivors to navigate a new normal and build resiliency for the most vulnerable to help them withstand the next tornado or another disaster. 
A special thank you to each church involved in the response, including: 
St. Peter's, Gilbertsville
St. Mary's, Madisonville
Trinity, Russellville
Grace, Paducah
St. John's, Murray
Trinity, Fulton
St. Paul's, Hickman
Christ Church, Bowling Green
St. Francis in the Fields, Louisville
---
| | |
| --- | --- |
| | Courtney Moore is the Manager, Creative Content, Episcopal Church Programs at Episcopal Relief & Development. |
---