Convening our Greatest Assets for Climate Resiliency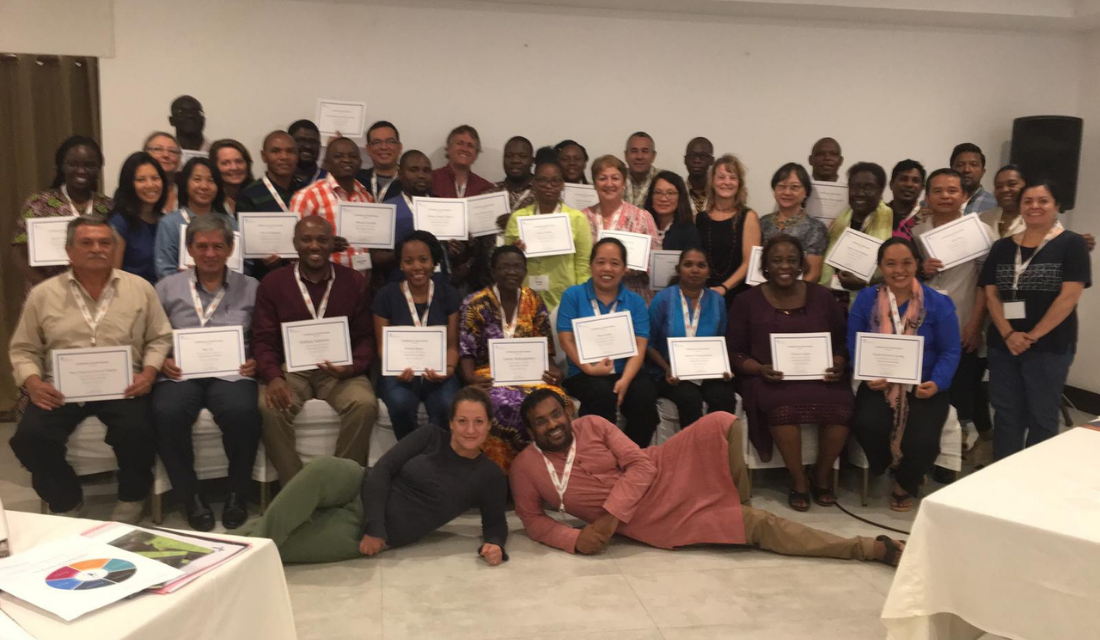 In October 2018, Nagulan Nesiah and Vanessa Pizer led a week-long workshop in Sri Lanka on Climate Resilience. In this blog, they write about those who participated and the incredible work accomplished there, demonstrating how great things are made possible when we work together for lasting change!
---
Indrani from Sri Lanka knows the secret to building trust with women in communities. Zena from the Philippines is brilliant with participatory learning tools. Denis from Nicaragua – having spoken to thousands of farmers and their families – is an expert in adaptation strategies, and Leonidas from Burundi knows all about seeds and terrain management. These were just four of the forty people gathered last October 2018 for the Episcopal Relief & Development-led Climate Resilience Workshop in Anuradhapura, Sri Lanka.
Two months ago, Episcopal Relief & Development convened partner organizations from around the world in Sri Lanka to share experiences and develop strategies for climate resilience. Colleagues from Burundi, Cuba, Ghana, Kenya, Myanmar, Nicaragua, Philippines, Solomon Islands, Sri Lanka, Tanzania, Zimbabwe, Australia, Canada, the United Kingdom and the US all came with their own stories. Each touched on how the well-being and livelihoods of vulnerable communities are increasingly impacted by climate-influenced events such as floods, hurricanes, and other disasters.
Through a series of facilitated conversations, group exercises and field visits, we were able to examine the ways we can unlock the abundance of knowledge and dedication in the communities in which we work. We brainstormed on how to adapt and transform in the face of rapidly changing climate conditions.
As a key priority, our Climate work builds on existing programs like agriculture, economic security and disaster preparedness. One of the greatest assets we have are our partners and their years of expertise in their respective areas. This know-how is fueling the next-level approach to our Climate work.
Foundational to all of the activities done during this week-long workshop was how these things tied back to four core program values – love, trust, dignity and hope. These values are critical factors that, when strengthened through our collective efforts, catapult the long-term resiliency we seek to foster in communities.
Workshop Achievements
Together we explored how sustainable livelihoods and gender equity give individuals and families agency – enhancing people's sense of dignity.
Together we explored how inclusive, grassroots decision-making strengthens relationships and collective responsibility – enhancing people's sense of trust.
Together we explored how commitment to serving one another and all of God's Creation gives purpose – enhancing people's sense of social cohesion and love.
Together we explored how adapting to a changing climate can lead to transformational change in terms of exposing and uprooting underlying vulnerabilities and inequalities – enhancing people's sense of hope.
Recent wildfires, hurricanes, floods and record-breaking temperatures highlight the everyday realities of climate-related disasters. The consequences affect all of us, but for the most vulnerable, the stakes are much higher. Episcopal Relief & Development and its global partners are called and inspired to do more and do better.
Although the tasks before us felt at times daunting and uncertain, we ended our week together by committing to collaborate through a Climate Resilience Community of Practice. We will continue to learn from one another, build our networks and offer encouragement and support in this oftentimes difficult work.
We aspire to be a community that fosters love, trust, dignity and hope in each other so as to embody our creed and achieve our shared vision of abundance unlocked in communities throughout the world.
The collective strength of such abundance is the foundation of climate resilience.
---

 Vanessa Pizer is Senior Program Officer for Episcopal Relief & Development

 Nagulan Nesiah is Senior Program Officer for Disaster Response and Risk Reduction
---
For the Holiday Season, consider Climate-related Gifts for Life
like Clean Water or a Disaster Relief Kit!