Double Your Impact: Help Communities Thrive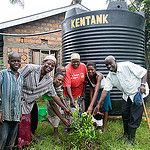 It's been another 'all hands on deck' kind of year. I'm deeply grateful to our Church partners at home and abroad. They have worked closely with our staff and alongside members of their communities to address seemingly insurmountable issues.
Disasters grow more frequent and more intense each year, and the global economic challenges reduce the ability of communities to bounce back quickly. Our programs are needed now more than ever. From recent crises such as Hurricane Sandy and civil unrest in the Democratic Republic of Congo, to chronic poverty and disease that billions cope with globally, our partners are truly the hands and feet of Christ in the world.
Once again, on their behalf, I'm inviting you to contribute to Episcopal Relief & Development's Matching Gift Challenge . Thanks to a group of very generous donors, your gift today will be matched with a donation of the same amount to our Global Needs Fund . Until December 31, every dollar you give will be matched, up to a total of $300,000.
Today, you have a chance to double the impact of your gift and share this wonderful opportunity with your family and friends. Please join us in answering the call to empower people worldwide as they strengthen their communities and create a better future for their families.
I hope I can depend on you to give generously and help us continue to heal a hurting world.
Yours faithfully,



Robert W. Radtke
President, Episcopal Relief & Development
———-
Rob Radtke is President of Episcopal Relief & Development.