Giving thanks for food, family, and children!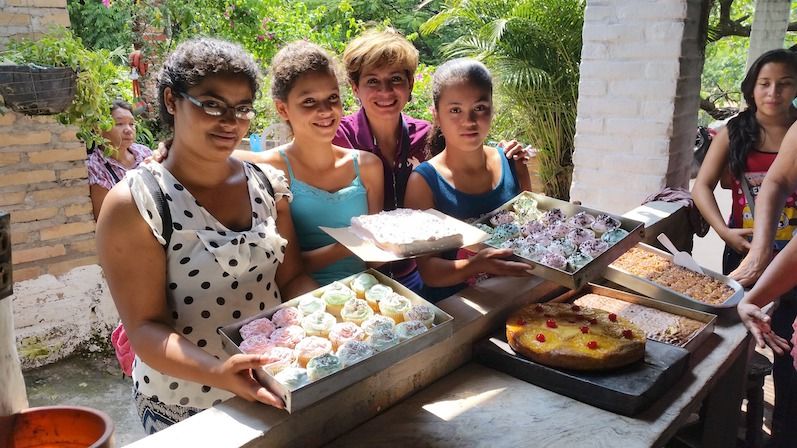 To kick off the holiday season, Josephine Hicks – Vice President for Episcopal Church Programs – shares the family traditions she'll be partaking in this year. She also takes this opportunity to give thanks to the Episcopal Relief & Development community – including you! – for breathing life into the work we do.
---
As Thanksgiving approaches, many thoughts turn to family Thanksgiving dinner traditions. The media is awash with recipes and tips for the perfect Thanksgiving meal. However, if you are looking for any advice on that score, I'm afraid you are reading the wrong blog  – whatever my gifts may be, they certainly are not culinary!
A family affair
Photo taken at Episcopal Relief & Development's Honduras program
As my mother has aged, our Thanksgiving tradition has become the Thanksgiving Day buffet at her retirement community dining room. Before your mind begins painting the wrong picture, let me hasten to point out that the dining room is lovely. The nicely appointed room opens into a multi-story atrium with lots of windows and natural light, giving the effect of opening onto an outdoor terrace. And the food is terrific.
The most fun aspect of Thanksgiving Day at a retirement community is seeing so many generations gather. It is not unusual to see four generations of a family posing for photos before they gather around the table.
The little ones are squirming. Their parents are exasperated. Their grandparents and great-grandparents are beaming with pride and affection. In order to avoid a "nursing home atmosphere" in the dining room, residents are asked to leave walkers and wheelchairs in a "parking area" across from the dining room. The most enduring image from last year's dinner was seeing a tricycle parked among the walkers and wheelchairs!
Celebrating children
Photo from the US Disaster Recovery Program at Jericho Road (Episcopal Diocese of Louisiana)
Children
bring special joy to any celebration. Seeing the young ones enjoy a bountiful feast at Thanksgiving makes me especially thankful for my colleagues and our partners at Episcopal Relief & Development who work with children and their families in our Integrated
Early Childhood Development Program
.
The first five years of a child's life are critical for overall development. We know that brains are developed, not born. Brain development is stunted if a child is malnourished, neglected, or not stimulated appropriately during these critical formative years, which makes it virtually impossible for that child to catch up.
To provide a sound basis for each child to meet his or her God-given potential, our Integrated Early Childhood Development Program uses a community-led, holistic approach to address health, nutrition, food security, early childhood education, parenting, and economic stability for the entire family. This Thanksgiving, I give thanks not only for my own family, but for thriving children everywhere, and for this transformative program.
I also give thanks for our supporters who make the Integrated Early Childhood Development program and all of our programs possible.
Here's to thriving children, abundant love around our tables, and a Happy Thanksgiving to all!
---

 Josephine Hicks is Vice President for Episcopal Church Programs at Episcopal Relief & Development
---
Further Reading:
Giving Thanks: A Celebration of Generosity by Rob Radtke
Show Thanks In This Season of Giving
Double your Gifts For Life: All gifts matched until 12/31!