Haiti 2015 : Remembrance, Reflection and a Hopeful Look to the Future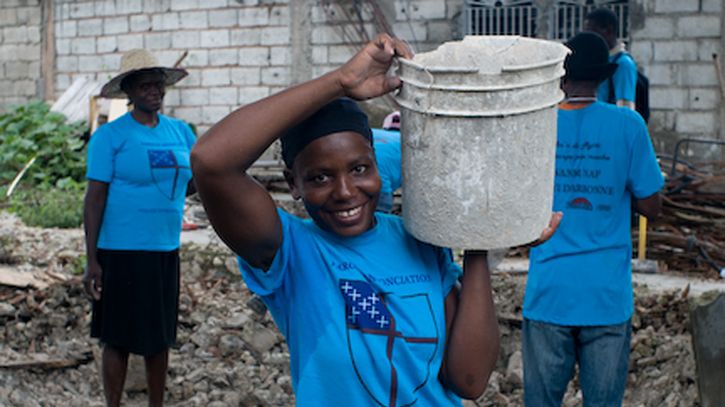 There is a Haitian proverb that says,'Se lè ou nan malè ou konnen si ou gen bon zanmi' which translates to 'It is in difficult times that you know who your good friends are.' This proverb rings especially true for our brothers and sisters in Haiti, even now, five years after the devastating 7.0 magnitude earthquake on January 12, 2010. At that time, more than 200,000 people lost their lives, over 300,000 were injured, and even more were left homeless and living in temporary shelters. But, it was in this difficult period that the people of Haiti received much strength to overcome these challenges via the encouraging words and outpouring of support and prayers from people all over the world.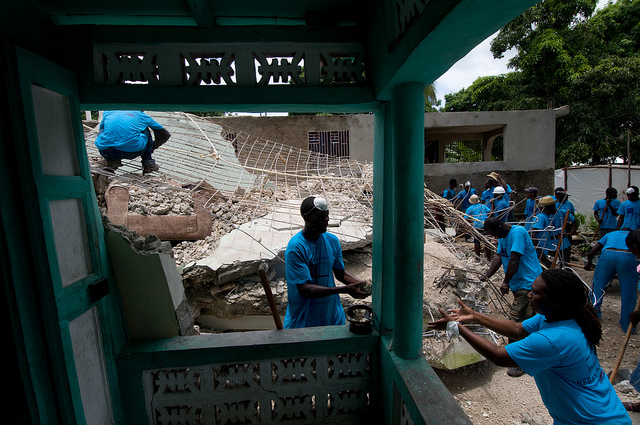 Three days after this tragic event, the President of Episcopal Relief & Development, Rob Radtke, wrote a blog in which he reflected on the tragedy and summarized the three R's of a disaster ­– rescue, relief and recovery – while laying out the organization's vision regarding Haiti. During the rescue and relief stages, we were able to provide food, potable water and healthcare, along with temporary housing and income generating-activities to help sustain the local economy. Now, in the last stage of disaster response, Episcopal Relief & Development remains committed to Haiti's long-term recovery by focusing on sustainable economic development, educational partnerships and job creation.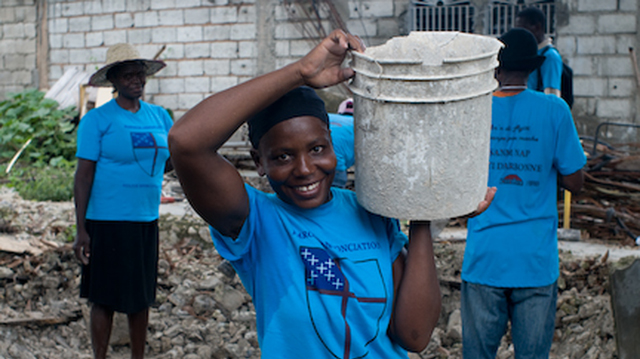 I recently joined Episcopal Relief & Development as the Program Officer for Haiti, and have had the opportunity to see the impact of our projects. I have been able to meet program participants in person and listen to their life stories, their challenges and their dreams. One person I met is named Philomene. During the earthquake, she lost her home in Carrefour, a city south of Port-au-Prince, and had to live with relatives until she could earn enough money to rent her own place with her three children. Thanks to the Church's micro-credit program that provides business training with loans, she was able to start her own enterprise. Today she sells produce, rice, beans and cooking oil, generating enough income to care for her three children, two of whom aspire to become a doctor and an engineer, respectively. These inspiring encounters have allowed me to gain a better understanding of the challenges, but moreso see the incredible potential of the people of Haiti.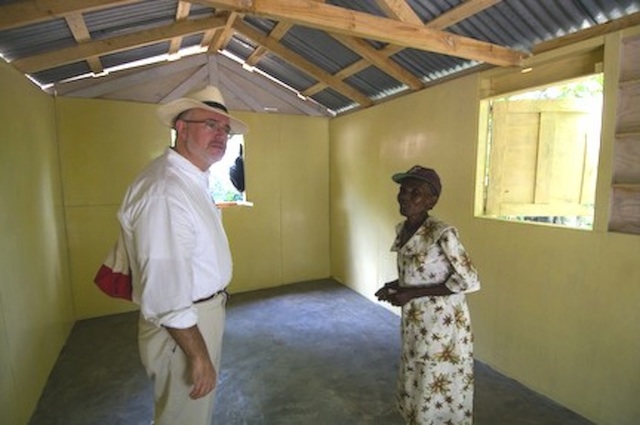 Despite some gains in the last five years, Haiti remains one of the most economically challenged countries in the world, with 80% of its population living in poverty and more than 90% living in rural areas. In these rural areas, basic social services are practically nonexistent and access to education is low, with literacy rates hovering just above 50%. According to The World Food Program, the lack of access to safe, healthy food is a persistent problem for nearly a third of the population.
Overcoming the impact of the 2010 earthquake has been difficult under these circumstances. Poverty and depletion of the environment through a constant wave of natural disasters made the country highly vulnerable. Starting from 2012, Haiti was marked by a series of natural disasters that affected the livelihoods of more than 1 million people. A drought, followed by tropical storm Isaac and then Hurricane Sandy, all compounded the challenges originally left by the 2010 earthquake. And yet under such devastation and uncertainty caused by these events, our partners and the communities we work in have maintained such a resilient attitude. A quote from the Bishop of Haiti, The Rt. Rev. Jean Zaché Duracin comes to mind: "Ansan-m ann di: Ayiti leve kanpe pou-w mache." or "Together we can make Haiti rise up and move forward."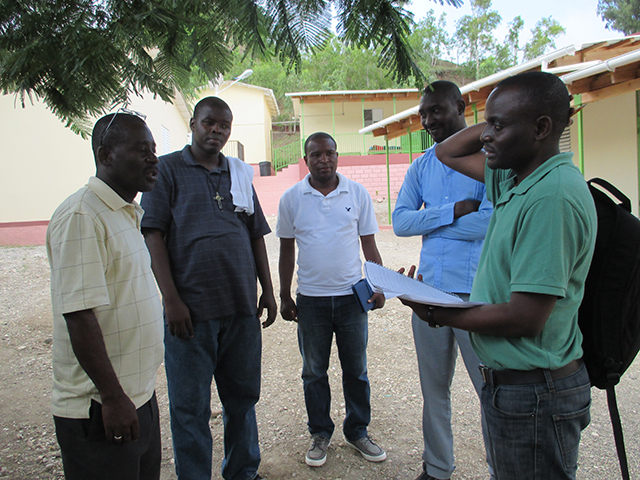 The ongoing support of our partners and donors, matched with the incredible tenacity of our Haitian brothers and sisters, gives me hope for the future. Our programs will continue to expand in the areas of food security and provisions for micro-credit services to households that lack access to formal financial systems. Additionally, we will partner with the Haitian government, Haitian institutions and other NGOs to support income-generating activities
Together with our partners, we are working to strengthen the capacity of the Episcopal University in Haiti to help local farmers address issues such as post-harvest losses and commercialization of locally grown products. We continue to maintain a green focus by bringing renewable energy and water and sanitation programs to Episcopal schools slated for repair or rebuilding.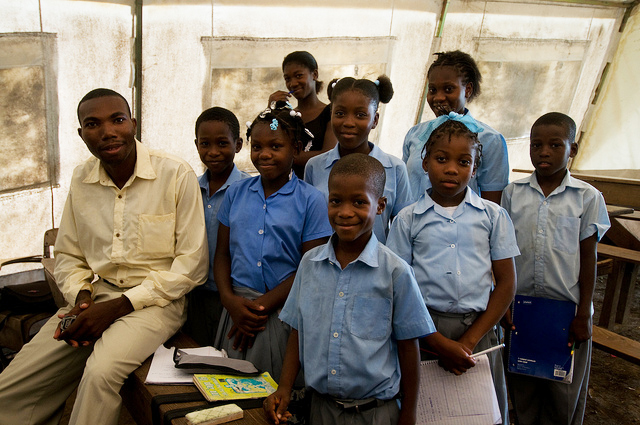 Support of the Bishop Tharp Business and Technology Institute (BTI), a two-year school in Les Cayes operating under the auspices of the Church, is also ongoing. (Profiles on recent graduates can be found here.) All of these efforts are designed to empower the communities to take the lead in their own sustainable development.
The 2010 earthquake was an incredibly devastating event that obliterated previous efforts to improve quality of life for a chronically impoverished community. After five years, we are finally seeing some semblance of "the new normal" – not that things will ever be like they were, but a situation with stability, sustainability and positive growth. However, we need to continue working with our partners to bring all the advances from our four core program areas to bear on supporting community efforts to regain wholeness. This long and challenging recovery phase requires significant investment from all stakeholders, both in and outside of Haiti, to help build a better and stronger country.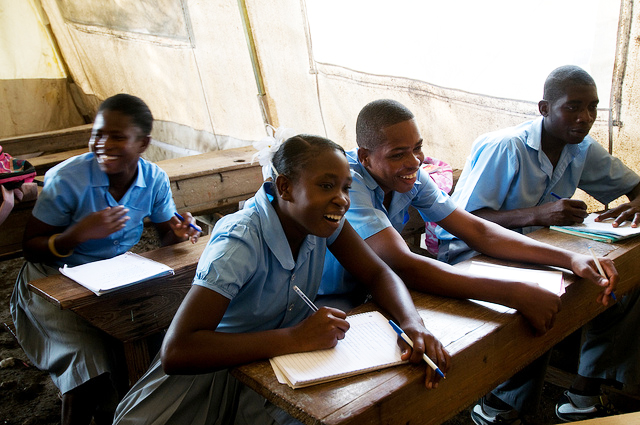 On January 12, 2015, we solemnly observe the fifth anniversary of the earthquake; it is a day of remembrance and reflection, but also a chance to take a bold and hopeful look to the future of Haiti. I will be keeping people like Philomene and The Rt. Rev. Jean Zaché Duracin in my mind and prayers as I have the opportunity to accompany our partners here toward a full and sustained recovery.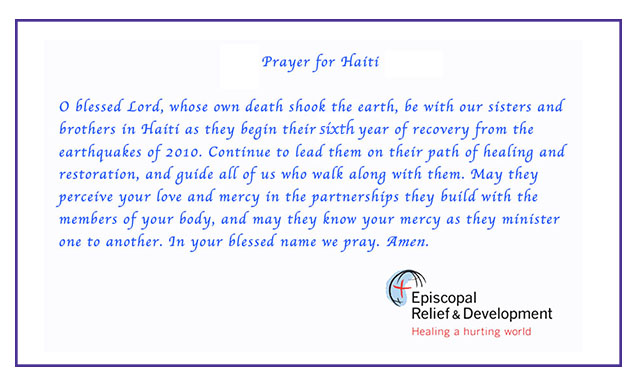 ——————————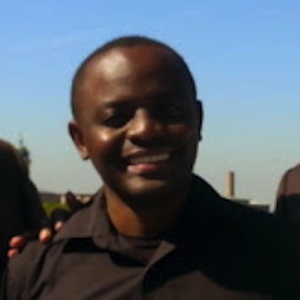 Ernest Cajuste is a Program Officer for Episcopal Relief & Development.
Photos: Top, clean up after the 2010 earthquake; Middle 1, clean up after the 2010 earthquake, photo by Harvey Wang; Middle 2, President Rob Radtke pays a site visit to a recently completed school, 2011; Middle 3, Community discussion before installing sustainable water system at the school; Middle 3 & Bottom, students – the future of Haiti – in a temporary classroom shortly after the earthquake.
---
An Historical Journey
We invite you to journey with us through our 75 years of healing a hurting world. View our interactive timeline that takes you from our start in the 1940s to the present, and witness our growth in vision and direction. We thank you for your support that allows us to strive towards a flourishing future. It takes #AllHands75!