On World Health Day We Check In With The Child Survival Program in Angola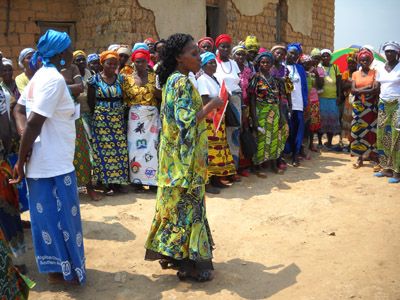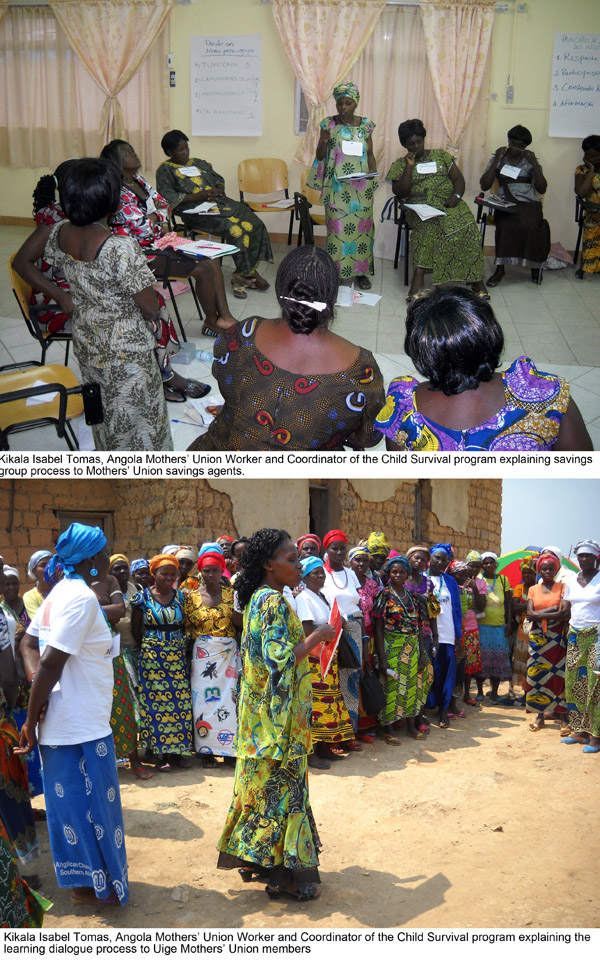 On World Health Day, we check in with Kikala Isabel Tomas, Mothers' Union worker and Coordinator of the Anglican Diocese of Angola's Child Survival Program.
Since 2011, Episcopal Relief & Development and the diocese have been working with the the Angolan União das Mães (Mothers' Union) on a child survival program that moves beyond education, using an approach that incites sustainable behavior change. This program is part of the Diocese's integrated strategy, which addresses childhood illness and mortality through malaria prevention and clean water and sanitation programs. It is built upon the premise that public health depends on everyone's participation, and takes an approach that stirs one's own sense of discovery, motivation and notion of possibility.
Using a relatable visual tool (you can flip through the excerpt below), neighborhood women – organized into learning groups by Mothers' Union members/volunteers – meet to discuss and discover the issues affecting the health and well-being of their families. From there, they are able to develop behavioral changes that affect their immediate surroundings, such as treating their drinking water, washing their hands regularly or hanging mosquito nets. As these small changes accumulate over time the women establish self-awareness, build self-esteem and feel empowered to address the larger health issues they face.
One such example took place in a suburb of the northern provincial capital of Uige. There, women went from making changes in their home sanitation habits to improving the sanitation in their streets and then took on the larger issue of a neighborhood garbage dump site. It was sitting on top of the hill, and when it rained the garbage would make its way back into the streets they had just cleaned. With confidence, the women went to their local leader to see about changing the site location.
This year, as the scale of the women's solutions grow, the program is responding with a group savings and revolving fund component.  With continued support from Episcopal Relief & Development, and in commemoration of World Health Day, on April 15th Mothers' Union leaders and nine members trained as Savings Agents will officially launch this new work of facilitating Learning Groups by developing their own savings and loan activities.
These are just a few examples of the many transformations that are happening as a result of the Anglican Diocese of Angola's Child Survival program. Throughout Luanda (Angola's sprawling capital city) and Uige province, over 600 women's groups are being mobilized, each made up of seven to ten women. The Mothers' Union is enabling them to keep themselves and their families healthier through community-based learning groups that meet, discuss, reflect and take action.
The program uses this visual tool as part of discovery and learning dialogues to encourage the adoption of the following health behaviors and tactics ­– striving for the motivation and change to come from within.
exclusive breast feeding till 6 months
monthly pre-natal consultations at "formal" health centers
build and use latrine
wash hands at critical times
sleep under a mosquito net
follow national vaccination schedule
drink only treated water
engage in mutual aid – solidarity – to give/receive support among group members
engage in community betterment for improved public health (e.g., cleaning campaigns, toilet construction, violence reduction)
begin saving and mutual lending within the group, with a portion of benefits used to improve health issues noted above
———-
Tammi Mott is a Program Officer with Episcopal Relief & Development.