Pain that is Not Transformed is Transferred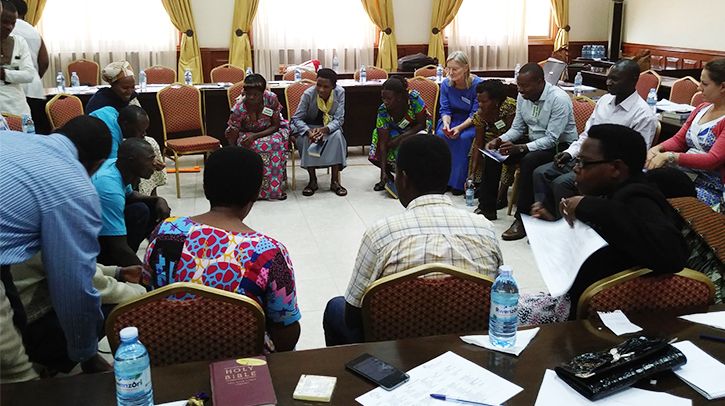 Recently, Senior Program Officer Ernest Cajuste shared with us how Episcopal Relief & Development and its partner, Wozo Haiti, are working with communities in Haiti impacted by structural and cultural trauma to promote healing and restore dignity. In this blog, Program Officer Vanessa Pizer shares more about how Episcopal Relief & Development and its partners are building upon Wozo Haiti's foundation to engage with trauma awareness and resilience.
---
 Pain that is not transformed is transferred. 
— Fr. Richard Rohr
This truth was made very real for my colleagues and me recently. In October, several Episcopal Relief & Development staff members plus 20 development staff, pastors and lay leaders from two of our partners implementing gender-based violence prevention and response programs—the Anglican Church of Burundi and the Diocese of Aru in the Democratic Republic of Congo (DRC)—came together to learn about Wozo Haiti's trauma awareness and resilience methodology.
Led by two Wozo trainers and Senior Program Officer Ernest Cajuste, the workshop was an opportunity for our group of development practitioners and faith leaders to experience firsthand the process of sharing personal stories of trauma and then together exploring the roots and stages of individual and collective trauma and ways of healing. We realized very quickly that, although intimidating at first, recounting our stories and hearing similar experiences from others is cathartic.
We also learned that violence and the resulting trauma are cyclical; if not dealt with, victims of violence will become perpetrators of violence.
Decades of state and rebel-sponsored violence in Burundi and DRC have resulted in widespread ethnic and gender-based violence. Although these nations' histories, politics and cultures have significant differences, the ensuing violence has resulted in trauma that is painfully similar, as our colleagues attested to. Violence at national, community and household levels is mutually reinforcing—forming a chain, or cycle, that cannot be broken if not addressed individually and collectively. In terms of Gender-Based Violence, perpetrators of violence against women and girls are often victims of trauma themselves, demonstrating again how violence begets violence.
This awareness of the pervasiveness of trauma was overwhelming and disheartening at first. Yet upon closer inspection, we realized that this truth can inspire empathy. It is this understanding of other's experiences and how they shape their motivations and behavior, which is the first step to bringing inner and outer peace.
During the workshop, we discussed the emotional toll of community development work and specifically gender-based violence prevention and response. Stories of vicarious trauma experienced at work seeping into life at home, repeating the cycle of violence, resonated with many of us. The pastors among us spoke of the weight they bear in their roles as counselors and mediators.
Our workshop with Wozo Haiti allowed us to not simply learn about, but actually experience the restorative process of trauma healing and transformation. We felt the dignity and absolution that can come from speaking about trauma in a safe environment and that our trust and relationships deepen through the invaluable act of listening. We were fortified by our shared empathy and social cohesion. And, in the end, we realized that working with survivors of violence and people traumatized from poverty and injustice requires that we, ourselves, develop the same hope and resilience that we seek to reinforce in the people and communities where we work.
---

Vanessa Pizer is a Program Officer at Episcopal Relief & Development.
Images: Episcopal Relief & Development staff and partners gather to address and listen to stories of trauma.
---
Consider contributing to the Women's Empowerment Fund to help communities heal and end cycles of violence.