St. David's Episcopal Church Youth Raises Money for GiftsForLife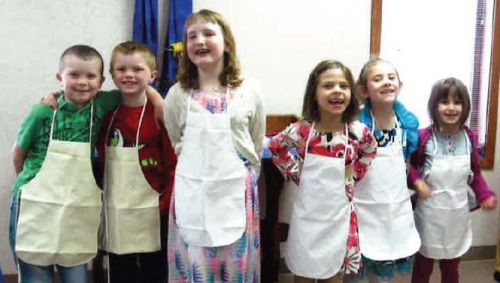 Carol Abbott, known as Miss Carol to her 1st through 3rd grade class at St. David's Episcopal Church in Lansing, MI, is a proud and grateful teacher. The reason for her gratitude, the selfless act of service her kids performed over the weeks between Palm Sunday and Easter. Her students wanted to do something during Lent to help others. They decided to raise enough money to donate a pig through GiftsforLife.
"They gave up play time during coffee hour and bussed tables", said Miss Carol, "They really wanted to buy a pig."
During the first four weeks, they collected money in tip jars placed on the tables in the Great Hall. However, after the last planned Sunday, they had only collected $88.75. Since this wasn't quite enough to donate a pig, the kids voted to work one more week to earn the balance.
Miss Carol said, "Because of our supportive and generous congregation, they earned almost $100.00 on the last day!"
The money the children raised was enough for them to donate both a pig and a goat.
"They were so excited," said Miss Carol, "They learned about the joy of giving and the benefit of hard work during this Lent."
---
The gateway for global citizenship starts with awareness and compassion. This fall your parish, school or group can use the Gifts For Life to start the journey by raising money for Episcopal Relief & Development.