St. Timothy's Episcopal Church – How Much is a Chicken Worth?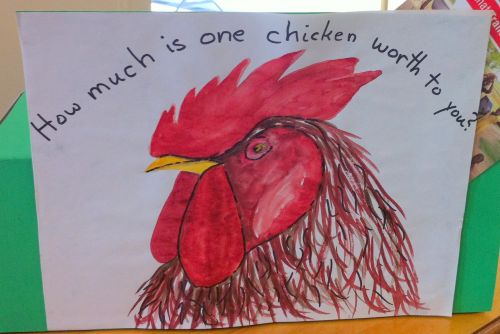 "Just how much is a chicken worth these days?  A dollar? Five? Ten? If you lived at, or below the poverty line, a chicken might be worth the eggs laid several times a week. It might give feathers for a pillow or mattress. It might provide income. It might be worth a life!"
That is how Julia Amies, Episcopal Relief & Development Parish Representative for St. Timothy's in St. Louis, MO launched the her self-proclaimed "Chicken Mission", and raised over a $1,000 for Episcopal Relief & Development.
Ms. Amies initially placed a box "decorated with a rather hastily painted rooster" in a common gathering space.  At one particular Saturday service, the Rector Father Marvin allowed her to give a short "commercial" about her hope to donate two flocks of chickens through GiftsforLife.  She challenged the congregation to reach the goal within six weeks.
"That first Saturday, we collected nearly one-third of a flock, "said Ms. Amies, "The following Sunday, Father Marvin set aside time for the chicken commercial for the entire congregation at our Annual Meeting Sunday. That day our total was only $10 shy of reaching our two-flock goal."
Over the remaining four weeks of the challenge, parishioners at St. Timothy's continued their support and raised enough money for six more flocks of chickens. As a way of bringing giving into their home, some families worked together to donate a whole flock on their own.
Ms. Amies mused about her "chicken advertisement" saying:
"I gave a brief description of the work Episcopal Relief & Development does, then related the true story of my younger son, who joined a summer mission trip to bring medical care to persons living in remote areas of the Dominican Republic.  For six weeks, he lived (and ate) with a local rural family. When he returned home, I asked him, among other things, about the food.  He said, "We ate rice and beans every day. But on Sunday we had egg."
"I bet you really enjoyed the egg, after having no meat," I replied.
"No, Mom, you don't get it. They scrambled one egg, then stirred it into the rice and beans that twelve of us shared.  And, Mom, that egg tasted soooooo good!"
After telling her son's story to the congregation, she again posed the question, "How much is one egg worth?" and suggested that if you have none, one Sunday egg might mean a great deal.
St. Timothy's success in donating eight flocks of chickens is evidence of the wonderful commitment of the parishioners to making their community and the world better.
Ms. Amies has already begun her next mission. In a letter to Episcopal Relief & Development accompanying the donation of the eight flocks, Ms. Amies wrote, "Thank you for providing us with the vehicle to allow our hopes to bear fruit. Who knows? Maybe next time we'll ask for goats. Anyone know how to paint a goat?"
Thank you, Julia, and thank you, St. Timothy's for helping us to heal a hurting world.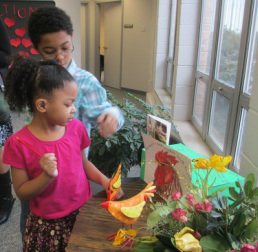 ---
The gateway to global citizenship starts with awareness and compassion. This fall your parish, school or group can use the Gifts For Life to start the journey by raising money for Episcopal Relief & Development.