The Power of Neighbors: Lessons from Ghana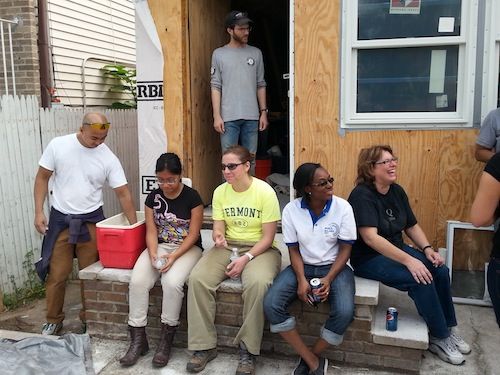 As the one-year anniversary approaches, we are checking in with select sites that were impacted by Hurricane Sandy, which struck the Caribbean and eastern US in late October 2012.
—————-
On a recent visit to Episcopal Relief & Development's New York City offices, Cletus Asare described to me how people in Ghanaian villages respond to local disasters.
"Nobody claims to be of a higher social status than the other. Everybody comes from around to help if someone is in need. Everyone knows or has a very good idea of what sort of help a person needs," he said.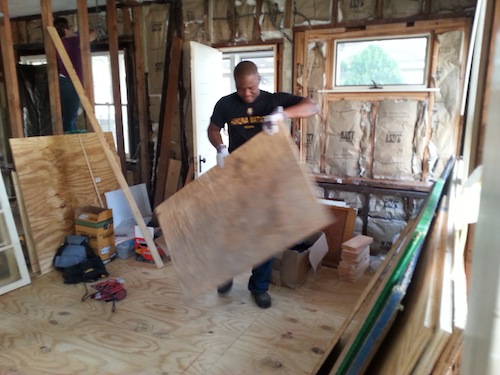 Ghana Program Officer, Cletus Asare, working on a home in Staten Island
Staff from Episcopal Relief & Development, including members of our Ghana-based team, spent a Saturday in early October volunteering for disaster recovery efforts in Staten Island. A few days later I chatted with Program Officers Cletus Asare and Priscilla Amuah. They know well how the agency's international programs help hard-hit communities in Africa rebuild after a crisis. This was the first time they had seen such work in the United States. I asked them how the two compared. They said they were struck by the disparity in the United States between those who have resources and those who do not, and how people are still waiting for help to rebuild.

Close up of Ghana staff with Barbara Ballenger
Priscilla commented that, had such a disaster happened in a village in Ghana, the neighbors would have rebuilt their community by now. Not perfectly, she said, and certainly not to the standards demanded by US zoning and building laws. But no one would be without a home. Cletus and Priscilla spoke highly of the abundant resource that spells recovery in Ghanaian villages: the power of neighbors.
"The government is not really there to help out, so you have to rely on your neighbors," Priscilla pointed out.
Cletus explained how mutuality in a tightly knit African village plays out in time of disaster, "Anybody would go to help a neighbor… because if I do that, I can expect you to do the same for me."
In my conversation with my African counterparts in relief and development, I was reminded that our best and probably most healing volunteer efforts come out of a sense of being a neighbor, of sharing common cause and common ground. And that implies a sense of mutuality, a responsibility to be there for one another, to both offer and ask for help when it's needed.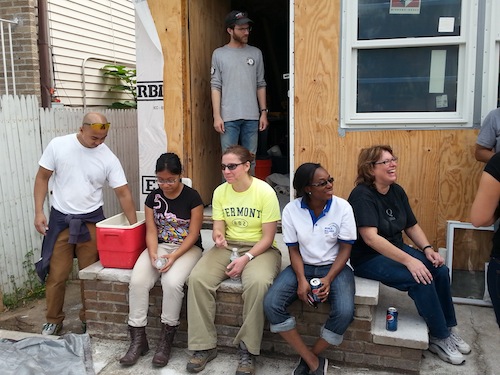 Episcopal Relief & Development staff take a break
When disasters such as Hurricane Sandy beset neighborhoods in the United States, I would not want our communities to be without the civic and social supports that ensure recovery: things like professional responders, insurance coverage, emergency disaster funding and building codes.
But I'm also reminded that the resource of neighbors acting in mutuality is also essential, and it's an asset that churches can be particularly good at developing.
To this end, it's the work of a local church to be a local neighbor, responding to crises with the many gifts that it has at hand. And it's the work of an international Church to stretch that idea beyond neighborhoods, across countries and throughout the world.
——————-
Barbara Ballenger is the Training Coordinator for Episcopal Relief & Development's U.S. Disaster Preparedness and Response Program
Photo Credit: Episcopal Relief & Development