Help for Ukraine: One Year In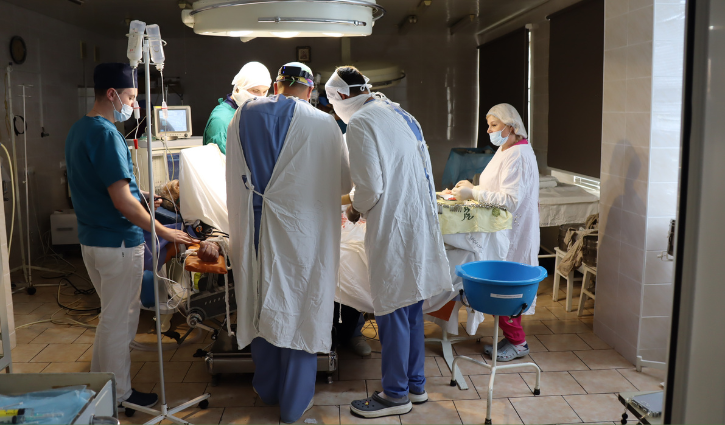 This February marked one year since the Russian invasion of Ukraine. In that time, millions have suffered incalculable loss. As of this January, there were over 18,000 documented civilian casualties and almost 13 million people who'd been displaced or were refugees. Nearly five million more who originally left their homes have returned to face extremely difficult circumstances.
Soon after the conflict broke out, we began working with ACT Alliance, and through this network, we now directly support 70,000 people each day. Much of this assistance entails providing food and cash transfers to people in Ukraine who are impacted by the war.
Episcopal Relief & Development also continues our partnership with the Convocation of Episcopal Churches in Europe (CECE), equipping local congregations throughout Europe to assist Ukrainian refugees. CECE supports congregational capacity by providing peacekeeping resources, resettlement and language services, pastoral care, and direct services, including cash transfers.
Although the city of Chernivtsi in western Ukraine is far removed from the fighting, it has faced its own steep challenges as people fleeing war-torn areas arrived on their doorstep, sometimes with little more than a suitcase. Chernivtsi Regional Emergency Hospital – already undersupplied – now struggled to tend to a massive influx of patients. But one of our partners through the ACT Alliance, Hungarian Interchurch Aid, bought and transported medicine and ambulance equipment that has made a huge difference. 
"There were difficult times as the war broke out, something we thought unimaginable," reports the hospital's medical director. "It was only due to the generosity of our partners abroad that we managed to get back on track and keep providing the necessary services for the now increased population of our region."
Please continue to pray for all those impacted by the violence. Donations to Episcopal Relief & Development's Ukraine Crisis Response fund will help meet critical needs created by this crisis.