We Will Speak Out
Responding to Sexual and Gender-Based Violence:
Episcopal Relief & Development and the We will Speak Out Coalition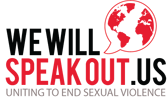 WeWillSpeakOut.US is part of the international We Will Speak Out coalition, which was established in March 2011 with key leadership from Archbishop of Canterbury Rowan Williams, Archbishop Henry Isingoma of the Democratic Republic of Congo and Archbishop Bernard Ntahoturi of Burundi, at the launch of the Tearfund research report 'Silent No More.' The report highlighted the untapped potential and challenges of the worldwide church to prevent and respond to sexual violence. The report was based on research commissioned in Liberia, the Democratic Republic of Congo, Rwanda and Burundi.
Epsicopal Relief & Development is a founding member and the US Secretariat co-chair for the We Will Speak Out (WWSO) coalition. Recognizing the prevalence of gender-based violence (GBV) in the United States as well as the potential for American organizations and congregations to influence change, WWSO Steering Committee Member IMA World Health launched WeWillSpeakOut.US to unite and amplify existing voices and programs throughout the US. WWSO stresses, in particular, the untapped potential of faith communities to prevent and respond to gender-based violence.
In addition to its US-based work, Episcopal Relief & Development has supported partner WWSO activities in Burundi, DR Congo and Liberia. Learn more about our work.
Visit We Will Speak Out's website for more information and how to get involved.