ACTION 1: PRAY TOGETHER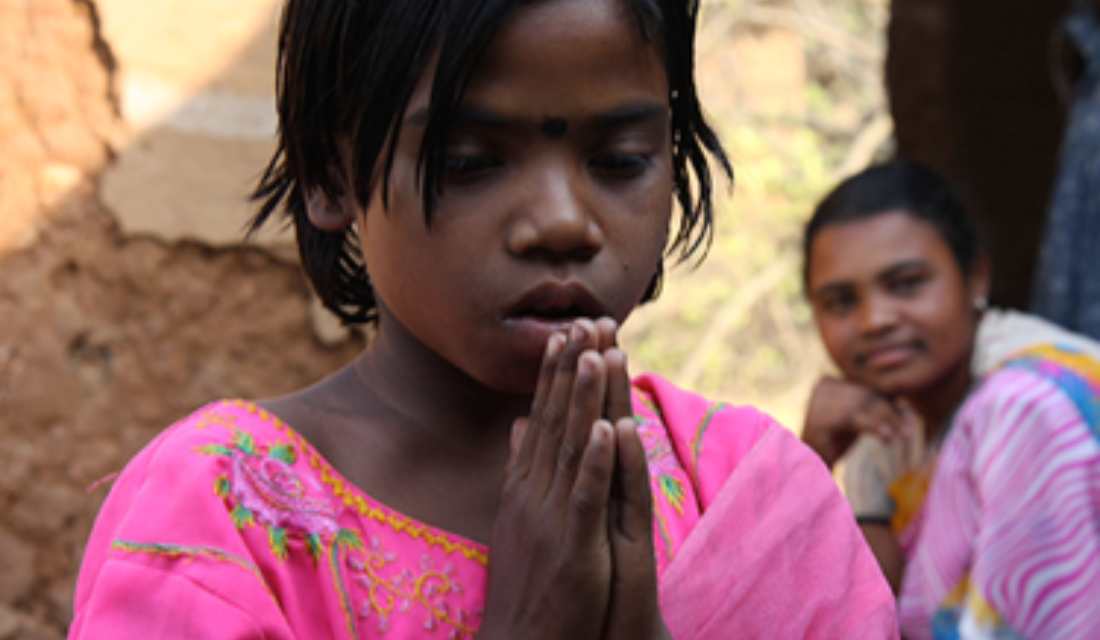 A young girl in Sri Lanka is seen praying. Episcopal Relief and Development programs in Sri Lanka include a partnership with the Ecumenical Church Loan Fund to offer microfinance services through Savings with Education (SwE) groups. Over 95% of this engagement is with women, allowing them to build their personal savings, invest in small business endeavors and earn an income to support their families.
Faith
Dear God, creator of the heavens and the earth, we pray for all who have gathered globally to observe the 16 Days of Activism Against Violence Against Women.
Help us to see one another through eyes enlightened by understanding and compassion.
Release us from prejudice so that we can receive the stories of our sisters and brothers with respect and attention.
Open our ears to the cries of a suffering world and the healing melodies of peace.
Empower us to be instruments in bringing about your justice, peace and equality everywhere.[1]
Fact Sheet
The United Nations recognized violence against women as a human-rights violation in 1993 when it adopted the Declaration on the Elimination of Violence against Women.
Globally, an estimated 35% of women have experienced physical, sexual or psychological abuse.[2]
Women physically or sexually abused by their partners report higher rates of a several important health problems. For example, they are 16% more likely to have a low-birth-weight baby and almost twice as likely to experience depression compared to women who have not experienced partner violence.[3]
Reflection and Action
Join in prayer at the start of 16 Days of Activism.
The United Nations has organized four world conferences on women. Each produced a political declaration.
The Fourth World Conference took place in Beijing in 1995. The Beijing Declaration and the Platform for Action is a key global-policy document that sets strategic objectives and actions for the advancement of women and the achievement of gender equality. In preparation for that conference, members of the Anglican Mothers' Union and Episcopal churches met frequently to identify their priorities.
During the conference, the women's consultation included a daily noonday prayer – an important pause amid long days of negotiation and debate about ecumenical women's priorities for gender equality. Twenty-five years after the conference, women around the world continue to use this communal prayer, adapted to their circumstances. The prayer above is an adaptation of that prayer. We invite you to coordinate a noonday prayer with members of your faith community.
The presiding bishop's delegation to the U.N. Commission on the Status of Women facilitated an online study group – Beijing +25: Celebrating the Blessing, Realizing the Dream –to review the Beijing Platform for Action and publish blogs about the 12 areas of concern the platform raised. Read the blogs here.
Read more about The Episcopal Church's continued advocacy for women's rights in the Episcopal News Service.
[1] Beijing Noonday Prayer [updated for Episcopal Relief & Development toolkit]
[2]https://apps.who.int/iris/bitstream/handle/10665/85239/9789241564625_eng.pdf;jsessionid=9C0A487649A2AE2B08FAFBE400AEF2C0?sequence=1
[3] https://apps.who.int/iris/bitstream/handle/10665/85239/9789241564625_eng.pdf?sequence=1