ACTION 8: DIALOGUE ON HIV/AIDS AND DISCRIMINATION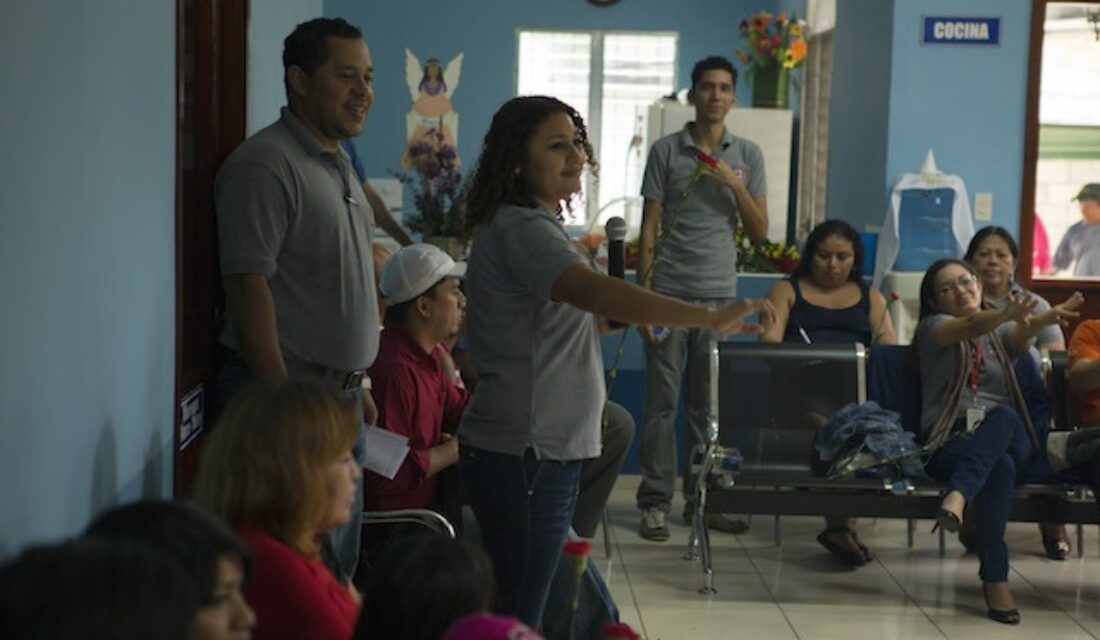 Siempre Unidos counselors facilitate a support group in Honduras for people living with HIV/AIDS.
Faith
Do not fear, for I am with you, do not be afraid, for I am your God. I will strengthen you, I will help you, I will uphold you with my victorious right hand.
Isaiah 41:10
Fact Sheet
People living with HIV/AIDS experience high levels of labor discrimination. The International Labor Organization reports that people with HIV/AIDS have an unemployment rate three times higher than national averages.[1]
Women living with HIV experience significantly higher rates of intimate-partner violence than women that do not have the virus.[2]
Specific groups of women are disproportionately affected by HIV. An analysis of studies measuring the pooled prevalence of HIV in 50 countries estimated that, globally, female sex workers are approximately 14 times more likely to be infected than other women of reproductive age.[3]
Reflection and Action
Every year on December 1, millions of people come together to commemorate World AIDS Day. It's an opportunity for people worldwide to advocate for the rights of people living with HIV and to memorialize those who have died from an AIDS-related illness. Founded in 1988, World AIDS Day was the first international day for global health. Since then, awareness has grown about the links between vulnerability to gender-based violence (GVB) and HIV/AIDS.[4]
Siempre Unidos is a ministry of the Episcopal Diocese of Honduras supported by Episcopal Relief & Development. Operating in Honduras since 1999, this organization focuses on clinical and community-based services, advocacy and outreach for people living with HIV and communities vulnerable to infection as a result of their marginalization, such as commercial sex workers, incarcerated populations and transgender youth. Siempre Unidos successfully reached UNAIDS 90-90-90 Campaign goals, with 91% of its patients maintaining suppressed viral loads.[5] Concerning outreach, Siempre Unidos created a support group for those living with HIV/AIDS to support their medical and psychosocial needs better.
The incidence of GBV against people living with HIV/AIDS, sex workers and LGBTQ populations in Honduras is extreme, and Siempre Unidos' ministry is vital.
Read more about the work of Siempre Unidos. Finally, you can join global activists commemorating World AIDS Day by wearing a red ribbon, the universal symbol of awareness and support for people living with HIV.
Footnotes
[1]https://www.unaids.org/sites/default/files/media_asset/01_PeoplelivingwithHIV.pdf
[2] https://www.unwomen.org/en/what-we-do/hiv-and-aids/facts-and-figures
[3]https://www.unaids.org/sites/default/files/media_asset/01_PeoplelivingwithHIV.pdf
[4]https://tbinternet.ohchr.org/Treaties/CEDAW/Shared%20Documents/1_Global/INT_CEDAW_GEC_4726_E.pdf
[5] UNAIDS ambitious 90-90-90 campaign goals stated that: By 2020, 90% of all people living with HIV will know their HIV status. By 2020, 90% of all people with diagnosed HIV infection will receive sustained antiretroviral therapy. By 2020, 90% of all people receiving antiretroviral therapy will have viral suppression.