Easter Activities

Meaningful Easter Egg Hunt

This set of nine conversation prompts emphasizes empathy and abundance. They are designed for children to discover inside of Easter eggs at home or at church. Parents can print, cut, and roll up each prompt into an egg. Formation leaders can prepare the prompts in advance and place them in baskets or bags for families to take home and use throughout the Easter season. Download the Easter Egg Hunt here.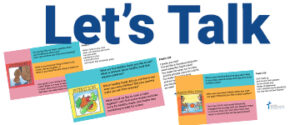 Eastertide Activity – Let's Talk: Conversation Starters
Let's Talk: Family Conversation Starters on Gifts and Psalms are based on the Gifts That Nurture Children from the ONE THOUSAND DAYS OF LOVE Campaign. These cards can be used at any time of the year to help generate meaningful interactions. We've created simple instructions for how you can utilize these cards with your family over the six weeks of Eastertide as well. Let's Talk cards are composed to be open-ended, to create a time of storytelling and sharing. The possibilities for engaging conversations are endless!