Episcopal Relief & Development Supports Dioceses Preparing for Hurricane Florence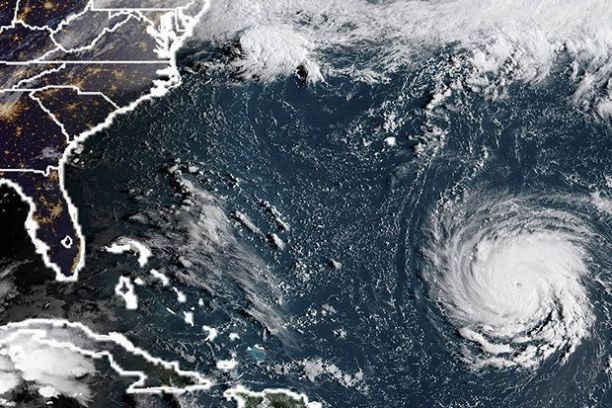 September 11, 2018
Episcopal Relief & Development is supporting approximately eleven dioceses located in the path of Hurricane Florence as they prepare to respond to the needs of impacted communities.
Hurricane Florence, called "extremely dangerous" by the National Hurricane Center, is speeding toward the Southeast and Mid-Atlantic regions, prompting evacuation orders for more than 1.5 million people ahead of the storm. On Sunday, Florence became a hurricane with sustained winds of at least 74-mph. It continued its path toward the East Coast overnight Monday, jumping to a very powerful Category 4 storm status and 140-mph winds. The hurricane is predicted to gain strength to near Category 5 intensity on Tuesday and make landfall early Friday.
The National Hurricane Center is warning of a very dangerous double threat including a hurricane on the coast and major inland flooding from the heavy rain.
Episcopal Relief & Development is supporting the affected dioceses in Virginia, North Carolina, South Carolina, Maryland, Washington, D.C. and Georgia on potential response efforts. The US Disaster team has begun conducting daily coordination calls to assist dioceses located in the path of the hurricane as they prepare and plan next steps. The team is training dioceses to use AlertMedia, a cloud-based disaster communications tool that enables staff and congregational leaders to share assessment information with diocesan leadership. AlertMedia sends notifications through SMS, phone calls, and emails to help ensure that everyone receives the message, and they can respond quickly and easily.
"Leaders throughout this region have extensive experience preparing for and responding to disasters, and have powerful networks of relationships and ministries in their communities," said Katie Mears, Senior Director of Episcopal Relief & Development's US Disaster Program. "This wealth of experience and deep community connections will allow diocesan leaders to effectively serve those most in need."
Please pray for those impacted by Hurricane Florence. Donations to the Hurricane Relief Fund will help Episcopal Relief & Development respond to this crisis. Church bulletins inserts can be found here.
For over 75 years, Episcopal Relief & Development has been working together with supporters and partners for lasting change around the world. Each year the organization facilitates healthier, more fulfilling lives for more than 3 million people struggling with hunger, poverty, disaster and disease. Inspired by Jesus' words in Matthew 25, Episcopal Relief & Development leverages the expertise and resources of Anglican and other partners to deliver measurable and sustainable change in three signature program areas: Women, Children and Climate.