Supporting the South Sudanese Relief & Development Agency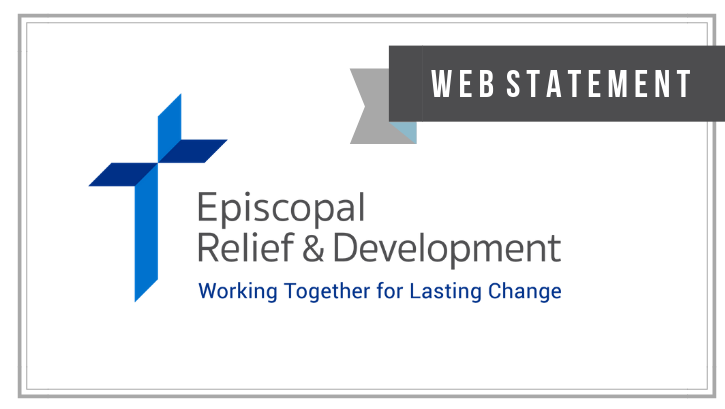 Supporting the South Sudanese Relief & Development Agency
Web Statement
February 24, 2020
Episcopal Relief & Development is supporting the South Sudanese Relief & Development Agency (SSUDRA), the relief & development agency of the Episcopal Church of South Sudan (ECSS), as they respond to the ongoing humanitarian crisis in South Sudan. SSUDRA is providing assistance through an integrated multi-diocese program that serves 600 displaced households.
Since July 2019, South Sudan has experienced catastrophic flooding in many parts of the country, displacing communities that were already vulnerable due to the years of violence and conflict in the region. In addition to destroying homes, the floods have caused the collapse of latrines, resulting in the contamination of water and the spread of water-borne disease. Flooded airstrips, bridges and roads have made difficult for responders to reach the impacted communities.
SSUDRA, with the support of Episcopal Relief & Development and other non-government organizations (NGOs), is spearheading a 12-month integrated program to create sustainable relief and recovery for vulnerable groups such as households headed by women, unaccompanied children, pregnant women and people with disabilities. The project includes financial support, training and supplies to improve food production processes, training and tools to increase access to safe drinking water, and assistance with construction.
In order to improve food production, SSUDRA is providing agricultural supplies such as cereals, vegetable seeds and tools to enable recipients to grow their own foods. The organization will also establish ten demonstration gardens to train 400-600 lead farmers in climate-smart agricultural processes. These lead farmers will then be equipped to train others in the community, ensuring a long term recovery. In addition, SSUDRA is distributing fishing gear and training farmers on fishing techniques and processes, creating another potential source of income for the communities. 
In areas where latrines did exist, many were destroyed by the flooding. To increase access to safe drinking water, SSUDRA is rebuilding latrines. The organization is also providing soap and water treatment tabs, as well as trainings on water, sanitation and hygiene.
"SSUDRA's existing presence in communities that were affected by the flooding has enabled them to respond efficiently and effectively with programs that will be sustainable in the long term," said Nagulan Nessiah, Senior Program Officer, Disaster Risk Reduction for Episcopal Relief & Development.
To learn more about Episcopal Relief & Development's partnership with SSUDRA, click here.
For over 75 years, Episcopal Relief & Development has been working together with supporters and partners for lasting change around the world. Each year the organization facilitates healthier, more fulfilling lives for more than 3 million people struggling with hunger, poverty, disaster and disease. Inspired by Jesus' words in Matthew 25, Episcopal Relief & Development leverages the expertise and resources of Anglican and other partners to deliver measurable and sustainable change in three signature program areas: Women, Children and Climate.