Giving Birth to an Elephant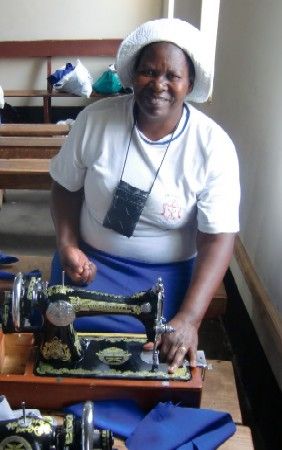 Recently, my colleague and I were sitting in the offices of the Anglican Diocese of Harare in Zimbabwe, discussing a new type of community development program called "Umoja." Our host told us he thought it could eventually be successful in Zimbabwe, but it would be like "giving birth to an elephant."
"What?" I immediately interrupted him to ask, thinking I had misunderstood. "What did you say?" He explained patiently, and with a smile, "Transitioning to an approach like this is like giving birth to an elephant, which takes 22 months, compared to the nine months that human mothers are pregnant. So in other words, it will take some time."
We all laughed. Right, of course – like giving birth to an elephant.
Umoja is a form of asset-based development. Pioneered by Tearfund for the African context, it helps community groups to build on their own resources and create a vision for the future. Episcopal Relief & Development is introducing this concept in different ways across our programs – and it is an idea that has already resonated with our partner staff in Zimbabwe.
In southeastern Zimbabwe, our partner, the Anglican Diocese of Masvingo, has worked to help a number of groups create small businesses, allowing them to diversify their incomes and earn extra money for their families. Group members have started raising chickens and pigs for sale, tailoring and sewing clothing, and processing peanuts to produce the smooth peanut butter used locally in sauces. The participants have come a long way, especially considering the economic and political chaos they have lived through in recent years. However, during our trip we agreed that the next step was for them to realize what they have already built, and use that to construct self-supporting business plans for the future.
On the last day of our trip we visited a training center near Harare, called Foundations for Farming, which is teaching conservation agriculture methods. Like Umoja, the center is also helping farmers to be proud of their skills and to both use them and share them with others.
When I asked one of the trainers about the adoption of the new methods by farmers in their own fields, he told me that it was happening, and often with great success, but that it required extra work during the first couple of years. He said it was a bit like "giving birth to an elephant."
This time I just smiled and nodded – I knew what he meant.
———-
Sara Delaney is a Program Officer with Episcopal Relief & Development.
Photo: A member of a small business group facilitated by the Anglican Diocese of Masvingo in Zimbabwe, a partner of Episcopal Relief & Development.