Celebrating 15 Years of Shared Ministry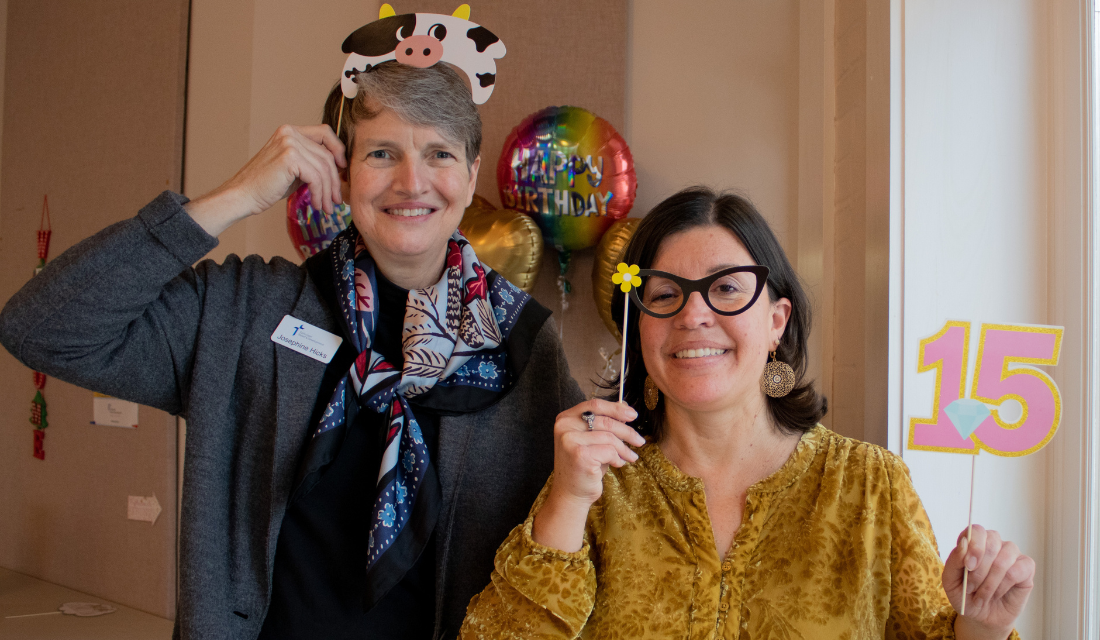 By Courtney Moore, Content Manager at Episcopal Relief & Development.
One Sunday morning, church members trickled in little by little with a diverse array of food dishes and placed them on a long table in the center of the dining hall. Empanadas, turrón, sweet potato pie.
There were many seasonal touches throughout the room–red plates, little Christmas birds. And cow decorations, lots of cows.
The congregation of St. Luke's Episcopal Church in Bethesda, Maryland was celebrating another successful year of their lovingly titled "Holy Cow" ministry. In addition to the cow decorations, around the dining hall, were posters showcasing images of Episcopal Relief & Development international program participants. Each poster marked the years, starting in 2007, the church has supported Episcopal Relief & Development. The 2022 poster highlighted their contribution of nearly a quarter million dollars to the organization's Gifts for Life campaign.
Families sat together and ate a variety of food, while the little ones eagerly awaited the afternoon activities. Once it was time, they enjoyed a petting zoo in the basement, followed by taking turns knocking down a piñata stuffed with candy.
For those who stayed in the main room, there was cake. It read, "Celebrating 15 years of shared ministry."
"I was trying to come up with something that reflected a partnership of sorts. Episcopal Relief & Development is doing the hard work on the ground, and it's supported by parishes like ours."

 – Marta Montoro, Ministry Partner for Episcopal Relief & Development and organizer of the event.
What started as an effort by two young boys who collected coins from students during Sunday School became a long-running campaign. As part of the Holy Cow ministry, families are encouraged to give to the Gift for Life campaign every Christmas. Families let their children decide which gifts they want to select each year, and some even forgo receiving gifts in order to support people in need around the world.
"We have been unevenly focused on including the children," Betsy Davis, a long-time ministry member, pointed out. To her and many on the committee, including entire families, have made their fundraising efforts more successful. The church works to help its young people feel connected to other young people around the world through educational videos and materials. "We like to teach them that our families in the church have a lot in common with the families we are supporting," she added.
Like St. Luke's in Bethesda, Episcopal Relief & Development is supported by congregations across The Episcopal Church through Gifts for Life. In 2022, 78 churches contributed to the campaign. Contributions help the organization work together with communities to create lasting change in the core areas of Women, Children, Climate and Disaster Response.

---
| | |
| --- | --- |
| | Courtney Moore is the Content Manager at Episcopal Relief & Development. |
---