How One Ministry Partner Used Coffee Hour For Episcopal Relief & Development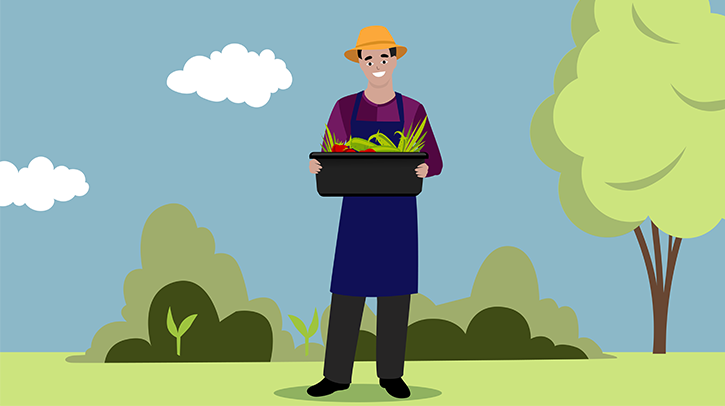 By Eleanor Withers, Associate, Global Program
A lot of churches use the Abundant Life Garden Project (ALGP) curriculum in the summer with children, but it can actually be used with adults and as an intergenerational activity throughout the year as well. Cindy Coe from St. Elizabeth's Church in Knoxville, TN used the ALGP curriculum during coffee hour with adults, youth and children in December. Learn more about her experience.
---
Tell me about your experience using the ALGP curriculum with an intergenerational audience.
Cindy: When you offer something like this, you just never know who will show up. That's why I taught the class during coffee hour. I knew that everyone would be gathered in one place and I would be able to reach more people. I told our rector that I was inclined to turn the entire hospitality hour into my class and he said, "Go for it!" I chose just to focus on one of the activities in the Abundant Life Garden Project curriculum, the Water Walk, for a 40-minute class.
What resources did you use to lead the Water Walk?
Cindy: I put into practice what I had learned from Katie Mears about Asset Based Community Development and used items around the church in order to lead the program. I used two jugs of water and put them inside a cardboard box that said "St. Elizabeth's Well." I placed this structure down at the bottom of a hill below the church and our group retrieved water from there and brought it back to the church. 
What impact do you think this activity had on your parish?
Cindy: When working with children and youth you never know the impact that you will make on them. All I can do is plant those seeds with faith.
The teenagers were very interested in getting involved. They actually ended up leading the activity and giving a synopsis after the activity to one of our older parishioners and the children who were unable to participate in the Water Walk. The synopsis included an entire presentation about Episcopal Relief & Development's clean water project. The teenagers nailed it!
How did the teenagers get along with the adults?
Cindy: Beautifully. I think it is always good to get children, youth and adults together. I don't like segregating people according to age. I think that is a real missed opportunity. We learn more when we work together in diverse, intergenerational groups and those discussions are most fulfilling.
Do you have any plans to use the curriculum again or support Episcopal Relief & Development?
Cindy: Yes, our parish wants to start hosting activities like this four times a year. The other day I was talking to families in my neighborhood and several of them asked about where they could go to volunteer with their children. I said, "The church!" I think there is a hunger among young families to get their children out and doing something for other people, they just need structure which the church and programs like this provides.
---
| | |
| --- | --- |
| | Eleanor Withers is an Associate, Global Program at Episcopal Relief & Development. |