Universal Children's Day: Extending our love to all children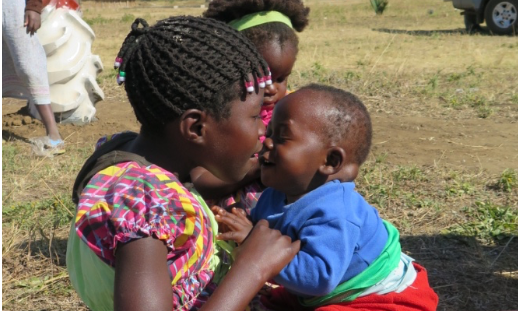 For Universal Children's Day, Chad Brinkman, Program Officer for Engagement, expresses how the love for his child has the power to grow and embrace children all over the world.
---
My child's pediatrician recently told my wife that our son was exceptionally intelligent. I knew this all along (as all parents do, right?), but now that I actually have proof from a professional, I will make sure to casually share that fact with anyone and everyone that will listen! It is going to be obnoxious (it already is?), but I am proud of my son. He is two, and is a genius! We shall see how I feel about this at age three.
To help expand his social opportunities, my wife takes my son to the library every Monday morning for group play and reading time. Occasionally, I get to attend as well. It's interesting to me that the children in the library are from such diverse backgrounds and socio-economic levels. The children don't seem to notice, or if they do, it is only an observation. They play together, enjoy each other's companionship. It is a picture of a community that transcends and transforms.
Photo from Episcopal Relief & Development's Nicaragua 
program helping to alleviate hunger and end poverty
We are also putting our son into pre-school in the new year. I think we toured a dozen places until we found one that made us enthusiastic about the transition. It's equal parts exciting and terrifying. Though while we are filled with a little trepidation, I know that giving him opportunities to learn in a structured environment and to be with other children in a safe and nurturing place is going to be good for him. He will have coordinated learning, proper nutrition, and fun play experiences.
Everyone is warning us about the onslaught of childhood ailments we're bound to encounter as well. Thankfully, we have good health insurance and a doctor's office, literally two blocks from our house. We are fortunate indeed. My son gets to develop that giant brain of his with all the advantages of our privileged place in this world. Not all children are so blessed.
A Day for Children
Honduras – where our program
 piloted the integration of kitchen gardens to improve the nutrition of local families
This November 20th, we celebrate United Nations Universal Children's Day. Established in 1954, it celebrates the promotion of international togetherness, awareness among children worldwide, and improving children's welfare.
It was also the date in 1959 when the UN General Assembly adopted the Declaration of the Rights of the Child. The convention set out children's rights such as that to be protected from violence and discrimination, and the rights to life, health and education.
Think about that; children have the right to be protected from violence and discrimination and the rights to life, health and education. It should be a given, and yet in that short walk to my son's pediatrician, I encounter children who struggle to attain these fundamental rights. Not to mention the hundreds of thousands of children around the world with even more limited access to these basic entitlements.
That is why Episcopal Relief & Development's work with #Children is so important. In partnership with you, we support kids under age six so that they reach appropriate health and developmental milestones. We focus on early development because it is foundational. Then, children can achieve their full potential and become future contributing members of their communities. We should all be about the work that helps to make the Convention on the Rights of the Child a reality for all.
Northern Ghana – Fighting maltnutrition and child mortality rates due to Malaria
Every child deserves the chance to achieve their full potential
Universal Children's Day is an opportunity for us to focus on children and to understand that often we miss the little ones around us because of how we show up in the world. It is an opportunity to examine ourselves and to be purposeful about respecting the dignity of others.
We will continue to bring our son to the library each Monday, even after he begins pre-school. I want him to be present with all people, to think about togetherness. That, and also because he is so smart, he is going to need access to more advanced books!
This Universal Children's Day, I encourage that we all ask ourselves the question: "How can each of us promote international togetherness and awareness among children worldwide?" Because, every child deserves the chance to achieve their full potential.
Watch and share this video for children, and by children!

Further Reading: