ACTION 5: DIALOGUE WITH THE ANGLICAN COMMUNION ON ENDING GBV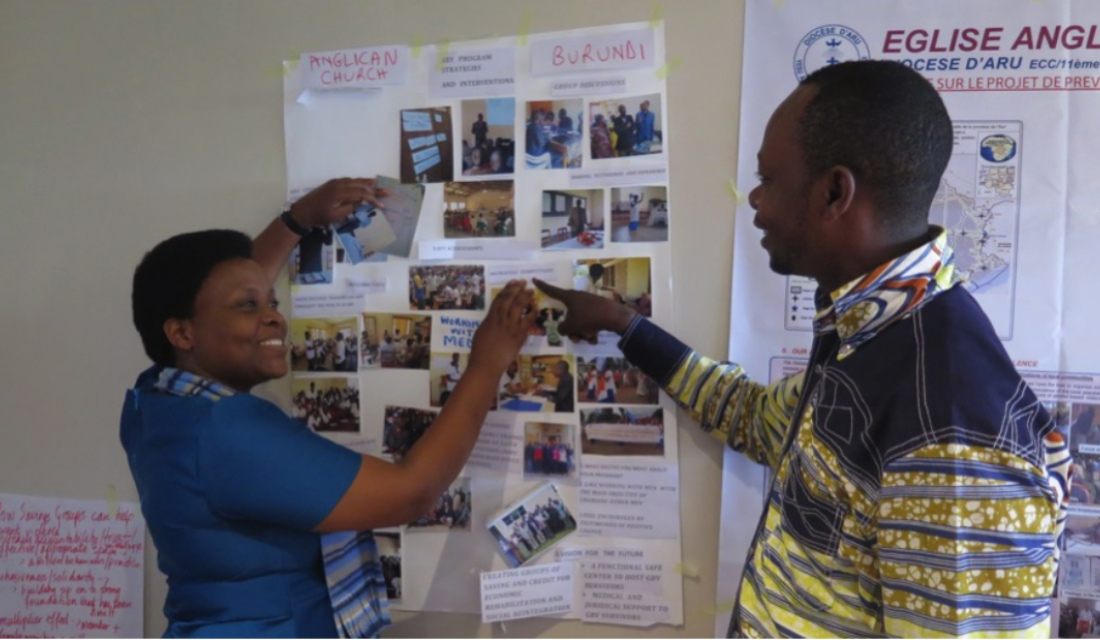 Episcopal Relief and Development Partners in the Diocese of Aru, DRC, create a poster of GBV program strategies and interventions.
Faith
For just as a body is one and has many members, and all the members of the body, though many, are one body, so it is with Christ. For in the one Spirit we were all baptized into one body —Jews or Greeks, slaves or free —  and we were all made to drink of one Spirit. 
Indeed, the body does not consist of one member but of many. If the foot would say, "Because I am not a hand, I do not belong to the body," that would not make it any less part of the body.
1 Corinthians 12:12-15
Fact Sheet
About 17 percent of Zambian girls aged 15 to 19 are married, compared to only 1 percent of boys of the same age group.[1]
32 percent of Kenyan young women aged 18 to 24 and 18 percent of their male counterparts reported experiencing sexual violence before age 18.[2]
Reflection and Action
Mandy Marshall, the director for gender justice for the Anglican Communion, is hosting a series of panel events and webinars to mark the 16 Days of Activism. Speakers will include the Most Rev. Thabo Cecil Makgoba, archbishop of Capetown and metropolitan of the Anglican Church of Southern Africa. Series themes will include: addressing gender-based violence (GBV) around the communion; engaging men in ending GBV; advocacy and gender justice; and identifying the signs of GBV. Speakers represent organizations such as the International Anglican Youth Network and the Mother's Union. Register for events using the links below, and participate in the dialogue through Zoom and/or YouTube.
Registration Links:
[1] https://www.un.org/africarenewal/news/zambia-fighting-gender-based-violence-fresh-cases-continue-emerge
[2] https://www.unaids.org/en/resources/presscentre/featurestories/2018/may/gender-based-violence-in-kenya