Church's Typhoon Response Builds Resilience, Boosts Economy
March 4, 2014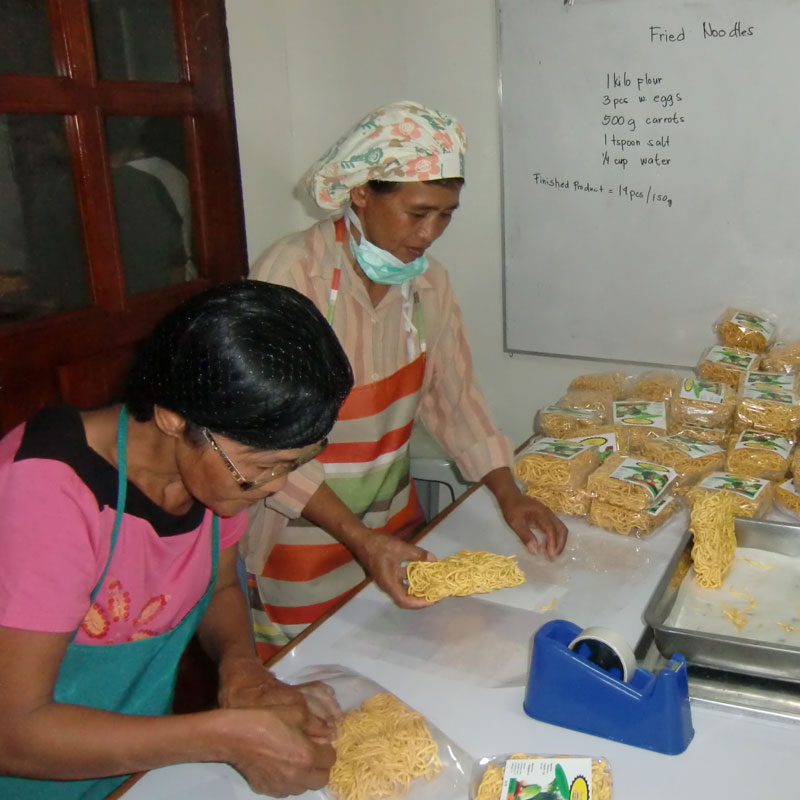 The Episcopal Church in the Philippines (ECP) has completed the initial relief phase of its
response to Typhoon Haiyan
– known locally as Yolanda – and will continue to assist impacted communities in rebuilding homes and rehabilitating livelihoods. Episcopal Relief & Development supplied funding and technical support for these activities, which have strengthened relationships among participating communities, built local resilience and created economic growth.
The ECP's development program, recently named E-CARE (Episcopal Community Action for Renewal and Empowerment), is acting in partnership with local cooperatives and organizations specializing in post-disaster reconstruction. Guided by principles of asset-based community development, E-CARE programs seek to identify and expand on a community's strengths to meet local and regional needs.
"From past experiences, disaster relief and rehabilitation work … oftentimes results in helplessness," wrote Floyd Lalwet, ECP National Development Officer, in the proposal describing the Church's planned disaster response. "Hence, in the implementation of this project, measures are deliberately and programmatically adopted to prevent such undesired effects and, instead, build up and/or enhance the sense of self-reliance of these communities."
Typhoon Haiyan struck the central Philippines on November 8, 2013, causing widespread flood and wind damage. ECP immediately mobilized a response via its networks in impacted communities, sending locally-sourced relief supplies and medical teams to areas that had not been reached by larger humanitarian efforts. From November to February, ECP staff and volunteers distributed a total of 10,317 food and hygiene relief packs containing toiletry items and food such as vegetable noodles, camote (sweet potato) cookies and "energy mix" porridge. ECP purchased the food items from Church-based cooperatives in the northern part of the country, and volunteers packed the supplies in bags crafted from surplus donated clothing.
"The success of ECP's disaster response so far, and of their programs in general, comes in part from their keen ability to see the big picture," said Sara Delaney, Program Officer for Episcopal Relief & Development. "It can be tempting to focus on disaster response as an isolated project, but ECP sees it as part of their larger work and looks at how the response can utilize programs they already have and strengthen communities to be more resilient to challenges."
For the first round of long-term recovery work, Church staff identified four barangays (municipalities) on the island of Leyte that were actively participating in livelihood programs at the time of the typhoon. Severe winds destroyed homes and wiped out crops, but these barangays were not impacted by seawater – an advantage that will allow agriculture to recover more quickly. Local farmers are now starting over with all-natural, harvest-boosting fertilizers and techniques from the Church's Tadian Demonstration Farm, and ECP is purchasing salvageable fruit crops to process into jam, which will be sold via the E-CARE store in Manila. Supplemental food assistance will continue during this time of rehabilitation, as farmers have been able to replant their fields but will not be able to harvest for several months.
Economic rehabilitation is essential for the long-term recovery of typhoon-affected areas, and ECP is working with the Philippine Center for Social Enterprise to restart existing businesses and develop new ones. According to ECP staff, communities that received relief packs were inspired to learn that the food items had been produced by farmer cooperatives in the northern part of the country, and resolved to expand their own activities along the same lines. For those supplier communities, participating in the typhoon response led to an increase in production capacity, which will position them to compete in the regional market and assist in future disasters. Additionally, many of the products are organic, strengthening their competitive advantage and responding to the growing demand in the Philippines for organic food.
With wind speeds peaking at 195 miles per hour, a majority of residents in the four selected barangays experienced severe or total damage to their homes during the storm. Although many have made provisional repairs using tarps and canvas, ECP aims to empower people to rebuild in a way that will reduce risks associated with future disasters. Utilizing Interlocking Compressed Earth Block (ICEB) technology pioneered by the locally based JF Ledesma Foundation, residents will be able to use local materials to produce low-cost, durable bricks for home reconstruction. Recovery plans include other proven risk reduction strategies such as planting trees and other vegetation to combat wind and erosion.
Looking ahead, ECP plans to explore the potential for long-term recovery partnerships in four additional barangays that were impacted by the storm. By applying a "receivers to givers" methodology, ECP enables program participants to eventually "give back" by contributing labor or a portion of income to help other groups start projects of their own.
This holistic approach of connecting participating communities in a cycle of giving fosters a sense of equality and solidarity, according to Lalwet. "It also gives the receiving communities a better sense of obligation to follow a similar course taken by marginalized communities seeking to economically empower themselves," he wrote in the disaster response proposal.
Following their asset-based approach, ECP will accompany communities through the relief and rehabilitation phases of disaster recovery, laying a foundation for further community development beyond just rebuilding to pre-typhoon status. "The aim of the ECP disaster response is to help communities identify their own strengths and capitalize on them," Delaney said, "so that after several years of growth, they are not only fully recovered, but stronger."
Episcopal Relief & Development is the international relief and development agency of The Episcopal Church and an independent 501(c)(3) organization. The agency takes its mandate from Jesus' words found in Matthew 25. Its programs work towards achieving the Millennium Development Goals. Episcopal Relief & Development works closely with worldwide Church and ecumenical partners to help rebuild after disasters and to empower local communities to find lasting solutions that fight poverty, hunger and disease, including HIV/AIDS and malaria.