Supporting Displaced People in East Mosul, Kirkuk and Suleymaniyah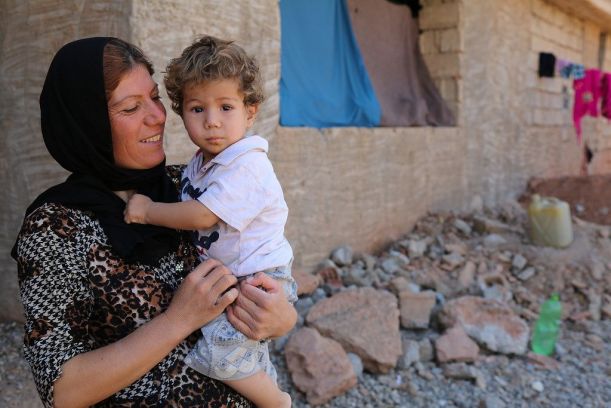 Episcopal Relief & Development is responding ecumenically to the current crisis in Iraq through the ACT Alliance, in support of Christian Aid UK's relief activities.
---
Episcopal Relief & Development is working through the ACT Alliance to support humanitarian relief work in Iraq. Through Christian Aid, the ACT Alliance is coordinating multi-sector activities to serve 8,000 displaced families impacted by military operations around Mosul.
ACT Alliance is a coalition of 145 churches and affiliated organizations active in over 100 countries. Christian Aid, Episcopal Relief & Development's local implementing partner and member of the ACT Alliance, has been responding to the Syrian refugee crisis since 2012. In light of the worsening situation, the agency has expanded its operations to provide assistance to Iraqis fleeing violence.
The United Nations Office for the Coordination of Humanitarian Affairs (UN OCHA) has reported that as of April 30, 2017, a total of 489,000 people remain displaced from Mosul. The number of displaced people is likely to increase as the military operation in ISIL-controlled areas persist. UN OCHA predicts a large outflow of people from west Mosul into the areas along the Syrian border.
Currently, the most pressing needs are protection for people who have been displaced and living in host communities since 2014. People are also in need of food, health services, psychosocial support, water and sanitation facilities and household items such as blankets.
Our local partners are coordinating relief efforts through the NGO Coordination Committee Iraq (NCCI) and with area specialists to aid 8,000 families. Food will be distributed in East Mosul. In Kirkuk, plans are in place to provide jobs for displaced people and to work with communities to prevent the recurrence of violence and promote peaceful relationships. Gender-Based Violence (GBV) support will be provided in Suleymaniyah.
Donate to the International Disaster Response Fund to help Episcopal Relief & Development support people who have been displaced by violence in Iraq, Syria and other places around the world.
Please pray for those impacted by the crisis in Iraq and the surrounding region, and those ministering to their humanitarian needs.
God of refuge and strength,
We pray for all those escaping fighting, seeking safety in south and east Iraq.Those half a million people who are now on the move and those who have been displaced since 2014. May you be a very present help in their trouble. Help through the provision of resources so needs are met. Help through food, water, hygiene and sanitation kits. Help so this 'crisis on top of a crisis' would not reach breaking point. May those who are left with nothing. Know that they are not forgotten. May they once again be able to fear less.