Boosting Confidence and Income for Women in Rural India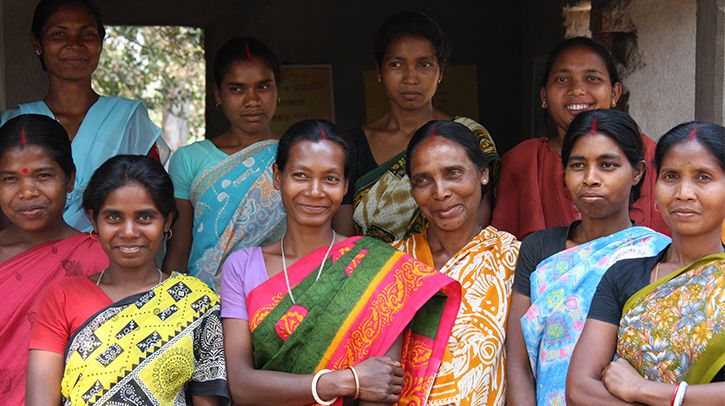 The confidence in Mridula's smile shows that she is a natural leader. Yet it has not always been easy for her to see herself in that way – in fact, she only reluctantly agreed to head up a local community group at the urging of her village committee (panchayat). But Mridula soon grew to believe in herself and her ability as an organizer, taking on additional responsibilities in the Self-Help Group (SHG) program of the Diocese of Durgapur in India. For many years now, she has led her own group and organized others around the diocese. As a result, she has become a role model, inspiring other young women to take up leadership positions in local organizations. Under her guidance, the SHGs have grown and flourished, generating income that benefits hundreds of families.
Mridula first joined her local SHG as a village health volunteer. She is still a health volunteer now, though she has expanded her responsibilities to include management of the diocese's 27 groups. She and her staff also provide monitoring, training and reporting support for an additional 64 groups that were started in the mid-1990s, separately from the current program initiated through Episcopal Relief & Development. Nearly all of the participants in the SHGs are women.
The current program began in 2009, providing interest-free start-up loans of 5,000 rupees each (about $110) to nine SHGs. Most of the groups are involved in income-generating activities such as crafting plates out of leaves or making babui-grass ropes, and some of the groups have paid back their loans and made generous profits in only a few months. The repaid loan money is used the next year to start nine new groups and give even more people the opportunity to earn income and improve their lives.
In addition to helping individuals better their lives, the SHGs are also an integral part of community development. They organize agricultural efforts, make sure wells are dug properly and where needed, and help staff "coaching centers" that work to preserve local languages and promote primary education for both girls and boys. The SHGs have also been successful in bidding for local panchayat contracts, with one recently receiving a contract for road construction through the National Rural Employment Guarantee Scheme.
Indeed, coordination with local governments is part of the diocese's plan to further develop the SHGs and benefit the communities they serve. As part of the program's sustainability strategy, the diocese plans to form a collective federation of all the SHGs, which would be registered with the government and able to provide logistical support to the groups. This would include storage, transportation and marketing support for the goods that the groups produce, helping them to sell directly to buyers in the larger towns and reducing the need for a "middle man." By banding together in this way, the SHGs can lower their overhead costs and boost profits, leading to greater investment and improvement in their own communities.
In India, as in most countries with developing economies, young people tend to flock to the cities in search of jobs and better opportunities. But local development projects, like those run by the SHGs in Durgapur, can help bright young women like Mridula grow while staying engaged in their home communities.
"Nearly all of the congregations in Durgapur are based in rural areas," says Karla Avila, Program Officer for Episcopal Relief & Development. "And most people in the diocese are from tribal groups or the Dalit caste [the lowest group], so economic and social opportunities have, in the past, been quite limited. But the self-help groups organize and empower people to improve their lives, strengthening ties within communities and also between them. Maybe people think of cities and cell phones when they think of economic growth, but it is happening in wonderful ways in rural areas as well."
This month, Women's History Month, Episcopal Relief & Development affirms its commitment to empowering women and reducing gender inequalities that prevent them from participating fully in community life. Said Avila, "We know that when women are given opportunities to earn income and become involved in decision-making, not only do they benefit, but their children grow healthier and do better in school." Through projects like micro-finance loans and craft cooperatives for women, Episcopal Relief & Development is helping to create the momentum for entire communities to break out of the cycle of poverty.