Church Programs Create Network of Support for Haiyan Response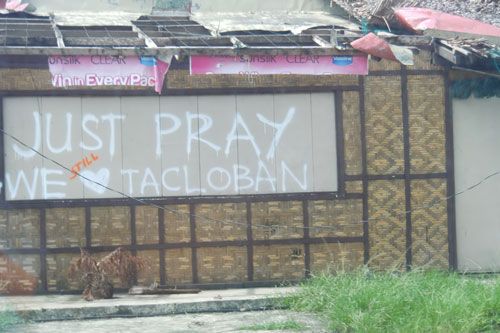 Around Tacloban, in the central Philippines, there is a wide swath of destruction where homes once lined the coast. On November 8, Super Typhoon Haiyan shattered lives and livelihoods, leaving piles of debris everywhere. Large international first-response agencies have been on the ground, doing what they do best – setting up central distribution points for food and water, clearing roads, collecting information and liaising with the local government.
But what about remote communities, families who can't get to the relief centers or people with special needs that might not be met by the larger response efforts? What will happen after the first response agencies move on to the next disaster? Here is where the Episcopal Church of the Philippines (ECP) is strongest – reaching out in typhoon-impacted communities to find where needs remain unmet, and promising to stay through the long-term, helping vulnerable people to make a full and sustained recovery.
Episcopal Relief & Development Program Officer Sara Delaney traveled to the Philippines in December to visit ECP programs and work with staff on their three-year long-term recovery plan. Her first stop was the northern part of the country, where the ECP has been promoting sustainable agricultural practices and fostering food production as an income generating project. Following the typhoon, the farmers organized themselves to increase production of sweet potato biscuits and vegetable noodles for the Church's food relief packs, in order to provide a fresher, healthier and more easily transportable alternative to canned food rations.
Delaney then traveled south with her ECP colleagues to Tacloban, the center of the Church's relief efforts and one of the hardest-hit areas. The group visited the nearby community of Sawa, where they had a chance to talk with area residents who were working on clearing debris and salvaging belongings and building materials.
"While we were talking, I slowly realized how long it would take for these families to rebuild their lives," Delaney said. "Not only had their homes and community buildings been destroyed, but they had lost their last rice crop, were unable to plant the next crop because of the salt water contamination, and their main cash source, the coconut trees, had been ruined and wouldn't bear fruit again for five years. They told us all of this remarkably calmly, but I could see they had a huge challenge in front of them."
Typhoon Haiyan, known locally as Yolanda, hit the central Philippines with winds that peaked at 195 miles per hour, making it one of the most powerful storms ever to make landfall. Early warning systems saved many lives by prompting evacuations before the storm surged ashore, though more than 14 million people were affected and nearly 4 million displaced.
"I was comforted at least by knowing that ECP is committed to working with communities through the entire rebuilding process, and that they have the experience and skills to guide families back, and hopefully also to make them even stronger," Delaney said.
No strangers to storm response – Haiyan was the sixth typhoon to hit the Philippines in the 2013 season – the Church in recent years has emphasized the importance of building up local capacity to recover after disasters. After Typhoon Ondoy in 2009, Episcopal Relief & Development and the Japanese Church, Nippon Sei Ko Kai, helped the ECP establish a rotating loan fund to support rebuilding efforts in the municipalities of Cabiao and Licab. Once the loan amounts were repaid, other impacted communities could apply for assistance, with interest helping the fund to grow.
With the frequent addition of more groups, the Church's development and disaster recovery programs have built a strong network of care and support. In the case of Typhoon Haiyan, this has enabled communities across the country to connect to the ECP's relief efforts. For example, members of a women's group in Tubo, northwestern Luzon, hiked for 90 minutes along a road impassible by vehicle to deliver their donation of 1,700 pieces of handmade soap for hygiene kits. And the Anunciation Cooperative in Licab resolved to speed up their repayment period on a 115,000 peso ($2,600) ECP reconstruction loan so communities impacted by Haiyan would have access to funds for their own rebuilding.
In a recent report, Provincial Secretary and National Development Officer Floyd Lalwet noted this generous response of individuals and groups from all over the country, and highlighted the ECP's aim to structure its relief and recovery program around a framework of sustainable development. According to Lalwet, the long-term work of the ECP in response to Haiyan will focus on accompanying specifically identified communities that do not have other partners, and strengthening adversely affected social enterprises in the impacted areas.
In the meantime, the ECP will continue to work with local organizers and the National Council of Churches in the Philippines to distribute supplies and identify ways to leverage expertise to meet needs. One recent example of this is the solar lighting systems that the ECP has installed at evacuation and distribution centers in areas without power. The ECP has been promoting solar power because it is environmentally friendly, but now with gas for generators in short supply, it has become an ideal solution. The lighting systems help reduce fear and anxiety for people who have been displaced from their homes, and they increase security for women and children who may be vulnerable in their shelters or traveling after nightfall. Once the electricity comes back on in the places where the lights are currently installed, they can be moved to other locations until the power grid is repaired throughout the impacted area.
Moving forward, Episcopal Relief & Development Program Officer Sara Delaney looks forward to working with her ECP counterparts to build on the long-term plans they began developing during her visit. Although it is going to be a large task, Delaney sees great reason for hope.
"It's hard to really prepare to enter this kind of landscape – the scale of it is overwhelming – but our ECP colleagues have shown incredible steadfastness and compassion as they work with people and listen to their stories," Delaney said. "It's amazing to be with them."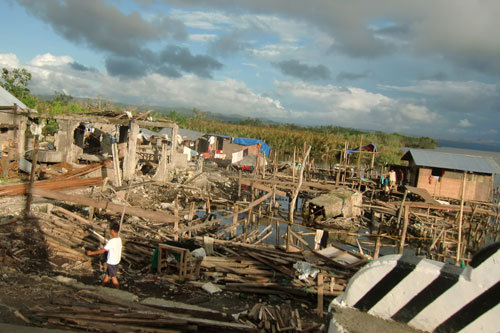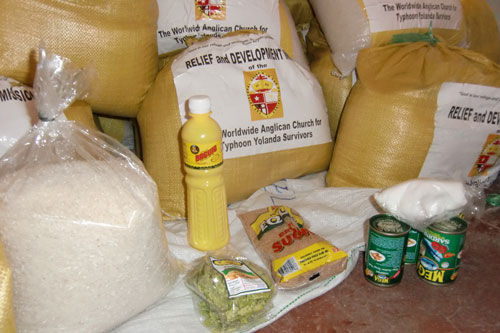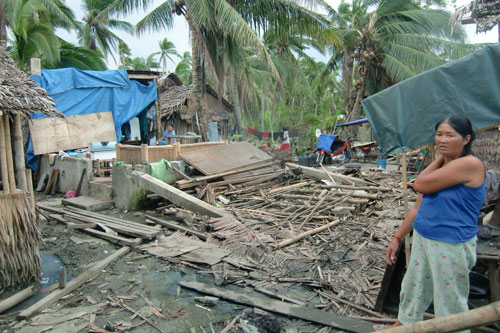 For detailed information on Typhoon Haiyan response, please visit Episcopal Relief & Development's website: www.episcopalrelief.org/haiyan.
To learn more about Episcopal Relief & Development's approach to disaster response and emphasis on short- and long-term recovery, please read Sean McConnell's blog post, "Taking the Long View on Disaster Recovery," at blog.episcopalrelief.org.