Garage Band Gig Helps Teens Give Their Hearts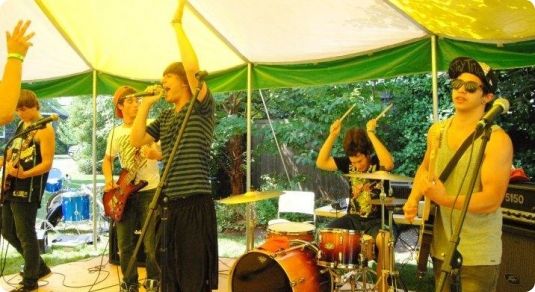 It was probably the first time the two had ever crossed paths. Garage bands—those edgy, earnest teenage musical groups with funny names—wouldn't normally have much to do with St. George's-by-the-River, an Episcopal parish in an upscale area of Rumson, New Jersey. But cross paths they did, and thanks to the vision and compassion of St. George's youth group, that meeting one summer day touched lives both in the local community and across the ocean.
According to Father Jim Strader, curate at St. George's, "Garage Bands for Haiti" grew out of the youth group's desire to support people affected by the devastating January earthquake. The teens decided to invite friends who are in garage bands to take part in a concert at the church. A $10 admission fee was requested that would go directly toward helping the people of Haiti.
One of the kids put together an "awesome" poster, Father Jim said, and the group created a Facebook event and shared it with their friends. Right away, three bands—Gone by Tomorrow, Across Uncharted Waters and Green Eggs and Sam—committed to playing. By the time the event rolled around, two more bands had also signed on.
On the day of the event, as the temperature soared above 90 degrees, about 60 teens and adults gathered on the grounds of St. George's. Beginning at 2:30, the 20 or so performers poured heart and soul into their songs for the next three hours—playing for nothing more than a bite to eat.
Local vendors donated food for the event, and some parents of youth group members also gave their time and money to make sure the performers would be fed throughout the afternoon. The teens were excited to share with concertgoers not just an enjoyable afternoon of live music, but also their mission to support Episcopal Relief & Development's work in Haiti. Partnering with the Episcopal Diocese of Haiti, the agency is currently assisting people through short-term employment opportunities, provisional housing, sanitation systems and community recovery initiatives.
According to Father Jim, the event raised close to $800, "not bad" for an event with little public advertising and completely volunteer-run. Much more importantly, however, he was proud of the teens' heartfelt effort to share their faith. "St. George's-by-the-River is a, well, 'established' Episcopal parish," he said. "I doubt if there's ever been a similar time when this parish community invited a bunch of teenagers to come and play everything from 'grunge' to 'folk rock' on a Saturday afternoon."
In his sermon the following day, Father Jim noted that the event was "about those rare blessed moments when you know that Jesus is present." In addition to the teens reaching out to help suffering people in another country, they also ministered to their community, including a young neighborhood couple and their children who happened to be walking by. The family asked about the concert and ended up staying the whole time. Even though they might never visit the parish again, said Father Jim, their lives were touched "because our youth group took the time to demonstrate their faith in Jesus Christ's message of compassion in a way that was totally authentic to them."
"This story is truly inspiring," said Xerxes Eclipse, Director of Donor Services at Episcopal Relief & Development. "There is so much energy and interest in helping the people of Haiti move into the next phase in rebuilding their lives and communities. The Garage Band Gig just shows how a small group of young people can use their talents and hearts to make a world of difference. We are so grateful to the youth group at St. George's-by-the-River for their time, effort and caring."
—————–
For more information on Episcopal Relief & Development's ongoing work through the Diocese of Haiti, please visit www.episcopalrelief.org/Haiti.