Giving in the Midst of Gratitude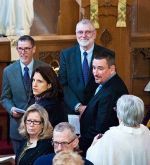 We love the creative ways people come together to raise awareness around Episcopal Relief & Development. This year we've seen a BBQ contest in Texas, a bike riding fundraiser in Virginia and a festival in Connecticut, just to name a few. A recent trend emerging is around weddings. Yes! More and more people are asking their guests to skip the wedding registry and donate to our organization instead. Jim Belmont and Stephen Pierce are one such couple.
One morning I received a call from Stephen Pierce, the Coordinator for Congregational Support at The Episcopal Diocese of Massachusetts. He shared the good news that he and his lifelong partner were getting married. Mr. Pierce explained that he and Jim Belmont wanted their family, friends and colleagues to make donations to Episcopal Relief & Development in lieu of gifts. They have had friends and colleagues do gifting this way on other occasions and found themselves moved. "It's kind of like giving in the midst of gratitude: celebrating Christmas, birthdays, weddings, etc. which we all like to do, and giving in the midst of that happiness."
Stephen and Jim have known each other for nearly 30 years, and about 16 years ago considered themselves 'partnered', and the rest is history! Both are active members of their church and invest lots of time with their extended family, kind of like honorary uncles. Steve has been on several nonprofit boards and was treasurer for a local spiritual direction organization and Jim is currently on the Vestry of their local church. They're a busy couple and their faith is at the center of all that they do.
After learning about how active they are, I had to ask what inspired them and what has brought them the most joy. Stephen responded via email:
"While growing up, I was greatly blessed to have a 'village' which surrounded me with love, care, and support. My parents struggled on several fronts and others always seemed to be there. There is no way that I could be the person I am today without that support, and that includes my Sunday School teacher Mrs. LeBaron back when I was in the 10thgrade. Jim's background has been similar to mine, so I think one of the matters which drew us so closely together is that we 'see eye to eye' on lots of life. Also, we both Love Jesus! We love the Church in all of its ways, both when it succeeds and when it is off, as it enfleshes the Body of Christ. We believe the Gospel is a way to LIFE, and we look to find ways where we can preach, teach, and BE, with God's grace!"
Blessings on you Mr. Belmont and Mr. Pierce, for all the work you do to support The Episcopal Church, and your generosity in giving to Episcopal Relief & Development.
—————————–
Adrienne Smart is the Database Manager for Donor Services for Episcopal Relief & Development.
Images: Photos from Steve and Jim's wedding.
---
Healing the world starts with your story!
During the 75th Anniversary Celebration, we are sharing 75 stories over 75 weeks – illustrating how lives are transformed through the shared abundance of our partners and friends like you! We invite you to join us in inspiring our vibrant community by sharing your own story!