Power of Partnerships: Jordan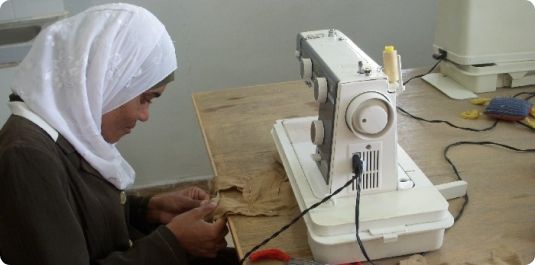 To kick-off the Power of Partnerships Series, we are focusing on the Jofeh Center in Jordan, an Episcopal Relief & Development-supported program implemented in partnership with the Episcopal Diocese of Jerusalem. The Jofeh Center, an outreach program of the Holy Land Institute of the Deaf, is a community rehabilitation center that offers vocational training for disabled adults and a therapeutic school for children with developmental disorders.
Jordan, a landlocked country in the Middle East, is challenged by an inadequate water supply and an underdeveloped economy, resulting in a 30% unemployment rate and geographic pockets of extreme poverty. In this setting, even people with many advantages struggle to earn a living and support their families. For children born with a physical challenge or developmental disorder, finding a way towards economic security is especially daunting, in some cases nearly impossible.
This is where the Jofeh Center steps in and makes a dramatic difference in the lives of physically and developmentally challenged children and adults. Located near The Baptism site, where John the Baptist baptized Jesus, in the village of Jofeh in the Jordan Valley in North West Jordan, the Jofeh Center serves 13 impoverished villages in the Dead Sea area. Headed up by Mr. Yousef Rizik and run by a small staff and a large team of dedicated local volunteers, the Jofeh Center operates a therapeutic school that serves 197 children with hearing, speech and physical therapy, and runs a vocational training program for physically challenged adults.
For these young adults, especially women who are restricted by the values of a traditional culture, there are very few opportunities to gain marketable skills in Jordan. To address this, the Jofeh Center trains hundreds of physically and developmentally disabled adults in computer skills, embroidery, woodworking, paper making and textile production. Besides operating a store at the Center to sell the student's handiwork, the Center has created a micro-enterprise by engaging a large international hotel chain in the region to sell the students' products in the hotel gift shop. Students are paid for all of their work and so are trained while generating a small income.
The Center has creatively responded to some of the barriers that have emerged during program implementation. For example, at first many parents objected to having their older daughters leave the house on their own in order to attend trainings. To address this and to ensure that other students living in more remote villages had secure transportation to the Center, Jofeh bought a school bus and hired a driver to transport children and young adults to the Center. Each day the bus travels up to 200 kilometers as it canvasses the region to get the developmentally and physically challenged people of North West Jordan the education and training they need.
Heading up the Jofeh Center's wish list would be the funds to cover a new school bus and driver. With a second bus the Center would be able to reach even more people and provide more desperately needed services to this vastly underserved population.
"The Center has become a life-line for disadvantaged and marginalized people, i.e. women and persons with disabilities. This encourages us to try and do more," says Yousef Rizik, Director of the Center.
Thanks to the devotion and hard work of partners and local experts like the Jofeh Center, Episcopal Relief & Development is able to provide vital and targeted programs that provide sustainable solutions to long-term problems.
For more information about our programs in Jordan, please click here. To support Episcopal Relief & Development's programs to alleviate suffering, please click here.