Transforming a Community's Health with Clean Water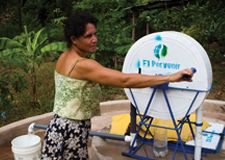 Doña Tomasa lives in La Palma, Nicaragua. There are many good things about life in La Palma, but until recently, there was one big problem – water.
The water in the community well was good for drinking, but the well itself was not built in a way that prevented contamination. Diarrhea and other stomach problems were common, and there were no sanitary latrines for people to use.
Because of friends like you, our partner in Nicaragua, El Porvenir, helped the people of La Palma repair their well and built 20 latrines that contain waste so that it does not contaminate the environment or water supply. The stomach problems that used to be common are now rare, and Doña Tomasa is much healthier.