12 Songs to Soothe Your Soul on Good Friday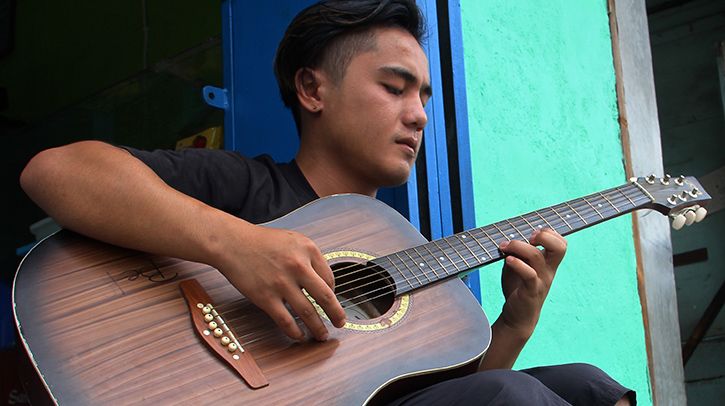 When I was in high school and college, my friends and I would make mixtapes for each other. If you wanted to tell someone that they were special, you could do so with just the right mix of songs. Recently, my 16-year-old son and I had a conversation and I told him that I felt the fall of western civilization came with digital music because no one did the hard work of making a mixtape anymore. He rolled his eyes and said, "Dad, that sounds like a playlist to me."
In the spirit of the mixtape, I offer this Good Friday playlist. To call it eclectic might be an understatement. I hope you find in it something that soothes your soul on this darkest of days.
Listen and reflect. Play, pause and click through all 12 songs here:
1. There is a Green Hill Far Away: King's College Choir, Cambridge
I don't need a DNA test to tell me that I have Irish ancestry. Something about the hymns of Cecil Frances Alexander stir my Irish soul and this is one is a prime example. If you would like to sing along, it is Hymn 167 in The Hymnal 1982.
2. Love is Stronger Than Death: The The
By the time Love is Stronger Than Death was released in 1993, I had already lost far too many friends to HIV/AIDS. This song appears to paraphrase this line from the Song of Solomon (8:6): "Set me as a seal upon your heart, as a seal upon your arm; for love is strong as death, passion fierce as the grave. Its flashes are flashes of fire, a raging flame."
3. Go to Dark Gethsemane: Amanda Rutherford
Singers like David Bazan and Sufjan Stevens give me hope that the hymns of old can find new life. This adaptation of Hymn 171 (The Hymnal 1982) performed by Amanda Rutherford is a perfect example. I play this version on my guitar to sing at home. 
4. Suzanne: Leonard Cohen
This was my father's favorite song ever written. In this recording, Cohen starts off by saying how he signed away the rights to it. You can tell that he, too, loves the song when he says, "It would be wrong to write this song and get rich from it, too."
5. Around My Neck: 100 Portraits
Thanks to my colleague, Chad Brinkman, for telling me about this beautiful tune. Robin Pasley's vocal is stunning and calls us to think about what the cross has become.
6. The Old Rugged Cross: Johnny and June Carter Cash
It's hard for me to pick which version of this classic gospel hymn to share. The Old Rugged Cross has been performed by many of my favorite country singers, including Ernest Tubb, George Jones, Merle Haggard, Chet Atkins, Patsy Cline, Loretta Lynn and John Prine. A staple of the Carter Family, in this version June Carter joins her husband, Johnny Cash. Their rendition reminds me that love is stronger than death.
7. O Sacred Head Sore Wounded: King's College Choir, Cambridge
This is one of the oldest hymns Christians sing. O Sacred Head Sore Wounded comes from a 13th-century poem attributed to Arnulf of Leuven that addresses Christ's different body parts upon the cross. The stanzas of the poem each focus on Christ's feet, knees, hands, his pierced side, breast, heart and then his head. Throughout the centuries, many translations have been made. We sing Robert Bridges' translation to this heart-wrenching tune by J.S. Bach.
8. What Sarah Said: Death Cab For Cutie
Speaking of heart-wrenching tunes, this song paints the experience far too many of us have shared, sitting in a hospital waiting room until the bad news comes. But it is the line that Sarah sings that reminds me of the experience of the women at the foot of the cross. 
9. Were You There When They Crucified My Lord?: Mahalia Jackson
This song is another one that is so hard to choose which singer and which performance to include, but not really… this is Mahalia Jackson. And I'm sure that if you've ever sung Hymn 172 (Hymnal 1982), it didn't sound quite like this. Only a soloist with a lifelong upbringing in Gospel music sounds this great.
10. Down There By The Train: Johnny Cash, written by Tom Waits
I used to work as a tour manager with touring bands and for a while, worked exclusively with artists on the Def American Recordings label. At that time, producer Rick Rubin started producing songs with Johnny Cash. Some of the recordings were made in Cash's living room, just him and a guitar. One of the first songs they recorded was written by Tom Waits and is more of an Americana-Gospel-train song. There are a few great Gospel songs on that album.
11. At the Cross Her Vigil Keeping: University of Texas San Antonio Women's Choir, Mark Daniel Merritt, Conductor
This 13th century Good Friday hymn is as beautiful in its English translation as it is in Latin. Although the recording quality is not the best, the voices make up for the low fidelity. I chose this version because it is the same one you will sing in church today if you sing Hymn 159 (Hymnal 1982). It is nothing less than the most exquisite poetry.
12. Jerusalem: Steve Earle
Ever since I was a boy, I remember the Good Friday offering going to the Province of Jerusalem and the Middle East. This song reminds me why this tradition is so important. You can find out more about the Good Friday Offering for the Church in the Province of Jerusalem and the Middle East here.
---

Sean McConnell is the Senior Director of Engagement at Episcopal Relief & Development.
Header Image: A young man plays guitar in Bontoc, Philippines. Photo was taken by Mike Smith. All other images from Pixabay.com