A Day in the Life of a Lead Health Promoter in the Fight Against Malaria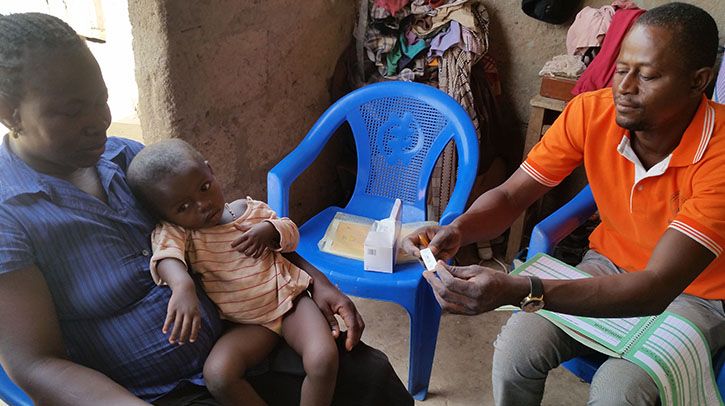 Marking this year's World Malaria Day, Program Officer Hilary Asiah provides a glimpse into the experience of lead health promoters who walk alongside their communities to fight against malaria, a preventable disease that kills thousands around the world annually. Efforts to prevent malaria are part of our integrated community-based health strategy, an approach that helps families and communities thrive.
---
"If you give someone money, after some time, the money will run out, but if you educate someone to be healthy, it is permanent," says Jacob, a farmer in Awulansa, Ghana. Jacob is a lead health promoter that I recently followed. He volunteers in a hard-to-reach community that lacks a full-functioning health center, making access to basic health care near impossible.
Awulansa is a village of 480 people and Jacob has been serving there since 2000. A typical day for Jacob begins at 6 a.m. He has to start his house visits early in order to meet with many caregivers who need to get to work. The community is very spread out—one house is about 200 meters away from the other and so a lot of walking and riding is involved.
Episcopal Relief & Development and its partner the Anglican Diocesan Development and Relief Organization (ADDRO) support dedicated health promoters throughout the country. ADDRO currently operates in seven regions in Ghana, training volunteers who are residents of the communities they work in.
Despite difficult conditions, Jacob invariably goes out into villages to educate people on healthy practices like seeking treatment for the symptoms of malaria and encouraging households to attend health classes that teach about preventing the disease in unborn children. They even provide basic treatment to children that have uncomplicated malaria as well as diarrhea and pneumonia.
"I normally educate that mosquitoes cause malaria and show how people can avoid its bite," explains Jacob. To avoid the disease, community members are advised to sleep underneath mosquito nets and keep their homes clean. Mosquitoes thrive in water so Jacob tells them to pour out water collected in unused or broken pots and cans. "I also teach them to weed around the houses especially during rainy season to reduce the mosquitoes." During a household visit, Jacob teaches community members how to correctly take care of the mosquito nets including sewing and patching torn ones. The community is appreciative of his visits, often gifting him groundnuts to take home.
Women and children are especially vulnerable to death caused by malaria. Jacob encourages mothers/caregivers to ensure that their children sleep under mosquito nets and wear clothing that covers their whole body in the evening before bedtime." I always tell them that these two actions never fail me," Jacob emphasized courageously.
During house visits, Jacob checks children for malaria and asks caregivers to call him whenever a child has a fever. "Listen, all the mothers and household heads have my contact numbers and know where I live. I tell them to call anytime, whether it's midnight or not, if a child has a high temperature. I will always be there to take care of the child," Jacob said.
Prenatal care for expecting mothers is essential. "You know malaria is dangerous for pregnant women. Women can have a miscarriage due to malaria and I always tell them to take the malaria medicine and to go for a regular check-up," Jacob explained.
When nurses come to town, "I mobilize the mothers and caregivers to bring their children to the weighing points and then help the nurse weigh some of the children, because he nurse is always alone and the mothers are many," Jacob explained excitedly.
For the past 10 years, no pregnant women or children have died from malaria in Awulansa.
---

Hilary Asiah is a Program Officer at Episcopal Relief & Development.
---
Images: Top—Jacob shows and explains child's negative malaria test results to his mother; Middle 1—Jacob says goodbye to a caregiver after a home visit; Middle 2—Gladys, another lead health promoter assesses the condition of a net in the Nanjopiung community; Middle 3—Jacob testing a child for malaria; Middle 4—Hilary Asiah with Jacob in Ghana.