Celebrating Five Years of Harvey Recovery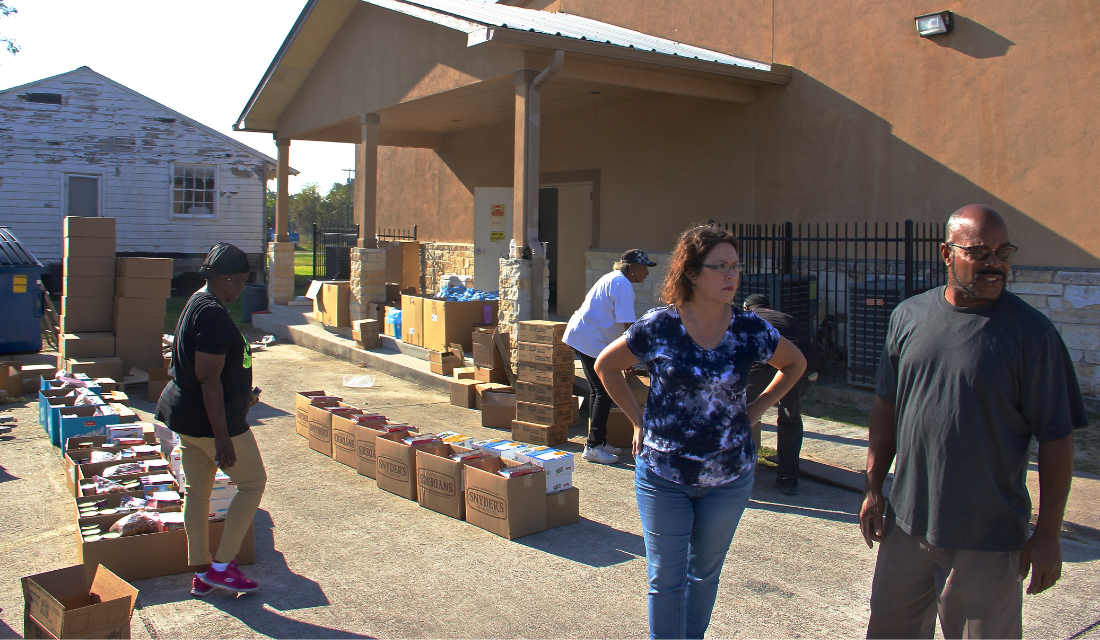 Diocese of Texas Harvey Recovery Program Manager Kecia McBride and Pastor Amos Charles Sowell of Mount Olive Baptist Church in Houston at a goods distribution post-Harvey.
Photo Credit: Mike Smith, Episcopal Relief & Development
Five years after Hurricane Harvey, we celebrate the lasting change that has been created in the lives of over 20,000 survivors in the Texas coastal areas. Episcopal Relief & Development, in partnership with the Episcopal dioceses of West Texas and Texas, has worked to address the physical, mental and financial devastation left by the Category 4, multi-billion dollar storm. Here are snapshot moments from the relief and recovery stages over the years.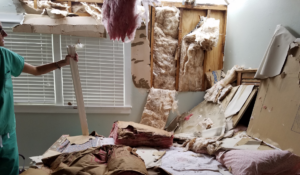 A Home Visit in Port Aransas
Just a few days after the storm passed and residents were allowed back into their homes, Diocese of West Texas Harvey Recovery director and Episcopal Relief & Development Partner in Response and Resilience Jennifer Wickham made a visit to the home of the Rev. James Derkits and his wife. Like many other properties in Port Aransas, their home sustained significant damages. During Jennifer's visit, she helped the Derkits' to clean out their bedroom. 
Photo credit: Jennifer Wickham, Episcopal Diocese of West Texas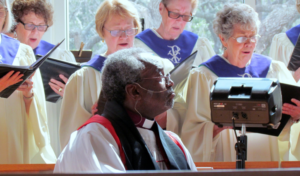 Bishop Curry Visits the Coastal Bend
Presiding Bishop of The Episcopal Church, the Most Rev. Michael B. Curry visited some of the hardest hit communities in Rockport, Corpus Christi, Port Aransas and Aransas Pass in the aftermath of Harvey to offer comfort and support. During his visit in February 2018, he visited Trinity by the Sea Episcopal Church in Port Aransas and on Sunday, he worshiped with St. Peter's Episcopal Church in Rockport and delivered a message of hope.
Photo credit: Episcopal Diocese of West Texas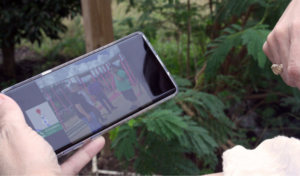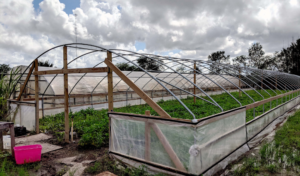 Restoring Homes and the Economy in Little Cambodia
In "Little Cambodia," an immigrant community in Rosharon, the residents' primary source of income comes from the sale of water spinach to local Asian markets. After Hurricane Harvey, many of the crops and their homes were destroyed. Families were left without income and a home for over a year. One of the Episcopal Diocese of Texas' Harvey recovery hubs in nearby Pearland, St. Andrew's Episcopal Church, helped the community rebuild their economy and homes in partnership with local nonprofits and elected officials. 
Photo credit: Courtney Moore, Episcopal Relief & Development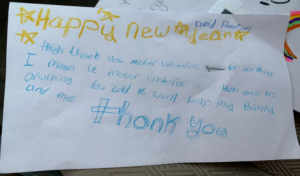 A Thank You Note from a Little One in La Porte
St. John's Episcopal Church in La Porte served families through its after-school program. The existing relationships they had with the community allowed them to ask questions and check in on Harvey's recovery in the most vulnerable neighborhoods surrounding the church. The families received emergency rental assistance, gift cards for food and home supplies as well as referrals to other services in the area including the home repair efforts by St. Andrew's in Pearland. One of the children from a family that was helped wrote a letter of thanks to St. John's. 
Photo credit: Episcopal Diocese of Texas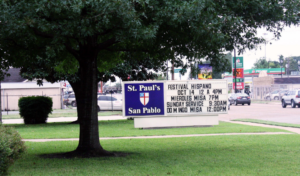 Overcoming Family Violence
After Harvey, the Rev. Ed Gomez, vicar of St. Paul's (San Pablo) Episcopal Church noticed an increase in the number of domestic violence cases in his community due to the anxiety and depression brought on by experiencing trauma, the loss of work for many day laborers and the onset of homelessness. San Pablo began a free bilingual mental health counseling program to help families cope in a healthy way.  
Photo credit: Courtney Moore, Episcopal Relief & Development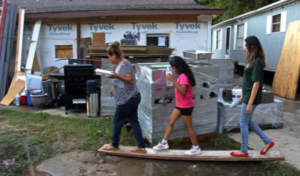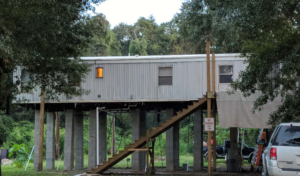 Community Meals and Rebuilding Support in The Woodlands
St. Isidore's Episcopal Church operates a community dinner truck ministry called Abundant Harvest in an unincorporated immigrant community in The Woodlands, TX. During Hurricane Harvey, a dam was released to protect nearby neighborhoods from flooding. As a result, 14 feet of water flooded the neighborhood and the residents had few resources available to them to rebuild their homes safely and securely. Episcopal Relief & Development partnered with the Diocese of Texas to distribute gift cards to the families. Cards were distributed over time, and the Abundant Harvest ministry checked in with the families regularly to keep track of progress as well as when more financial assistance would be necessary. 
Photo credit: Mike Smith, Episcopal Relief & Development | Courtney Moore, Episcopal Relief & Development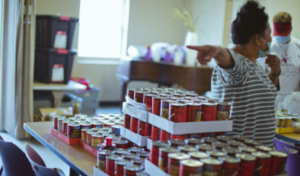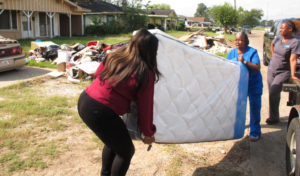 Tapping into Existing Relationships to Respond to Other Disasters
Long-term recovery was intertwined with responses to the February 2021 winter storm, a handful of tropical storms, the March 2022 tornadoes and the COVID-19 pandemic. The Diocese of Texas developed great relationships with community agencies as a part of Hurricane Harvey's recovery and so was able to respond quickly to needs. They provided mattresses in Beaumont during Tropical Storm Imelda and food in Port Arthur during Hurricane Laura. 
Photo credit: Kecia McBride, Episcopal Diocese of Texas | The Rev. Stacy Stringer, Episcopal Diocese of Texas 
---
Learn more about our Harvey work:
---
| | |
| --- | --- |
| | Courtney Moore is the Manager, Creative Content, Episcopal Church Programs at Episcopal Relief & Development. |
---