Motherhood through the Pandemic: Celebrating Mother's Day in 2021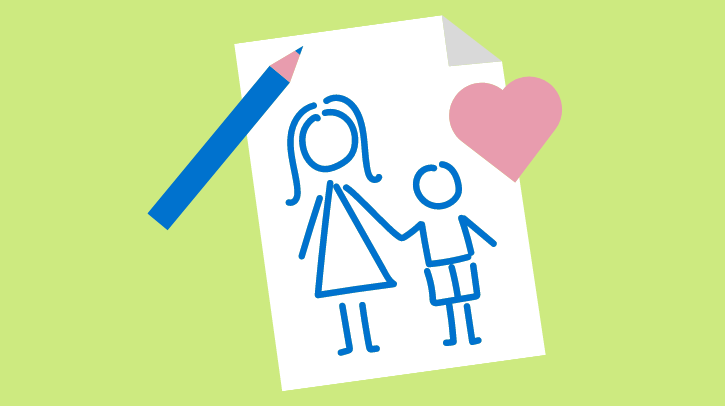 During an uncertain year, many staff members of Episcopal Relief & Development have grown in their motherhood and deepened the relationship with the maternal figures in their lives. 
As we approach Mother's Day, several people from across the organization shared reflections of the women and children in their lives. While some individuals reflect on witnessing the growth of their wives and loved ones through unprecedented times, others shared their first-hand experiences on the trials and tribulations of motherhood amidst a pandemic. 
Below is just a taste of what some of us have experienced.
How has motherhood changed for you over the past year?
The past year allowed me and my children to build bonds that we would not have realized existed if we were not put in a position to stand still. The gift of standing still was my biggest blessing within this past year.

This past year has really brought out my "mother bear" protective instincts. The constant news coverage about the coronavirus and racial inequalities motivated me to take daily, proactive steps to make the world a better, fairer, more equitable place for my children.

I have learned to embrace the constant interruptions of working from home and requests for hugs, stories or snacks. This year has forced me to be present with my kids, even when emails and deadlines are swirling around me. I get to witness their joy over simple pleasures like blowing bubbles, watching the garbage truck work or finding a toy that has been lost under the couch for six months.
How has your relationship with your mother or a mother in your life changed over the past year?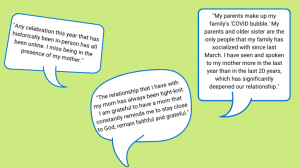 I've always known my wife to be made of stout stuff, but I was not prepared to see the depths of her resolve. She went from being a full-time employee to a full-time teacher and caregiver. She endured the death and sickness of loved ones. An extreme extrovert, she endured a year of isolation. She managed the boundless energy of a three and then four-year-old isolated from other children and restricted to our home and small yard. Each day brought new challenges, and each day she pushed through. I love her, and this year has only made my respect for her increase tenfold. 

This past year has been extremely difficult for my mom, who was considered extremely high risk with COVID-19. We have always been extremely close so having to stay apart for a good part of 2020 was extremely trying on all of us. We learned to embrace FaceTime and daily phone calls to keep connected.
Over the past year, what has been your favorite memory with your mother,
a mother figure your child or other children in your life?
My son's intellect, wit, temper, ability to reason and challenge authority have blossomed during this year. He is made up of the same stuff as his mother and me, but he has a unique personality and perspective. It has been a genuinely fascinating and sometimes infuriating wonder to behold. I have grown to like him as a person as much as I love him as my child.

My favorite memory of my son was watching him take his first steps. He was an early walker at 9 months and was jumping and climbing by 12 months. I also loved watching and actively participating in my four-year-old daughter's academic growth at "Zoom school," a true labor of love. Her father and I worked with her teachers to help her to improve her writing and reading abilities. I will always cherish these memories.

In September, my mom and I took my kids to the beach for a week. It was the first time any of us had been out of our homes since March and we didn't realize how much we needed a change of scenery. Seeing my kids back together with my mom and how quickly the time apart vanished is something that I'll carry with me. Watching the love between the most important people in my life is priceless.

We invite you to join us in sharing your own reflections from this year on our Facebook page.
Happy Mother's Day from Episcopal Relief & Development!