Preserving Community in the Aftermath of Disasters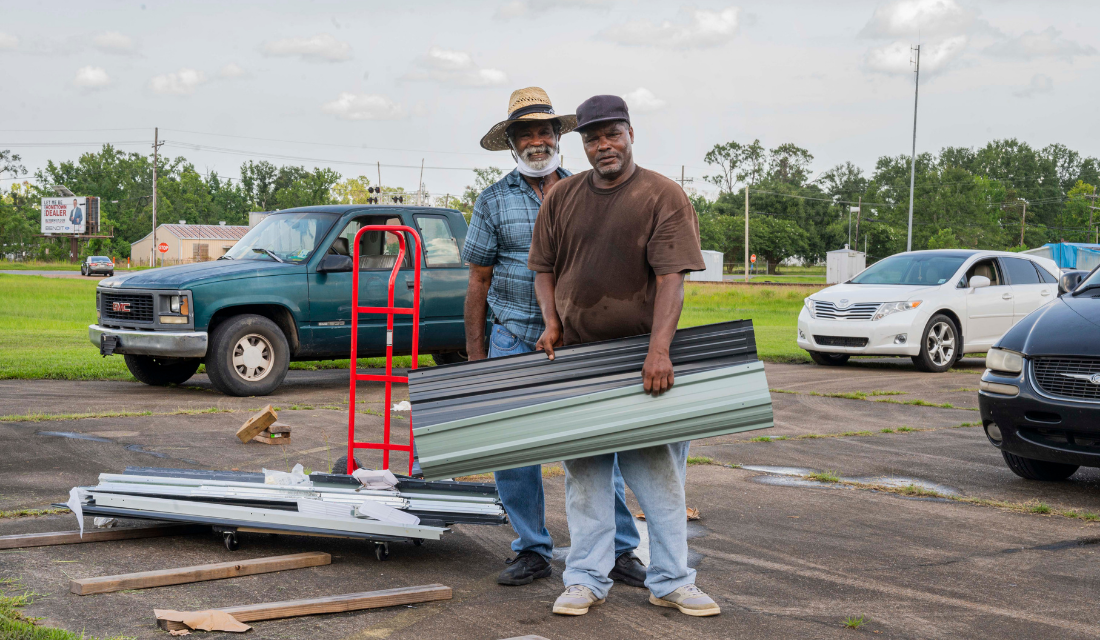 When they heard the news about Hurricane Laura approaching the area last August, Diocesan Disaster Coordinator the Rev. Lois Maberry, Joy Owensby and other leaders in The Episcopal Church in Western Louisiana began to focus on preparedness. They shared important messaging through their ministries and stocked up on supplies like tents and flashlights so when the storm passed, they could quickly distribute them to people who were unable to evacuate.
In the following days, the Category 4 hurricane sat directly on Lake Charles, Louisiana, a city located midway between New Orleans and Houston, Texas. Hurricane Laura disrupted the lives of many in Lake Charles and surrounding areas wrecking tens of thousands of homes and businesses. Because of the extensive damage to the power grid, some areas went without refrigeration, air conditioning and internet for three or more weeks. Additionally, over 100,000 people had no access to water for weeks. The diocesan team put their stocked up supplies to good use when the storm cleared and it was deemed safe to move around. But, not without complications caused by COVID-19. Sheltering was limited to prevent the further spread of the virus in an already hard-hit region of the country. This meant people were spread out more than in a typical disaster, staying in motels and hotels in northern Louisiana and parts of Texas.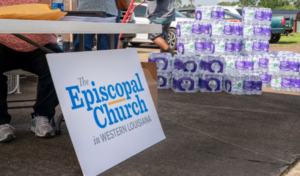 St. Michael's Episcopal Church in Pineville, Louisiana became a central location for the diocese's disaster response. They prepared meals for families and individuals in need in their kitchen and packaged to-go boxes in the parish hall. People were able to grab shelf-stable food from the on-site food pantry. Church members delivered food to people who were homebound and vulnerable to the novel coronavirus disease and helped with hotel accommodation as needed. In other areas of the diocese, priests, deacons and laity provided laundry assistance and distributed gift cards as well as flood clean-up kits. 
As the lasting effects of the storm lingered, the leaders and volunteers heard stories from families who were displaced by the storm, left with no other choice than to sleep outdoors after hotel vouchers expired and emergency funding ran out. Workers were dismayed by the chemical plant fire and the casino that was damaged as it floated into the Interstate 10 bridge. Chronically unhoused people shared how their sanctuaries, like a welcoming person's shed or a safe place in the woods, had been destroyed, and their friends had been bussed out of town.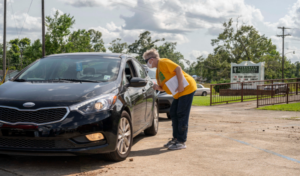 Since Hurricane Laura, the diocese has brought on Cynthia Robertson, a resident of rural Sulphur, just outside Lake Charles.  In a newly formed role, Cynthia, pictured above, will advocate for public health services and housing reform as the Disaster Response Coordinator. As Cynthia's rooster crowed in the background, she described the Lake Charles metropolitan area's status to date, specifically for the northern part in small towns like DeQuincy. Residents in these small towns already experience lower standards of medical care and higher rates of poverty and exposure to pollution, which made them immensely vulnerable to COVID-19. The hurricane only worsened conditions.
Families are living in rat-infested trailers because housing options have been severely decreased by the storm. One neighbor has been arguing with their insurance company since last year, contributing to the sea of blue tarps seen throughout the area. Another neighbor's claim was denied by FEMA so she stays in her wood-framed house that has gaping holes in the walls where rodents crawl through at night.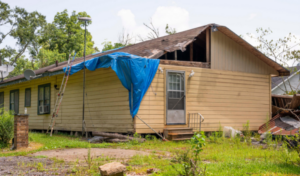 Cynthia's neighbors' insurance and government relief issues are not unique. In the South, it is common for people to inherit homes from relatives. Because of this, the same level of insurance that is needed by someone with a mortgage is not required. This keeps costs down, but during disasters having little or no insurance is detrimental. Without adequate titles and other documentation to prove ownership and without coverage, residents don't qualify for FEMA rebuilding assistance or SBA disaster loans. 
Even more so, some people are dealing with the increased cost of labor and lumber caused by the pandemic. All of this means people must work on their homes little by little with borrowed tools and supplies bought piecemeal or gifted to them. It also means home restoration is prolonged and could take years depending on the level of damages. Some residents find peace by camping out on their family land so that they can ensure that no additional harm will be done to their property.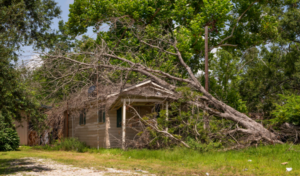 Hurricane Laura unearthed preexisting systemic issues and inequalities in disaster recovery, but it also brought the importance of community to the forefront. With each home that is restored, there is a family with a rich history and significant memories attached to Lake Charles that is able to stay in the community. 
Episcopal Relief & Development has partnered with The Episcopal Church in Western Louisiana to ensure that families and future generations have shelter. We are working with Deacon Lois, Joy and Cynthia as they negotiate with contractors and skilled laborers, businesses and long term recovery groups to get residents access to tools, labor and supplies and repair their homes. They also continue to help with financial support for other urgent needs related to the long-term effects of compounding disasters (COVID-19, Hurricane Delta and Winter Storm Uri).
Industries will rebuild and jobs will recover in time, but it is only through work like this that the people who live on the margins will be able to obtain safe and secure housing and get back to living their lives. We will continue to partner with The Episcopal Church in Western Louisiana as they support the long-term recovery of their community. 
---
| | |
| --- | --- |
| | Courtney Moore is the Program Coordinator for the US Disaster Program at Episcopal Relief & Development. |