Episcopalians Work Together To Restore Communities After Recent Disasters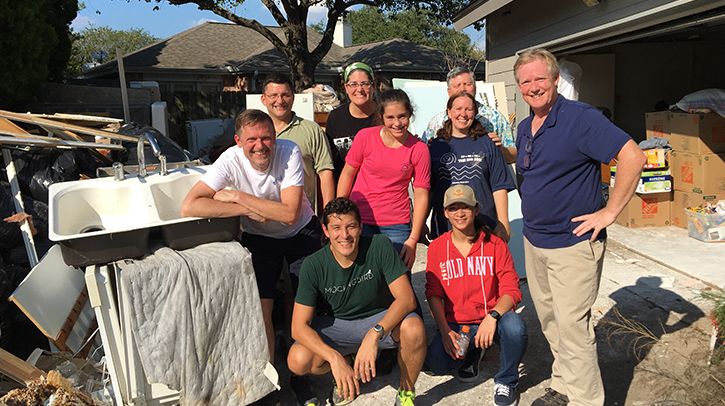 Recently, Episcopal Relief & Development's Senior Vice President of Programs presented to the General Convention of the Episcopal Church's Executive Council to explain the work that the organization is doing around the world in response to recent disasters. In this article originally published by Episcopal News Service, gain an understanding of how Episcopal Relief & Development is working with and through the Episcopalian network to support communities who are recovering from flood and fire damage.
---
Abagail Nelson Presents to the Executive Council
The Episcopal Church's roadmap of the Jesus Movement has been guiding Episcopalians in their response to the chain of disasters that have struck the world in the last two months.
"You can see it in that we have various departments of the presiding bishop's staff, the companion dioceses, Church Insurance, ourselves [at Episcopal Relief & Development], diaspora Episcopalians, friends and good people of faith all working together," Abagail Nelson, Episcopal Relief & Development senior vice president of programs, told the Executive Council October 19.
How exactly is Episcopal Relief & Development responding to recent disasters?
Nelson gave council members an overview of the kinds of work Episcopal Relief & Development is supporting by way of what she called "this great chain of strength and assets" that is enabling Episcopalians to "do much more than we can do alone." That work includes such efforts as setting up online tools for affected Episcopalians to communicate with each other and keep track of work done and help needed. The organization is also supporting such efforts helping to supply water, tarps, solar batteries, pastoral care, and connecting with other relief and government agencies.
"You can see glimmers of the Jesus Movement when clergy are speaking up at government meetings," she said, explaining that those clergy members were advocating for their communities.
"You can see it in how homeless people are living on church property in the Florida Keys. You can see it in the pastoral care that is being given to the thousands who have lost everything. You can see it in how we are texting and talking and trying to figure out how best to be of support."
There is an array of communities recovering from disasters at the moment
Since early August, Episcopal Relief & Development has been responding, in partnership with local Episcopalians and Anglicans, and other relief agencies, to the effects of:
"I have been here 18 years and I have never seen anything like this," Nelson said of her work with Episcopal Relief & Development. "We're here living in extraordinary times and I think they require extraordinary response from us."
"We are a widow's mite [Luke 21:1-4]," Nelson acknowledged. "The money we have – and it's still coming in and everyone's doing their best – will be nowhere near what is needed. We are the widow's mite so we really need to think carefully about where that mite goes and how to leverage our relations, how we network into other resources and not think ourselves as the only resource to our churches."
How to help
Nelson urged patience as more and more Episcopalians want to come to hard-hit areas and lend a hand. Those areas will be ready to receive volunteers at various times, based on the situation on the ground. "No one is quite up to it yet," she said.
Right now, there is a major need for pilots and planes able to fly into areas where air traffic control systems are not functioning. "We're looking for clear, leverage-able ways to get supplies into islands that we can trust," she said.
Nelson also urged Episcopalians to keep their wicks trimmed and their go-bags ready. "I'm really serious," she said. "We don't know what's going to happen next year or tomorrow or with winter storms or whatever. So, think of ourselves and your family, your church, your diocese – how you will stay in touch with each other, how you [could] be [living] by yourself for at least two weeks.
"There is no cavalry. We need to be really mindful of each other."
Rev. Jabriel Ballentine shares testimonial after receiving help after Hurricane Irma
Council member the Rev. Jabriel Ballentine tearfully described how Nelson and other Episcopal Relief & Development staff members supported him after Hurricane Irma as he tried to learn the fate of his parents who live in Charlotte Amalie on St. Thomas in the U.S. Virgin Islands, where he was born.
"It was three days, I didn't know if my parents were alive," he said, but people from Episcopal Relief & Development kept him company during that time. Ballentine's mother, Rosalie, is a member of the group's board and is also the Episcopal Church's lay member of the Anglican Consultative Council.
"Thank you so much for what you all do," Ballentine said. "I've noticed that it's a mite, but it's a mighty mite. And we need more of those."
Ballantine also asked for the council's help in remembering that "we're American – we're supposed to be anyway – please, we're Episcopalians, don't let us be forgotten."
The Rev. John Floberg, council member from North Dakota and supervising priest for three Episcopal congregations at Standing Rock Sioux Nation, received an emotional response from council when he stood and explained to the members how people at powwows honor dancers whose artistry they value. "They put money down at the feet of the dancer," he said. "That's what I am about to do."
Floberg walked to the middle of council's meeting room, bent down and put money on the floor in front of the podium where Nelson was speaking. His colleagues applauded and followed his example as Nelson continued to answer questions.
---
Updates and Resources:
Preparedness Resources
Earthquakes in Mexico
California Wildfires
Hurricanes 2017
Floods in India
---

The Rev. Mary Frances Schjonberg is the interim managing editor of the
Episcopal News Service.
To view the original article, please visit the Episcopal News Service website.
Images: Top—  Volunteers from St. Alban's in Waco, TX; Middle 1— Bishop Orlando Guerrero (former bishop of Venezuela), Xavier Castellanos (Episcopal Relief & Development), Bishop Rafael Morales (Puerto Rico) and Bishop Wilfrido Ramos (former bishop of Puerto Rico); Middle 2 — St. Paul's, Orange, TX; Middle 3 — Bishop at commencement ceremony in India.
---

Consider becoming a monthly donor to support Episcopal Relief & Development's programs year round
---