Faith, Resilience, and Empowerment: The 2015 International Symposium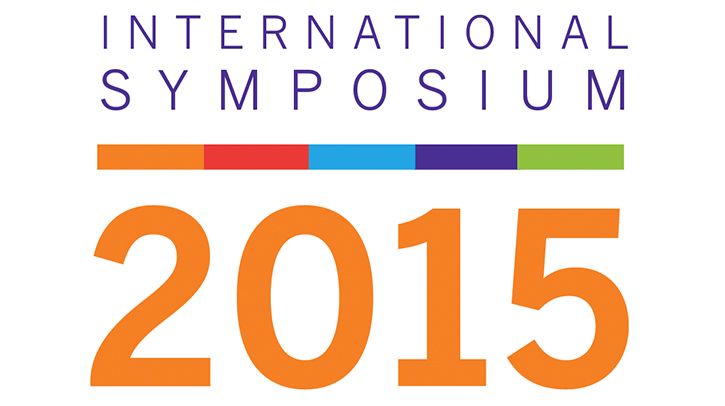 On November 11, we had the honor of hosting the 2015 International Symposium in New York, with presentations from some of our partners worldwide, as well as our own staff and special guests around the international development community. As the capstone event for the 75th Anniversary Celebration, it was a time not only for in-depth discussion and exchange of expertise amongst the participants, but a time for building fellowship and growing relationships with one another. The theme of the day was 'supporting community transformation,' which we and our partners strive to do through sharing, recognizing and affirming each other's valuable contributions.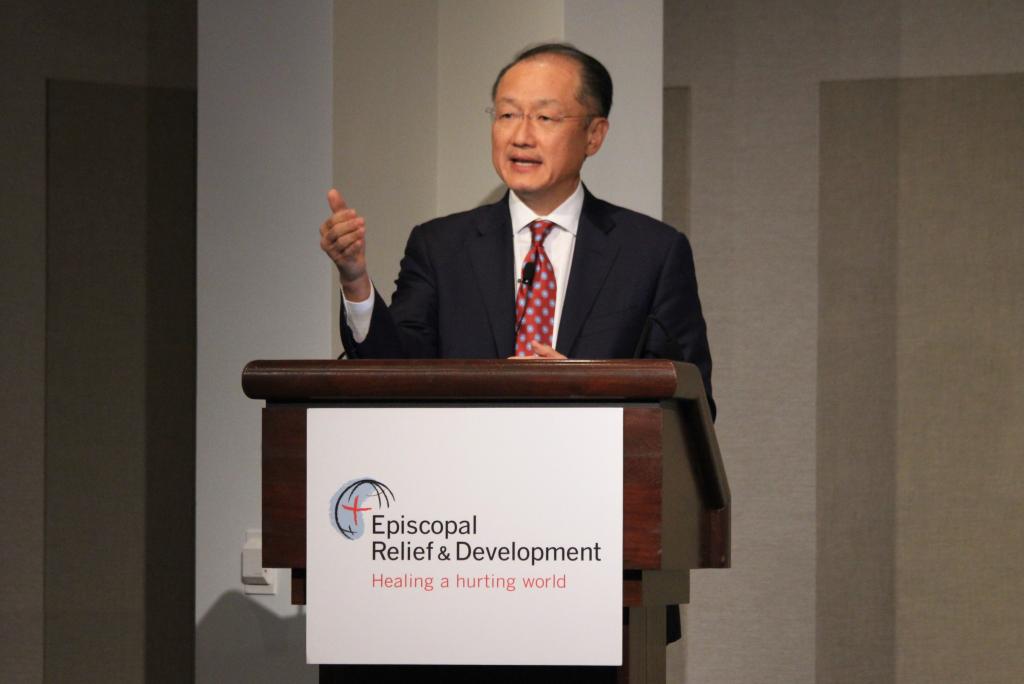 The afternoon opened with a keynote address from Dr. Jim Yong Kim, President of the World Bank Group. He talked about his Korean roots and his connection to faith-based communities over the years, and described how that had influenced his own approach to answering the question,'what is to be done in the world?' This was a question he grappled with early in his career and came to some direction after working with people like Dr. Paul Farmer in Episcopal communities in Haiti and being influenced by faith leaders such as Gustavo Gutiérrez Merino, the founder of liberation theology in Peru. He cited a famous quote from Presiding Bishop Michael Curry's book, Crazy Christians, and issued a clarion call for faith leaders to work towards ending poverty by 2030, explaining that we are the first generation in human history that can see the end of extreme poverty. It was incredibly inspiring and set the tone for the discussions that followed.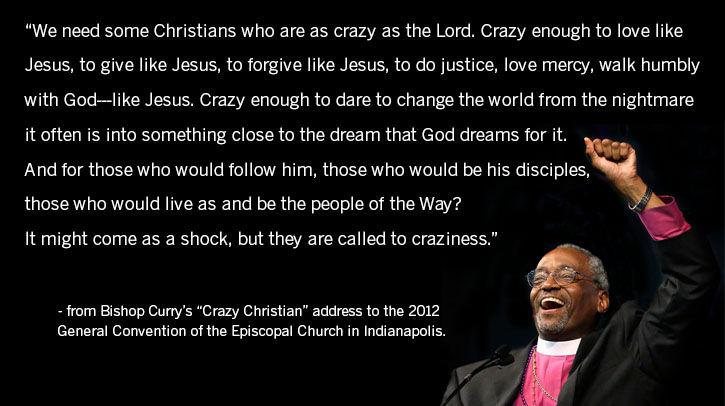 As we experienced throughout the Symposium, a key component of our collective work has been to explore, define, bottle and share the energy and sense of spiritual calling that guides and roots so many people with whom we partner – people of faith working in development in some of the world's toughest places. We wanted to give those people working on the ground, who really understand the importance of faith in remaining steadfast through the challenges of poverty, hunger, disaster and injustice, a platform to share their experiences and to be heard by a broad audience. With this context in mind, the symposium included presentations and panel discussions in four key areas: supporting asset-based community development, ending sexual and gender-based violence, empowering community volunteers and leveraging faith-based partnerships.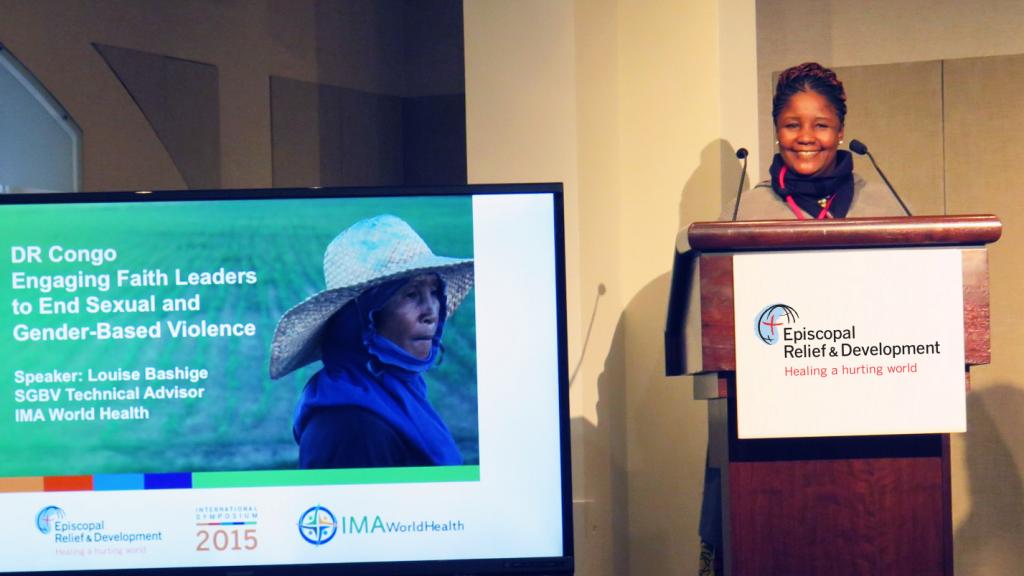 There were many extraordinary voices during the daylong event. Here are just a few from the symposium. Floyd Lalwet of the Episcopal Church in the Philippines and Kikala Isabel Tomás from the Anglican Diocese of Angola are working in their countries with people from severely impoverished and marginalized communities: women, farmers and others in deeply remote places living on less than $1 or $2 a day. Floyd provided perspective on what it means to go from being "receivers to givers" and how they integrate that principle into all of their program work. Kikala emphasized the importance of allowing communities to recognize and name a problem, while identifying their own assets to address it.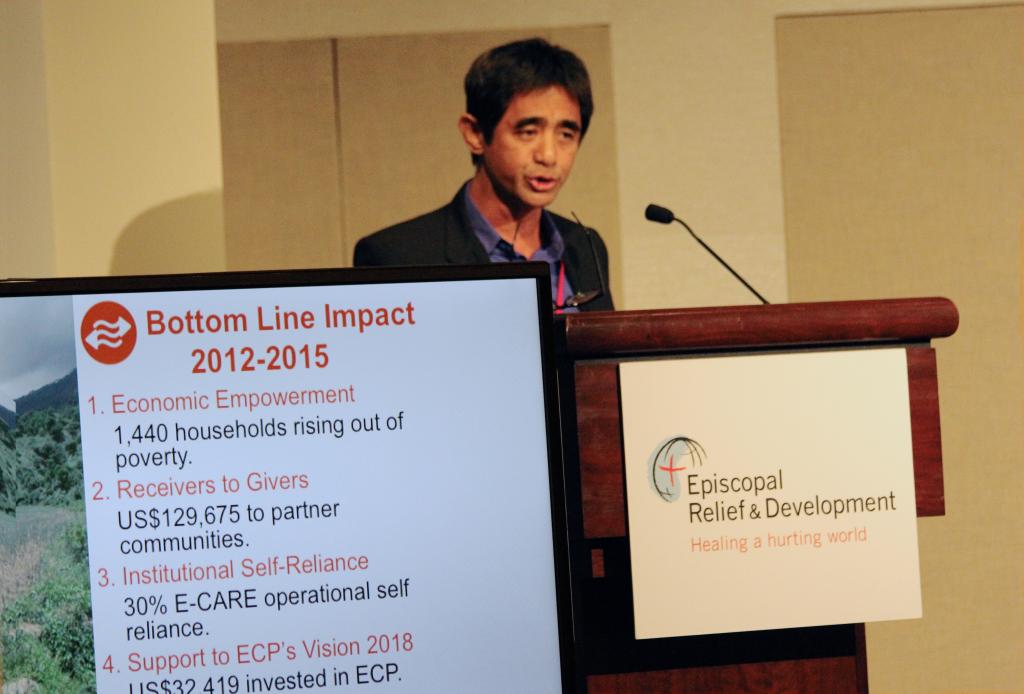 Louise Bashige, a sexual and gender-based advisor for IMA World Health in the Democratic Republic of Congo, gave a personal account of why she became an activist and shared what makes an holistic project. Annette Musa Kiawu, the National Director for the Episcopal Church of Liberia Relief & Development, shared several insights about the work they are doing with faith leaders and young men to raise awareness and change behavior to eliminate gender-based violence.
Florence Achapa of Anglican Development Services-Nyanza in Kenya talked about how to nurture the passion of volunteers to sustain relationships in communities. She also explained how their work supports peace building. Léonidas Niyongabo, from the Anglican Church of Burundi, discussed how farmers in his community are gaining the technical know-how to grow more resilient crops but noted that more technical assistance is still needed.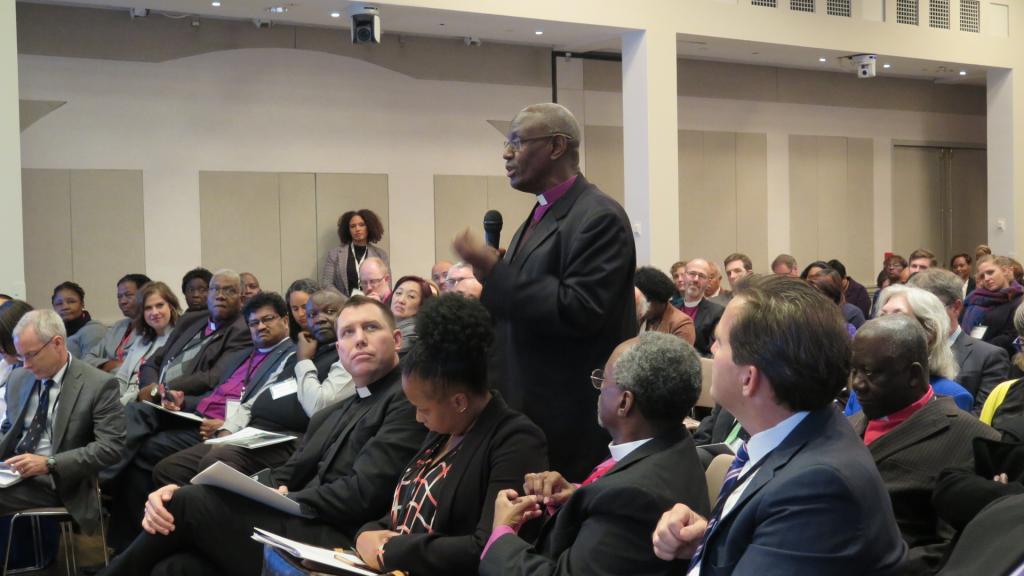 Throughout the day, we heard stories of how local faith institutions are engaging communities in positive cycles of transformation, and we also saw clear, hard- dollars-and-cents evidence for how this is changing lives for the better.
During these conversations, we learned how communities are identifying, mobilizing, organizing and sharing their gifts and expertise to transform themselves, their program designs and their program finances in very clear and practical ways.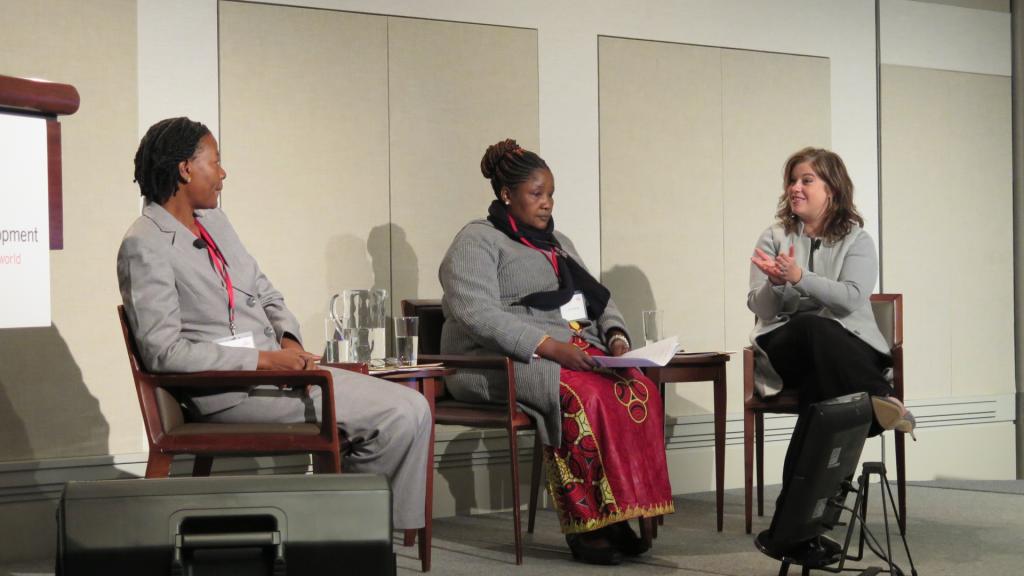 Many of us have seen the devastation of disasters or the struggles of remote communities where food is scarce. We have witnessed those reeling from human conflict, and have been astounded and energized by those who manage to face these challenges and vow to rebuild, build back better, replant, and in so doing, ensure their children have opportunities to sustain and grow a vision of abundance that they, in faith, still see all around them.
Hearing the thoughtful reflections of our partners was a truly humbling way to close a year filled with celebration, reflection and gratitude for everyone who makes up our community and strives to heal a hurting world. We are full of excitement for the journey ahead, as we enter into our next 75 years!
__________________________
Take a moment to view the highlights from the symposium in this short video.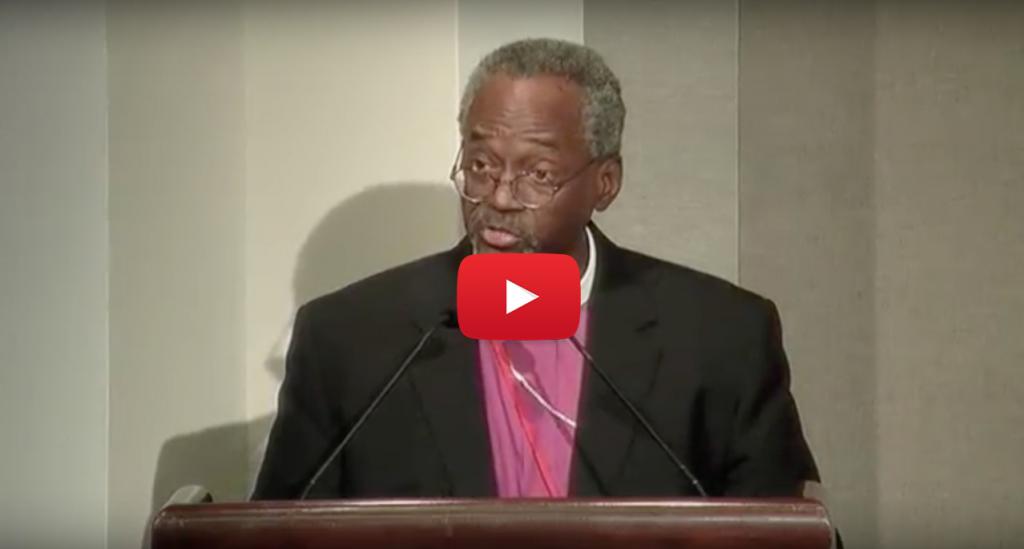 An Exclusive! Watch the keynote address from Dr. Jim Yong Kim.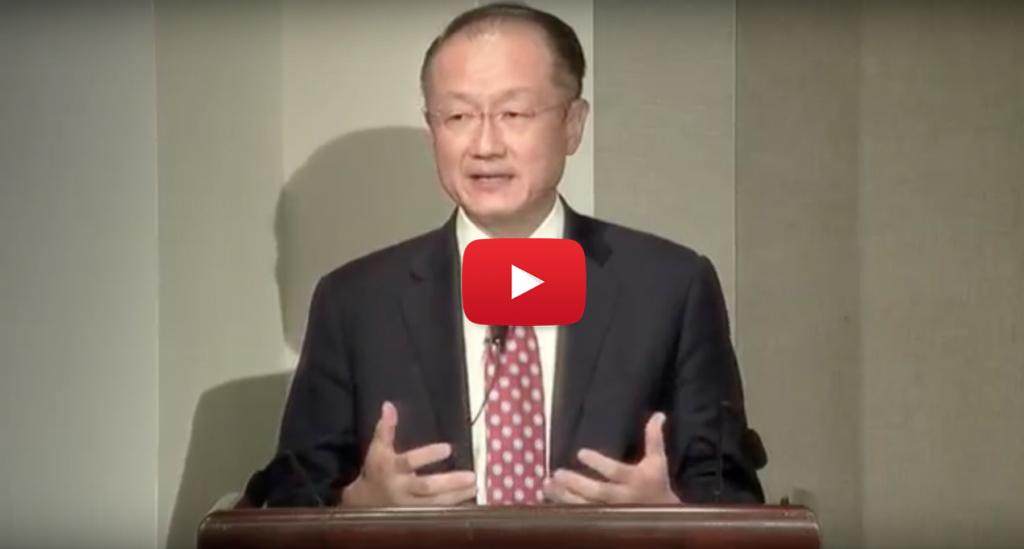 For additional resources from the International Symposium, visit episcopalrelief.org/symposium.
———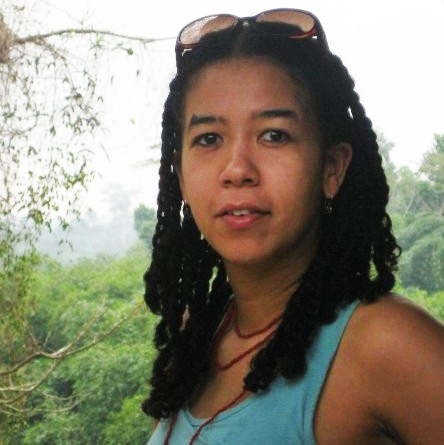 Abagail Nelson is the Senior Vice President of Programs for Episcopal Relief & Development.
All Photos taken from the 2015 International Symposium: Top, Dr. Kim Yong Kim, President of the World Bank Group presenting his Keynote address. Middle1, quote from Presiding Bishop Curry's address to the 2012 General Convention. Middle 2, Louis Bashige, Sexual and Gender-Based Violence Advisor, DR Congo, IMA World Health. Middle 3, Floyd Lalwet, National Development Officer, Episcopal CARE Foundation, Philippines. Middle 4, Q&A During the 2015 International Symposium. Last, panelist from the Ending Sexual and Gender-Based Violence session
Videos: Highlights – 2015 International Symposium Video https://www.youtube.com/watch?v=cCo6Nrl_ZbU
Jim Yong Kim, Keynote Address https://www.youtube.com/watch?v=ta7w2J1qARE
---
Healing the world starts with your story!
During the 75th Anniversary Celebration, we are sharing 75 stories over 75 weeks – illustrating how lives are transformed through the shared abundance of our partners and friends like you! We invite you to join us in inspiring our vibrant community by sharing your own story!