Finding Peacemakers in the Holy Land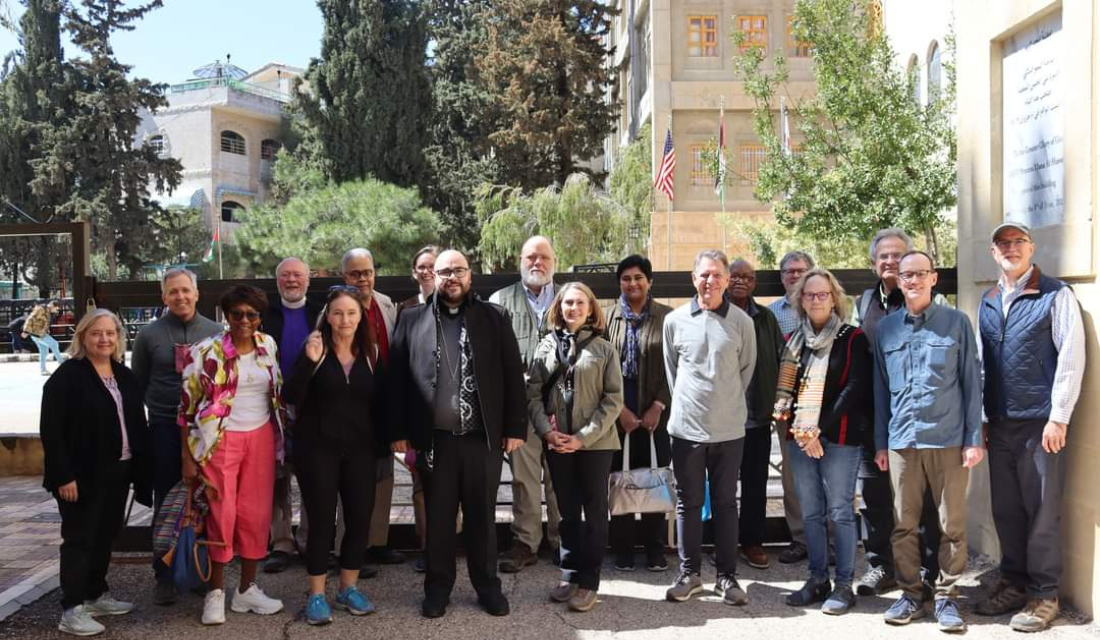 By Teri Lawver, President of the Board, Episcopal Relief & Development
Recently, I had the opportunity to travel with a group of Episcopal Relief & Development supporters on a pilgrimage to the Holy Land. Over the course of 17 days, we walked where Jesus walked and reflected on our calling as Christians in the world. To say I was moved by all we saw and heard would be an understatement. 
When we were in Jordan, we visited two sites of the Holy Land Institute for the Deaf, a boarding school and outreach center. At the school in Salt, I met a teacher who had been working one on one with a deafblind student for several years to help him learn tactile sign language to communicate using his hands. Later, as we walked to lunch in a different building on the school's campus, I saw the student navigating the courtyard on his own and I realized the skills the student was learning at the school would allow him to thrive into adulthood. We also saw teachers working with deaf students on math, art and other subjects and we dropped in on a class where parents of the students were being taught sign language.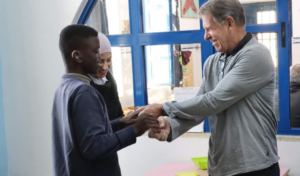 In the south of the country, in Jofeh, we visited the Institute's outreach center. In addition to teaching deaf children, the teachers at the center work with students with varied intellectual and physical disabilities with the goal of integrating the children into the public school system. They also provide support to students in public schools, woodworking and embroidery vocational training, and services for parents. 
Both of my siblings are educators and when I saw the teachers and volunteers at these sites working with the children, I saw in them a commitment andcare for children that crossed any culture, language or geographic barrier that might have existed between us. There are miracles and glory in every child, and these teachers work patiently every day to give children the opportunity to find moments of peace and independence.
Later in the trip, we crisscrossed Isreal and the West Bank to visit some of the holiest sites in the Christian faith tradition. I touched the spot where Jesus was born at the Church of the Nativity and I reflected at the Church of the Holy Sepulchre where Jesus was crucified, buried and resurrected. 
In Bethlehem, our group was visited by two members of the Parents Circle – Family Forum, a joint Israeli-Palestinian organization of over 600 families, all of whom have lost an immediate family member in the ongoing conflict. Rami Elhanan's 14-year-old daughter was killed by a Palestinian bomber​ and ​Bassam Aramin's 10-year-old daughter was shot and killed by an Israeli soldier on the steps of her school.
If tragedy had not struck their lives, Rami and Bassam's paths never would have crossed. Rami rarely encountered Palestinians in his day-to-day life other than as migrant workers he passed on the street; Bassam only saw Israelis at security checkpoints. It became easy to let their fear and trauma dehumanize the other group. Once the two men met and spoke to each other, though, they bonded over their shared grief and came to understand the similarities in how they were raised to hate each other. Today, they call themselves brothers. 
"Our work is like trying to empty the ocean one tablespoon at a time.
But we have no option but to keep trying."
– Rami Elhanan
Rami and Bassam share more than a history, though. They now share a common belief that the only way to sustainable peace is through grassroots reconciliation. Through the Parents Circle, they meet with young Israeli and Palestinian groups to try to humanize the conflict. "Our work is like trying to empty the ocean one tablespoon at a time," they told us. "But we have no option but to keep trying."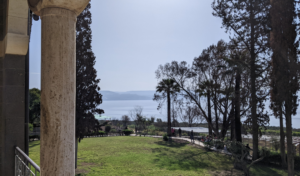 When our pilgrimage visited sites near the Sea of Galilee, I stood on the Mount of Beatitudes where Jesus said, "Blessed are the peacemakers, for they will be called children of God." Rami and Bassam are working to create peace by breaking down barriers between groups. The teachers at the Holy Land Institute for the Deaf are working to create peace by helping students learn communication and life skills. I find myself ending this trip asking myself, where can I help to break down barriers and bring people together for positive lasting change?
---
| | |
| --- | --- |
| | Teri Lawver serves as Episcopal Relief & Development's Board Chair.  She is also an executive leader in the healthcare industry. |
---