Gearing Up for a Colorful Convention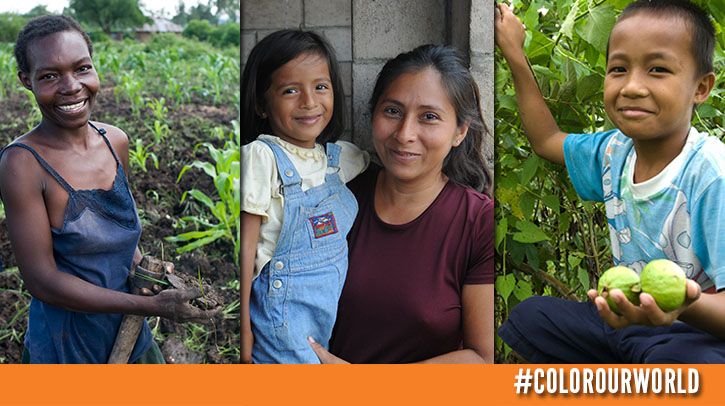 Join Us!
Join us at this 79th General Convention online or at the booth, as we "Color Our World" with Faith, Dignity, Relationship, Leadership and Excellence. Visit us at our booth 401 between July 3 and July 11, to learn how we work to become the hands and feet of God in the world.
---
You know what one of my favorite things about General Convention is? You don't actually have to buy a plane ticket to be connected to it. Episcopal Church tweeters like @scottagunn, @sarahelawton and @revjht will be there. Diocesan Facebook pages, and anything marked with the hashtag #gc79, will be spreading the social goodness. The Episcopal Church digital media team will be streaming all the best bits live… And, of course, @episcopalrelief will be there as well.
From Miami to Guam, and from San Diego to Nürnberg, Germany, all Episcopalians can engage with everything that's happening in Austin, even from Episcopal Relief & Development's booth in the exhibit hall.
From our booth, we will stream our take on TEConversations that support the three pillars of the Jesus Movement: reconciliation, evangelism and the care of creation. Join us via Facebook Live on Friday, July 6 at 12:30 p.m. CDT for "Faith Communities Uniting to End Violence Against Women and Girls," a conversation between Episcopal Relief & Development's Kirsten Laursen Muth and Anglican Alliance Co-Executive Director Rachel Carnegie. On Saturday, July 7, Tamara Plummer will tell how The Episcopal Asset Map can be used as a tool for evangelism. She will be on Facebook Live at 1:15 p.m. CDT.
We hope that every Episcopalian young and old will join us as we #ColorOurWorld. The pages of Episcopal Relief & Development's new coloring book will come alive at our booth and we invite you to color along. Download Color Our World and post your creations with the hashtag #ColorOurWorld.
For creation care, Episcopal Relief & Development invites those attending General Convention to join us as we offset the carbon our travel, air conditioning, lighting and hotel usage emit into the atmosphere. A donation of $25 to Episcopal Relief & Development will help offset the carbon for the average General Convention attendee and will support our programs that focus on climate-smart agriculture, water harvesting and tree planting. If you will be connecting from your home or office, you too can help Episcopalians color Austin green by making a donation at episcopalrelief.org/green.
And finally, if you will be in Austin, drop by booth 401 to sample coffee and chocolates from our Fair Trade Partner Equal Exchange. If you are connecting to General Convention virtually, be sure to visit episcopalrelief.org/fairtrade to support Episcopal Relief & Development one cup at a time.
See you at #gc79!
– Sean
Resources:
---

Sean McConnell is the Senior Director of Engagement at Episcopal Relief & Development.
Image: Top—(left) A woman farmer, (middle) A woman and child, (right) A child holds fruit.