Reflections on Lenten Meditations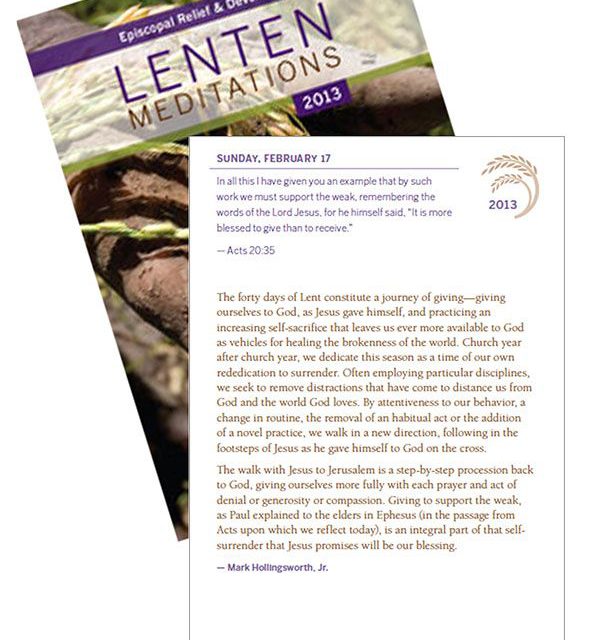 This year Episcopal Relief & Development's Provincial Coordinators are sharing their reflections on select devotionals from the 2013 Lenten Meditations booklet. In this blog Barb Hagen looks at the Lenten meditation from Sunday, February 17, 2013, page 10. Below is the scripture being referenced and to the right you can click to view the whole meditation.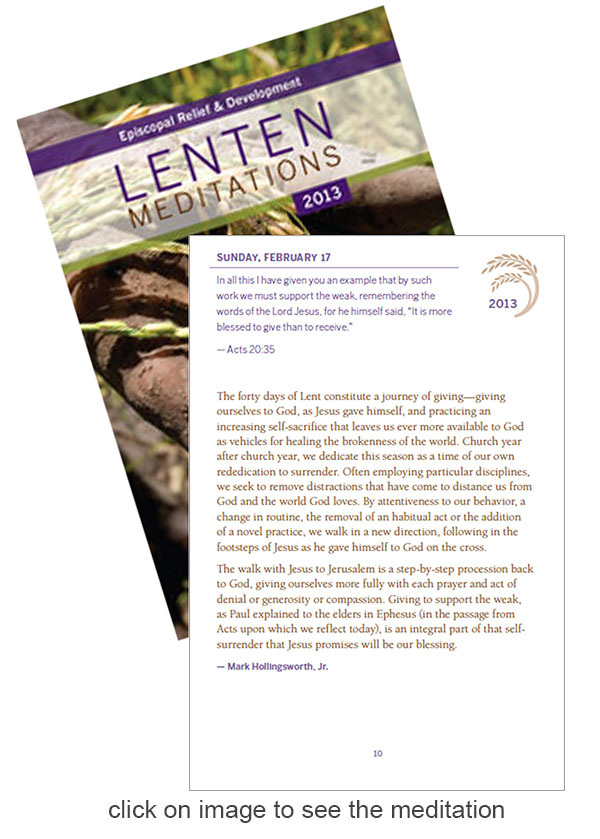 In all this I have given you an example that by such work we must support the weak, remembering the words of the Lord Jesus, for he himself said, "It is more blessed to give than to receive."
— Acts 20:35
When I read the reflection on the Acts 20:35 verse from the Lenten Meditations booklet, the part about Lent being a journey of giving really spoke to me. I thought about the various Lenten disciplines I have taken on over the years.
I find it more helpful to undertake a practice rather than to give something up. Not to say that I don't have behaviors I should give up, but while I continue to work on those, I strive instead to make a positive impact in someone's life throughout Lent. A number of years ago, I decided to dedicate various weeks to people in my life. I would begin by sending them a letter declaring it was, "Jane Week" for example. The initial letter would explain that this was part of my Lenten discipline. Then, I would tell the person about what he or she meant to me and how he or she influenced my life. The rest of the week, I would write other notes, say extra prayers, buy small gifts, or treat the person out for a meal.
It was a very powerful experience for both of us. I learned that for each person I chose, the week turned out to be a week when they especially needed support and love.
The weeks were random; the choices were not planned in advance. I just thought about the various and wonderful people in my life and then each week chose the next person. It was a very open and unstructured process and I felt like God used me to reach out to people during a time when they really needed it. It was not only a journey of giving, but also receiving and I too was blessed by this practice.
Sign up to receive daily meditations by email.
____________________
Barb Hagen is an Episcopal Relief & Development Provincial Coordinator for Province VI.