Scottish Students' Creative Efforts Unite Community Against Malaria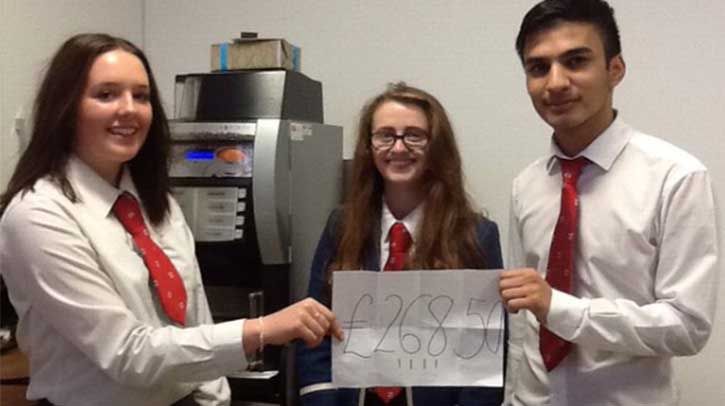 Mention the name Carla Foxworthy around the halls of Hutchesons' Grammar School in Glasgow, Scotland, and you'll likely hear about car washes, bake sales, babysitting and… malaria.
Each year for the past decade, Hutchesons' Grammar School has supported a yearlong educational fundraising drive where students are invited to suggest and present a case for the cause of their choice before a school-wide vote determines the winner. As an S3 student at the school, Carla, now 15, was part of the team of students who nominated NetsforLife®, Episcopal Relief & Development's malaria prevention and control program, to be the focus of the 2015-16 school year.
"We had been learning about malaria in geography the year before and it caught our interest," Carla explained. "We had the opportunity to bid for the school charity, and we thought it would be a worthwhile cause. It's amazing that something so simple as a net, which doesn't cost a lot of money, can save so many lives. I was so delighted when we won, and so was the school community."
NetsforLife®, which began as a pilot program in Zambia in 2006, has been active in 17 countries throughout sub-Saharan Africa, distributing over 22 million nets and reaching 41 million people with education about the protective value of nets, how to prevent malaria and when to seek effective medical treatment. To date, over 111,000 volunteer Malaria Control Agents and government health workers have been trained and mobilized, and the program's methodology has been adopted as national policy in five countries.
"I spent the summer preparing our presentation, and when we came back to school we gave a speech to the senior and primary school, which went really well," Carla continued. "There were three or four other charities as well, and we were really lucky as we were the youngest group to present! After NetsforLife® was chosen, we helped run events throughout the year. I feel proud that we raised awareness about this disease."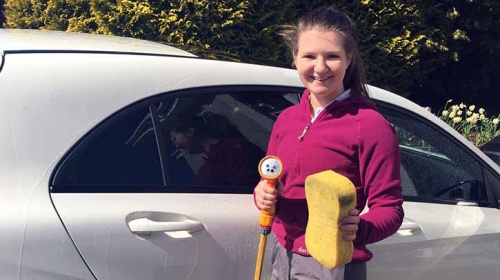 And indeed, Carla did not hold back! By the end of the year, she had single-handedly raised £1,000, and her enthusiasm reflected the "all-in" approach from students and staff to teachers and administrators across Hutchesons'. Their goal? To raise as much awareness and support as they could to fight a disease few in this Scottish community had ever had to confront: malaria, an otherwise treatable disease that still kills 1,500 children every day around the world.
Inspired by NetsforLife®'s proven mission and methodology, the entire school across grades and departments took the cause seriously, pouring their hearts and energy into creative efforts that raised an astonishing £25,455 by the end of the year!
School charity Nets4Life ® will receive £20k thanks to generous donations from the wider school community. #giving https://t.co/1r7rvdqQz6

— Hutchesons' Grammar (@Hutchesons) June 7, 2016
Over the course of the year, Hutchesons' students and faculty organized a variety show, a winter book fair and even a toy sale where students brought in their own to sell. Classrooms turned into cafes that sold coffees and chocolate and strawberry crêpes; teachers climbed hills and hosted sports days; staff members participated in a dance competition and bake sales; and students even brushed up on their spelling for a hugely popular Spell-A-Thon challenge – all to help protect children and families from malaria.
Two teachers climbed to new heights in aid of Nets4Life® and are hoping their fundraising total soars too. #support https://t.co/U3WGkODwGm

— Hutchesons' Grammar (@Hutchesons) May 9, 2016
"For every £7 we raised together, a child is protected from malaria for three years," said Mr. Jim McDougall, the Depute Rector for Ethos who chairs the School's charity committee and organizes the annual Prize Giving. "For every £14 raised, a full family is protected for three years. The purchase of anti-malarial nets with our funds will make a significant difference to a large number of people in remote and rural areas in Africa. So many people helped in so many ways. It's a fantastic achievement."
At the end of the year, Carla and her team members, Abbie McCorquodale, Eleanor Hall and Victoria Hamilton, were proud to stand up during the final assembly to accept the school's check on behalf of NetsforLife®. "Having our charity chosen has been an inspiration to me as it has shown that with a little effort we can all pull together to achieve support for a worthy cause," Carla said. "NetsforLife® does such wonderful work, and I'd wash a hundred more cars and bake a thousand more cookies if it meant helping and giving to them again."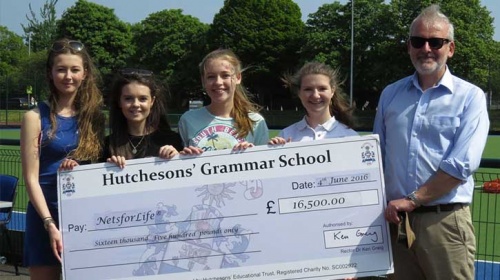 Episcopal Relief & Development is extremely grateful to Carla and her team for their leadership, and to the entire Hutchesons' community for their incredible generosity and creativity!
"We were absolutely bowled over to find out that Hutchesons' had selected NetsforLife® as their focus for the year. They not only raised awareness about malaria while gathering support through individual and group activities, but they even explored malaria prevention and treatment through their various subject areas," said Sean McConnell, Episcopal Relief & Development's Senior Director of Engagement. "This kind of dedication and unity in service of a cause is truly inspiring, and we are honored that they chose us!"
---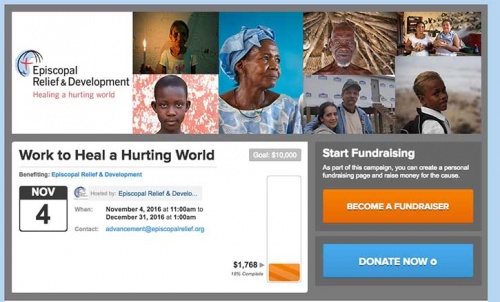 During this year-end giving season, Episcopal Relief & Development celebrates the creative efforts of our friends across The Episcopal Church who are raising awareness and support for our work around the world!
One easy way to rally group support for your fundraiser is by using Episcopal Relief & Development's personal fundraising page platform. Whether it's in honor of an event or to raise awareness around an important global or local issue, this platform enables compassionate groups to create a personalized fundraising page to set goals, invite friends, and create a team of supporters.
"Personal fundraising pages are great because they eliminate the administrative challenges of large-scale fundraising and free people to focus on what matters: creative community giving," said Chad Brinkman, Episcopal Relief & Development's Program Officer for Engagement. "Giving should be fun, not a headache! Our platform solves that problem."
For more information or to start your own personal or group fundraising page, please visit the Personal Fundraising Pages section on episcopalrelief.org.
---

Article written by Faith Rowold and Jo Kadlecek. Faith is the Communications Officer at Episcopal Relief & Development. Jo is a writer and journalist. She blogs at lamppostmedia.com.
Photos courtesy of Hutchesons' Grammar School.
Image Captions: Top, Students raised more than £250 from selling coffee; Middle 1, Carla Foxworthy participating in a car wash for NetsforLife®; Middle 2, Carla and her team members, Abbie McCorquodale, Eleanor Hall and Victoria Hamilton receive a check from the school with the amount raised to date.