When Floods Rose, Churches in West Virginia Connected Assets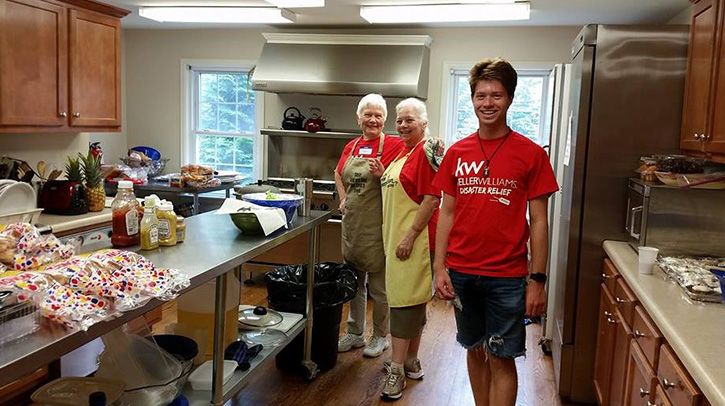 Episcopal Churches in West Virginia pooled together their assets when rainstorms and flooding hit last June. In this blog, discover how asset recognition is vital to making it through a tumultuous time.
---
"The flood took away too much – lives, homes, jobs, hopes, and dreams. Yet it has also brought unexpected blessings our way. Recovery will take years, not months or weeks." — Rev. Betsy Walker
In June 2016, West Virginia was struck by some of the worst rainstorms and flooding in its history. Storms turned and aligned so that a swath of communities were hit again and again. The waters rose with a vengeance, and houses became inescapable islands. Tragically, 23 people were lost, thousands of homes were destroyed, countless lives were disrupted, and neighborhoods were permanently changed.
After the floods, the state also witnessed miraculous courage, generosity and strength. In the last year, West Virginians have seen an incredible outpouring of support. Thousands responded – it was a time to be one, to be connected and to be a visible incarnation of God's hope and grace. Episcopalians and Episcopal churches in West Virginia have been involved in relief and recovery since the floods began.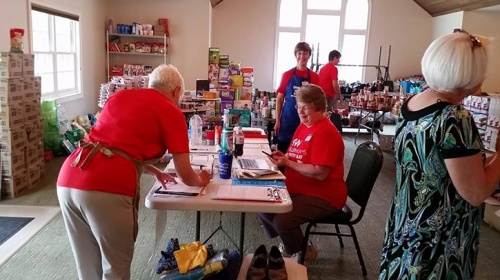 As we were early in our disaster preparedness efforts, very few of our local churches had preparedness or response plans ready to go. Although most of our churches didn't have a "disaster binder," they knew that responding to the floods was part of being the church in community. By aligning their assets with those of others to meet immediate and unmet needs, listening to their neighbors, and strengthening their relationships and mission, our diocese and local churches leveraged their existing skills and relationships to respond to needs which arose from the flooding.
For instance, several leaders at St. Thomas Episcopal Church in White Sulphur Springs used their passion for the community and a myriad of skills to turn their parish hall into a community hub for response, complete with a donations center, volunteer reception and deployment center and volunteer feeding site. Even now, a year later, members of St. Thomas and its Greenbrier Episcopal Ministries partner, The Church of the Incarnation, as well as others continue to feed the volunteer teams helping with rebuilding 5 days a week.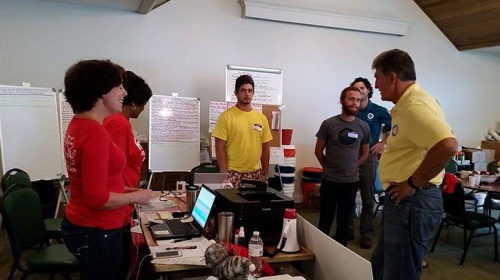 The folks from St. Thomas are now working with local long-term recovery committees to provide case management services, in addition to meeting other needs as they arise. They are ministering to the community by offering a supportive ear to those still suffering from the trauma of the event, arranging rides to the hospital for affected individuals for whom transport is still difficult, and helping plan local commemorations that recognize both the losses to and the significant progress made by the community. St. Thomas is part of the community and is committed to the recovery of White Sulphur Springs for however long it takes.
Similarly, St. James, Lewisburg, quickly found themselves in the midst of response. In the flood's first hours, they realized their greatest assets were possessing one of the county's only working land lines and having social media access. St. James quickly became a communications hub, linking people and businesses in crises with emergency support systems and sharing information and images with media outlets.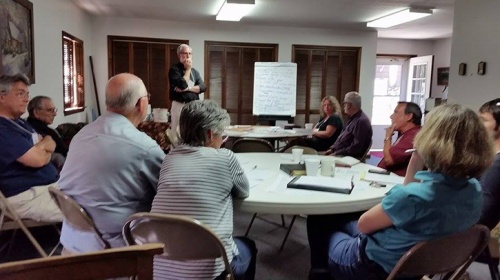 In the following days and weeks, they also coordinated the entry of volunteer teams ready to provide relief and served as a donations distribution center. Over time, they transitioned their efforts to working within broader community systems. For example, working with community partners, they helped set up the first Greater Long-Term Recovery Committee (GLTRC) in the state, and one of St. James' parishioners has taken a very active role in recovery by serving as GLTRC Chair.
Elsewhere, New River Episcopal Ministries supported local shelters, receiving people arriving in pajamas who had lost truly everything they owned. In the year that followed, they have continued to provide individual and family support and spiritual care, as well as other services. These are just a few examples of the many ways in which Episcopalians have been responding to the 2016 West Virginia floods.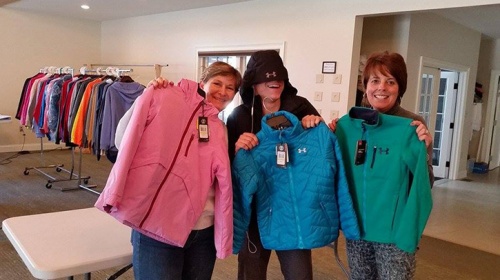 Groups from all over the state and country have been actively involved in rebuilding efforts, as well. This work was made possible through the generosity and partnership of Episcopal Relief & Development, as well as other donors from around the state and nation, working with and through the Episcopal Diocese of West Virginia.
The Diocese works to bridge efforts across communities and to identify and address system-wide issues through their Diocesan Disaster Recovery Team. In this first year of recovery, we have focused on working with local churches and others to help meet individual, family and community needs.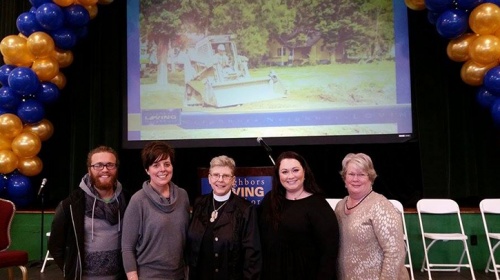 Looking forward, we are continuing to support local recovery efforts, as well as engaging with broader community efforts through a series of community dialogue initiatives. Recovery will take many years and evolving process, and The Episcopal Diocese of WV hopes to be there for the long run.
To learn more and to hear from many involved in the Episcopal Response, see:
---

Dr. Cathy Slemp is the Diocesan Disaster Coordinator in West Virginia.
---
Images: Top: St. Thomas volunteers in the kitchen; Middle 1: St. Thomas volunteers serving joyfully; Middle 2: Senator Joseph Manchin III came for a visit; Middle 3: Asset analysis; Middle 4: Community members had access to new clothes in their time of need; Middle 5: The Rev. Elizabeth Walker and others leading St. Thomas, WSS' flood recovery efforts; Video: West Virginia Flood Response video (2016)