World AIDS Day: Today's Saplings are Tomorrow's Trees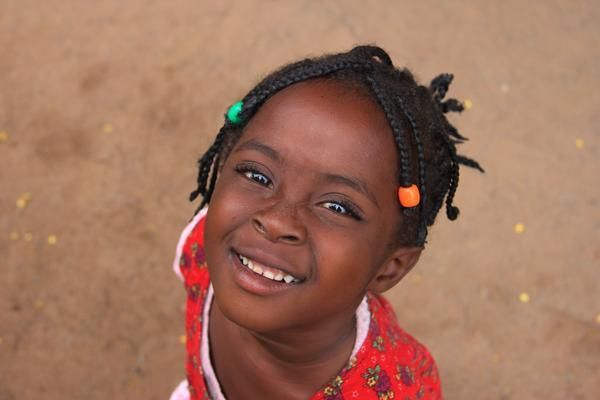 December 1st marks the 29th commemoration of
World AIDS Day
. Despite recent improved access to
antiretroviral treatment
in many regions of the world, the AIDS epidemic still claims an estimated 2 million lives each year, of which roughly 270,000 are children. That is intolerable.
In addition to the children who die from AIDS, there are millions more who are impacted by HIV/AIDS, with a parent, caregiver, sibling or other family member living with HIV/AIDS or having succumbed to the disease. Globally, there are 34.2 million people who are living with AIDS (including 3.4 million under the age of 15) and 17.8 million children who have lost one or both parents to the disease. Those children are especially at risk for malnourishment, developmental delays and diseases such as malaria, diarrhea and pneumonia – the three leading causes of death for children under five in sub-Saharan Africa. Indeed, communities in this part of the world struggle with some of the most staggering consequences of AIDS, particularly the impact on families and youth.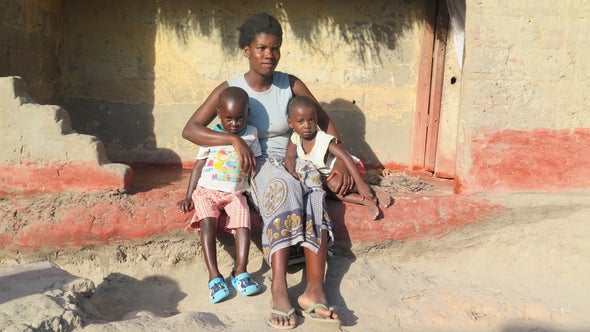 Children who do not receive essential prenatal and antenatal care along with good nutrition, vaccines, psychosocial support and basic developmental stimulus before the age of five face a lifetime of diminished prospects. They simply can never catch up. Children are especially vulnerable when their families are impacted by HIV/AIDS. The lack of nurturance and stimulation in the first 1,000 days of a child's life (by year three) can cause significant developmental delays, which again have negative effects well into adulthood, with reduced intellectual ability and social skills. Due to the sheer number of children at risk, this can have a major impact on the development of an entire country.
To address this critical time in a child's life, Zambia is placing a huge emphasis on Early Childhood Development (ECD). ECD programs integrate familiar approaches like caregiver support, playgroups and psychosocial counseling with child health, nutrition, farming and family livelihoods to transform not only the lives of the children they support but the families and communities around them.
At the end of November, I traveled to Zambia to visit two ECD centers run by our local partner, the Zambia Anglican Council. As we pulled up in our vehicles, a dance and drama troupe from the village began to play their drums and to sing a welcome song. I'm always moved by the warmth and welcome.
All around us, children were laughing, playing and chasing each other. The boys were taking particular delight in splashing each other with water from the pump. Mothers and other caregivers were gathered under a tree to discuss their micro-savings initiatives. The local community health worker was weighing children and recording their results in a health booklet, which each caregiver updates monthly. Vaccines are also recorded in the health booklet. Monthly weigh-ins are an excellent way not only to track growth, but also to screen for other health needs.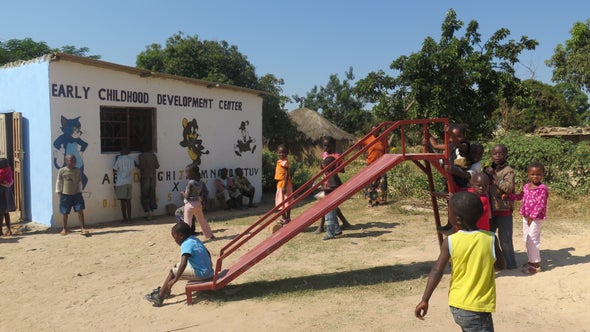 In the bright yellow building children were divided into age groups and were intent on learning the basics of reading, writing and arithmetic. At one ECD center, we arrived during "Granny Story Time." The village has realized the wisdom that grandmothers carry with them and are taking steps to transmit that knowledge to the youngest generation. The children were mesmerized by the story, which I confess I didn't fully follow, but involved an animal that was pretending to be a rabbit and disguised itself with wax ears. As the sun burned brighter through the day, the wax ears melted. The moral of the fable was that one should always be true to who you are and not pretend to be something that you aren't.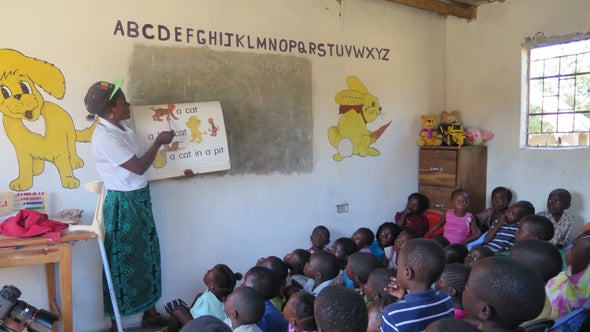 As we went outside, we toured a demonstration garden where caregivers can learn how to grow kitchen gardens with healthy food. Another group of caregivers were gathered around a cooking demonstration on how to prepare that food and what kinds of meals are appropriate for which age group. These groups also serve as an important way for caregivers to trade parenting tips and support each other as they face the challenges of living with HIV/AIDS.
The pride that the community took in its ECD Center was palpable. Their next hope is to get solar panels so that they can have lights and power. The community has dreams for its children and those dream now seem within reach.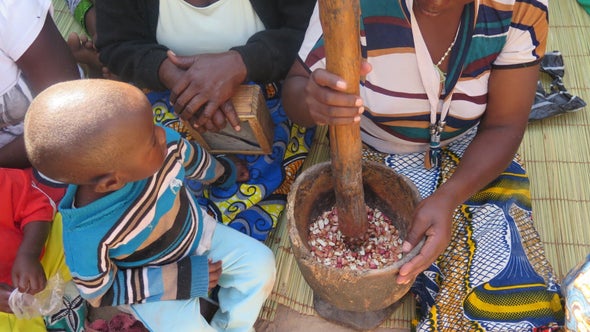 The centers are community-based and volunteer-driven, with oversight from a local committee made up of village elders. In many cases, the tribal leaders have donated the land and helped to build the centers themselves, and everyone in the community has come together around three objectives:
To ensure that the children in the community reach their full developmental potential.

To ensure that caregivers are healthy and can respond effectively to the needs of their children.

To ensure that children live in safe, stable and consistent caregiving environments.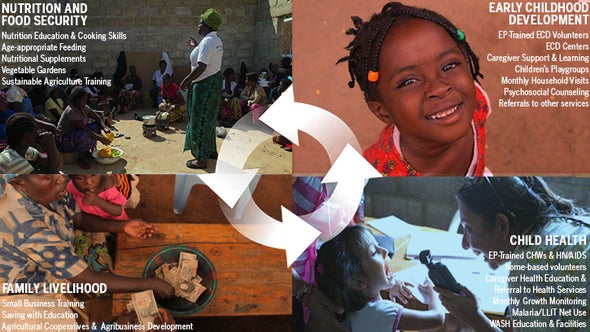 Each ECD center offers a menu of services to the children and families of the community, including caregiver support and learning groups, children's playgroups, psychosocial counseling, referrals to outside services, monthly growth monitoring, malaria control, water and sanitation education and facilities, nutrition education and cooking skills, age-appropriate feeding guidance, nutritional supplements, demonstration gardens, sustainable agriculture training, adult functional literacy, small business training, savings groups, agricultural cooperatives and gender-based violence counseling. All of these services are volunteer-driven and focused around the overall objective of ensuring that the children in the community who are impacted by HIV/AIDS get the support they need to lead healthy and productive and lives.
The results have been impressive. Many of the children first enrolled in the program in 2012 are now headed off to first grade. Their teachers report that they are energized and ready to learn, and perform favorably as compared with their peers who were not able to participate in a program like the one I've just described.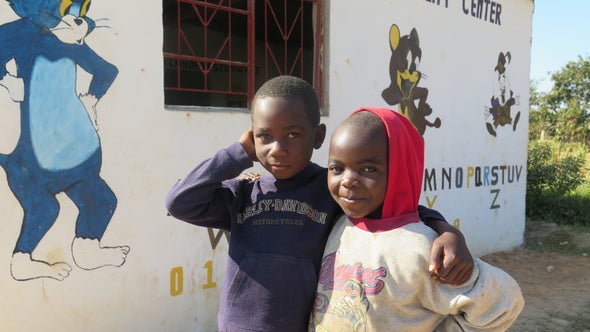 As we observe World AIDS day, it is important to remember not only those who are living with HIV/AIDS or who have died, but also the families impacted by this deadly disease. That is why Episcopal Relief & Development, with support from the Conrad N. Hilton Foundation and other generous donors, is dedicated to Early Childhood Development for children impacted by HIV/AIDS. Having seen success with this approach in Zambia, we are initiating programs with our Kenyan partner, Anglican Development Services-Nyanza, and are preparing to integrate ECD with health and savings activities in other countries as well.
During my trip I heard this wonderful proverb that sums up why ECD for children impacted by HIV/AIDS is such an important priority: "Today's Saplings are Tomorrow's Trees."
---

ABOUT THE AUTHOR
Robert W. Radtke is the President of Episcopal Relief & Development.
---
Images: Top: Zambian girl who attends an Early Childhood Development Center; Middle 1: Mother with her children in front of her home in Zambia; Middle 2: Children playing at an ECD Center in Zambia; Middle 3: Class at an ECD Center in Zambia; Middle 4: Cooking class at and ECD Center in Zambia; Middle 4: Integrated approach helps families thrive; Middle 5: Young boys in front of an ECD Center.