Creating Economic Opportunities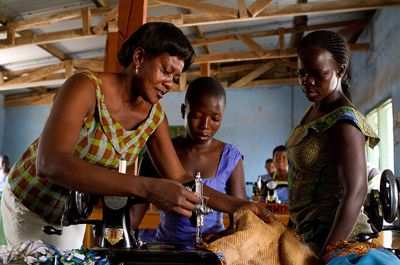 Millions around the world
do not have access to
strong financial markets
and services.
As a result, people are not able to earn enough to support themselves and their families. Episcopal Relief & Development and its partners work to create economic opportunities and strengthen communities.  In collaboration with Church partners and local organizations, we empower individuals and families by helping them find creative ways to generate and increase their income. 
By leveraging existing assets, knowledge and skills of individuals, we make communities stronger and help them achieve long-term economic stability.  Our programs help provide micro-finance loans, small business training, and educational opportunities, particularly for the underserved, including women, people with disabilities, and children and families impacted by HIV/AIDS.  With additional income, people are able to start and expand small businesses, pay school fees, save money and plan for unanticipated emergencies. 
Your generosity helps leverage local assets and increase earning potential in communities by:
Enabling people to develop small businesses in a variety of fields

Providing training for people to become effective managers, marketers and small business owners

Helping families in underserved communities access financial services, including building local partnerships that introduce savings, loans and insurance products

Promoting cooperatives to help individuals pool their resources and maximize their earning power and potential

Assisting communities in gaining access to local markets and improving the value of products to increase profits

Helping farming communities increase their crop yield so the surplus can be sold for income
Visit the Micro-finance page to learn more about how we work to create economic opportunities around the world.