NetsforLife® Inspiration Fund Story from the Field April 2012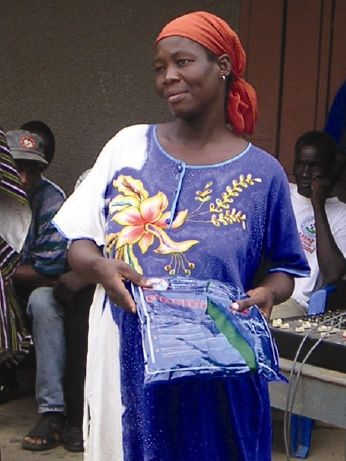 Democratic Republic of Congo – For years Elize, a resident of the Democratic Republic of Congo, felt like she lived at the mercy of the tiny mosquitoes that spread malaria. They repeatedly bit her eight children, making them gravely ill. Unlike many neighbors in her small village, none of her children died, but saving them required Elize to spend much of her limited income on medical care.
With the help of NetsforLife®, Elize and her family received a long-lasting insecticide-treated net and training in how to use the net effectively. This has given Elize control of her family's
health and keeps them malaria-free. Equally important, Elize has been trained in how to identify malaria symptoms. This empowers her to protect not only her children, but also her entire village, as she is now organizing her neighbors in coordinated community action to prevent malaria. Moreover, the less Elize has to cope with this deadly disease, the more she can focus on creating a better life for her family.
The Democratic Republic of Congo accounts for 11% of all the malaria cases in Africa. Twenty-three million people are at risk of contracting malaria. Malaria is the number one killer of children in the Democratic Republic of Congo, accounting for approximately 40% of child
deaths. Close to 70% of all outpatient health care visits and an average of 30% of hospital admissions are malaria-related. NetsforLife® implementing partners in the Democratic Republic of Congo are the Diocese of Katanga and Diocese of Boga. The dioceses have embraced the challenge of providing not only spiritual support, but also the essential social services so desperately needed in the post-war era. This integrated approach to development addresses a range of health-care issues, including malaria prevention, food security, trauma counseling for victims of war and HIV/AIDS education. NetsforLife® is working in five districts of the Democratic republic of Congo to increase knowledge and prevent malaria deaths.
The NetsforLife® the Inspiration Fund is a grassroots effort to educate, engage, and unite Episcopalians to support the Millennium Development Goals through the fight against malaria. Our goal is to build awareness about this disease, how it can be prevented, and raise $5 million by December 2012.