ACTION 15: EMBODY JUSTICE, MERCY AND COMPASSION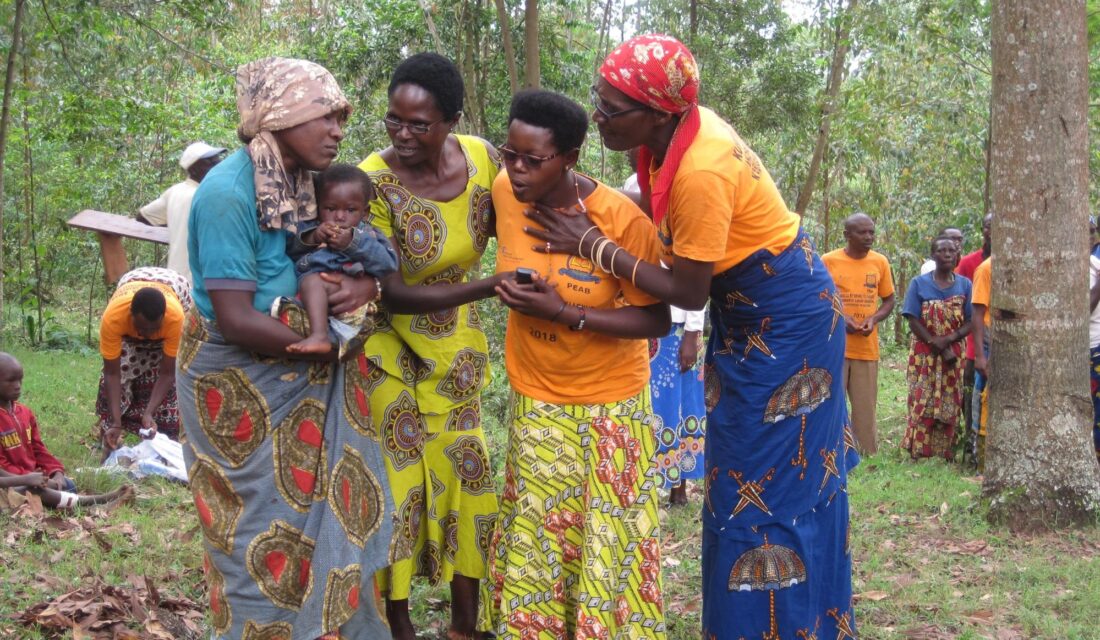 Members of Rwesoro village's Gender-Based Violence (GBV) Committee in Burundi use drama to depict and condemn GBV in 2019. 
Faith
God is in the midst of her; she shall not be moved; God will help her when morning dawns.
 Psalm 46:5
Fact Sheet
18 Indigenous women ran for congressional seats in 2020 — a record in a single year.[1]
A record number of Indigenous women were elected to Congress in 2020.[2]
The 117th Congress has a record number of Native-American women after voters elected three to the House of Representatives.[3]
Reflection and Action
The Rev. Canon "Ginny" Doctor contributed to the 2021 "Churches Beyond Borders Joint Devotions." She was a member of the Mohawk Nation Turtle Clan and lived for years in New York state, Alaska, and Toronto. Ordained a priest in The Episcopal Church, she most recently served as the coordinator for Indigenous Ministries in the Anglican Church of Canada. Ginny passed away in 2021 at the age of 71. She dedicated much of her work and passion toward justice for Indigenous Peoples on the continent of Turtle Island, with a particular concern for Indigenous women and girls and the disproportionate violence they often face. Ginny's reflection excerpted from a previously published article for The Anglican Journal (June 11, 2019) under the title "Where are all our flowers going?" is a call to justice for Missing and Murdered Indigenous Women and Girls. Churches Beyond Borders offered this reflection as a tribute to Ginny's legacy and vision.
"Where have all the flowers gone…?" – Pete Seeger
I grew up on a reserve near Syracuse, New York. As children, for the most part, we lived a carefree, safe life. There were times of family violence related to alcohol abuse; alcohol was not part of our traditional lifestyle, but was brought to my people by the settlers. We called it the "mind changer," and that is what it did.
Alcohol brought with it the power to change our communities — but another, greater problem is one I remember well, and one that our whole country is now facing. For Indigenous communities across North America, the disappearance and murder of women and girls is a life changer — once that kind of violenceenters the community, it doesn't leave. I remember one of our young girls being abducted, sexually abused and murdered. It devastated the whole community, and after that our moms were more restrictive about where we went and told us not to travel the roads alone.
This kind of advice is widespread among Indigenous women and based on our life experience. When I lived in Alaska, I was driving a group of elders to a meeting in one of the Alaska Native villages. They were talking about the road we were traveling. One said there were many good berry patches off that road. Another said, "Yes, but we always have to carry a gun and never pick alone." Then one elder said, "This is a bad road. Several women have died along this road." She went on to say, "When I pick berries, I don't fear the bears. I fear those crazy white men."
The National Inquiry into Missing and Murdered Indigenous Women and Girls (MMIWG) has now produced its final report. It's more than a thousand pages long, with personal stories of loss and the hard numbers. It's in plain language and is available online for free. Where do we go from here? How do you talk about a problem so large that it needs a thousand pages and its own acronym?
MMIWG has been with us for a long time; it goes way back to first contact. And it's here with us now. Every day on Facebook, I see several postings of missing Indigenous women and girls. Each one breaks my heart, and I wonder, "Where are all our flowers going?" They are gone to death and human trafficking.
What needs to change in our communities to protect our women and girls? I see two ways to help our women and girls, and our church can help in both of these tasks. For one thing, we can make a good life for them in our communities — a task that is economic and environmental. Maybe then, they won't have to travel bad roads looking for something better. We must tend to the gardens in which our flowers grow, increasing economic justice within them. We can find value in their work and their skills, bringing opportunities to where they live.
The other way is spiritual. We can find value in who these women and girls are, in their being. This is about honouring the importance of women and girls by reconnecting with our traditional values: respect, humility, wisdom, truth, honesty, courage and, most important, love.
My niece just sent me pictures of the flowers she has grown; they are beautiful, but not as beautiful as the two daughters and son she is raising. There is beauty all around us. Look for it, cherish it and safeguard it — before you have to ask, "Where have all the flowers gone?"
Footnotes
[1] https://cawp.rutgers.edu/election-analysis/native-american-women-candidates-2020
[2] https://www.theguardian.com/us-news/2020/nov/04/native-american-women-elected-congress-record-number
[3] Ibid.