Puerto Rico Hurricane Response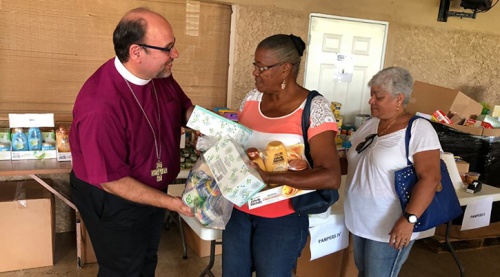 Episcopal Diocese of Puerto Rico
Puerto Rico and two of its outer islands, Culebra and Vieques, were heavily impacted by Hurricanes Irma and Maria. In addition to destroying many homes and buildings, the storms severely damaged more than 75% of crops and agriculture. The cost to rebuild is estimated at $95 billion.
With support from Episcopal Relief & Development, the Episcopal Diocese of Puerto Rico quickly delivered food and water, clothing, temporary housing, medical and first aid supplies and home repair materials to approximately 600 people on the islands of Culebra and Vieques.
In anticipation of Maria making landfall in Puerto Rico, the organization sent emergency support to help the diocesan staff provide assistance as quickly as possible. Food, water and medical supplies were distributed to approximately 70,000 people in key areas outside of San Juan. Additional support to the diocese included resources for temporary housing, meal deliveries and a new generator.
As long-term needs assessments continue, Episcopal Relief & Development is providing support for food, water, medical and pastoral care, communications equipment, transportation, fuel and generators to affected residents throughout the island. Two warehouses in Ponce and Trujillo Alto serve as relief supply depots where clergy and lay leaders gather relief supplies and transport them in trucks and other vehicles to remote areas.
Xavier Castellanos, an Episcopal Relief & Development representative, is accompanying the diocese of Puerto Rico as it continues to assist in the distribution of supplies and to strategize the next phases of the response. Castellanos and the diocese are working collaboratively with other relief networks in Puerto Rico, including Food for the Poor, the Church of Jesus Christ of Latter-Day Saints and Home Depot, to provide emergency items and shipments to impacted areas. These areas include the cities and municipalities of Aibonito, Añasco, Arecibo, Bayamón, Cabo Rojo, Caguas, Caimito, Carolina, Castañer, Coamo, Dorado, Ensenada, Fajardo, Guayama, Guaynabo, Hato Rey, Humacao, Lares, Levittown, Loiza, Manatí,Maricao, Mayagüez, Penuelas, Ponce, Rio Piedras, Sabana Grande, San Juan, Trujillo Alto, Utuado and Yauco.
Communications and power continue to pose a major challenge in Puerto Rico. The diocesan headquarters, based in Trujillo Alto, serves as a hub for warehousing supplies, organizational meetings and for networking with central government and voluntary agency efforts to reach more isolated areas of need.
Episcopal Relief & Development is focusing on long-term recovery, with a specific focus on rebuilding housing without insurance, emotional care for caregivers and ongoing help with volunteer management, networking and advocacy.
Photo: Food for the Poor
Abagail Nelson, Episcopal Relief & Development's Senior Vice President of Programs, traveled to Puerto Rico in March. An interview describing how we responded after the storms and our committed to long-term recovery was posted on
Facebook by the diocese
(Spanish only)
---