United States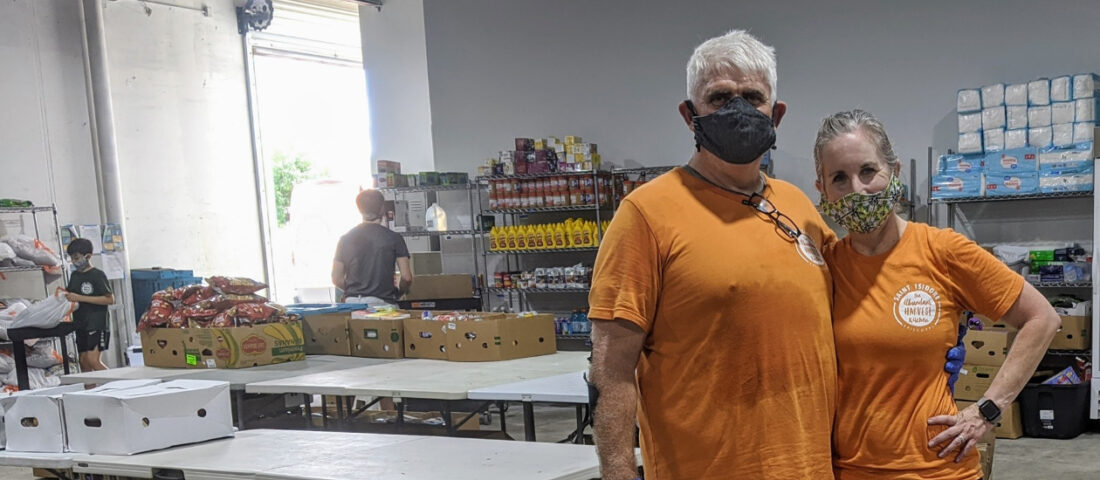 United States
Episcopal Relief & Development's US Disaster Program is supporting dioceses in light of the COVID-19 Pandemic.
In partnership with the Presiding Bishop's office, US Disaster Program staff have been holding weekly calls with bishops and key leaders in Episcopal dioceses to address the novel coronavirus pandemic since mid-March. Initial response steps included the creation of faith-based resources to help bishops and diocesan staff determine how to safely conduct services and to maintain community in a pandemic. As the pandemic progressed and states issued stay-at-home orders, the US Disaster Program began offering weekly webinars on a variety of topics such as mental health, isolation, institutional support and immigration, as well as other resources to help diocesan partners address the widespread impact of the coronavirus. The US Disaster Program continues to provide technical support as partners determine how to best respond to the unique needs in their communities, whether that be mental health care, medical care, financial assistance or other needs. 
Click here to read the most recent COVID-19 press releases.
Arizona
The COVID-19 pandemic has curtailed many of the services available to migrants in shelters on the US-Mexico border, such as La Casa Shelter, which is supported by the Episcopal Diocese of Arizona. The diocese is working with shelter staff to implement physical distancing and provide virtual support to keep all of the residents safe and healthy as they navigate the US immigration process. The Diocese of Arizona has a long-standing relationship with Cruzando Fronteras and the shelter. With the support of Episcopal Relief & Development, it is leveraging these relationships to adapt the emotional, physical and pastoral assistance provided to migrants in the shelter under the current situation.
California 
In partnership with Episcopal Relief & Development, the Episcopal Diocese of San Diego is leveraging their connections through Camp Stevens to provide food for vulnerable communities in both rural and urban areas. The diocese is operating four food pantries throughout San Diego county that will serve 600 people in need on a weekly basis.
Louisiana
The Episcopal Diocese of Louisiana, with the support of Episcopal Relief & Development, is providing direct support in New Orleans for vulnerable communities impacted by the coronavirus and the related stay-at-home orders. This partnership has distributed food to 200 vulnerable families in the West Bank neighborhood. The diocese is also delivering 250 meals per week in the 6th, 7th and 9th wards to young people, gig workers and musicians.
Episcopal Relief & Development is also working with the Episcopal Diocese of Western Louisiana to provide direct assistance to individuals in the central and northern part of the state  who are out of work due to the COVID-19 pandemic. In a recent survey conducted by the United Way, 67% of respondents in this area indicated a need for help with everyday bills and housing payments. Through this partnership, the diocese is working with other community organizations and churches for referrals to identify people in need and offer assistance.
Missouri
Rural communities in the United States often lack access to mental health care. Additionally, the stigma surrounding this care often means individuals don't ask for help. For example, the rate of suicide in rural Missouri has skyrocketed in recent years and the COVID-19 pandemic is likely to exacerbate the situation. The Episcopal Diocese of Missouri is training 70 volunteers in Randoph and Boone counties in first aid for mental health to help identify individuals at risk in their communities and to connect these individuals with local behavioral health resources.
North Carolina
The Episcopal Farmworker Ministry, with Episcopal Relief & Development's support, is adapting programming in order to both respond to COVID-19 and to increase disaster resilience among farmworkers in the diocese of East and North Carolina. Farmworkers in this area have been hit by consecutive hurricanes almost annually since Hurricane Matthew in 2016 and are particularly vulnerable to disasters due to language barriers and the likelihood of losing income when a storm hits the area. The Episcopal Farmworker Ministry is providing meals, and hygiene and cleaning kits to local families and farmworker camps, as well as rental assistance, furniture, appliances and home repair, and mental health services.
Ohio
Episcopal Relief & Development is working with the Episcopal Diocese of Ohio to address the impact of COVID-19 on marginalized communities in the northern part of the state. Through the diocese's ministry, Feeding the Beloved Community, which leverages their deep community relationships and diocesan-grown produce and pork, the diocese is serving 800 meals per week this summer.
Oregon
The Episcopal Diocese of Eastern Oregon is assisting individuals and families who have been affected by both the coronavirus and historic floods that devastated Pendleton, Oregon in early February, damaging or destroying more than 400 buildings and homes. The diocese had to adjust plans for the flooding response quickly as stay-at-home and social distancing guidelines were issued. The closure of non-essential businesses created other economic concerns. With the support of Episcopal Relief & Development, the diocese is providing assistance with rent, food and other needs to impacted individuals and families.
The diocese is also working through Ascension School in Cove, OR to provide lunches to families with children under 18. As part of their efforts, the school is using its garden to provide produce to the local food bank.
South Dakota
Due to the COVID-19 pandemic's shelter-in-place orders, many members of the Rosebud Sioux Tribe are not able to work, and therefore, are in need of food and supplies. The Episcopal Diocese of South Dakota is partnering with Episcopal Relief & Development to provide gas, diapers, food and to meet other emergency needs on the reservation.
Tennessee
In partnership with Episcopal Relief & Development, the Episcopal Diocese of Tennessee is providing direct cash assistance to minority, immigrant, refugee and undocumented communities who are still recovering from the recent Nashville tornado. 
Virginia
Episcopal Relief & Development is working with the Episcopal Diocese of Southern Virginia to provide food and other emergency assistance to migrant farm, domestic and restaurant workers who have lost income due to COVID-19. Leveraging the gifts of the diocese's Latino Ministry, Spanish speaking volunteers are distributing grocery store gift cards to impacted communities in the South Hill, Eastern Shore, Norfolk, Virginia Beach and Richmond areas.